Molex 371660003 Silent Heatsink Review
---
Molex may be better known for their little plastic electrical connectors, but amongst all their other ventures they have in their inventory a silent heatsink. Now before anyone get's their hopes up, this heatsink is not for performance freaks - it just can't handle
that much
heat. What does makes this heatsink worth the time to read about is that it is nearly silent. Yes, silent.
That doesn't mean the heatsinks noise is simply drowned out by the powersupply or by the hard drives, it means nearly silent - possibly the perfect heatsink for those rare applications when reducing noise is the most important factor to consider.
Designed for:

AMD Athlon, Duron, Socket A.

Heatsink Data:

Model: 371660003
Fan: 12V
Fan Dim: 10x50x50mm
Heatsink Dim: 40x55x55mm
HS Material: folded aluminum, copper bar
Weight: 135 grams
Mfg by: Molex
Cost: $20 USD


Sold By: NEDC Online
The heart of the Molex HSF is a solid core of copper. The premise behind the cooler is to have the copper in contact with the processor die, and use its' conductive properties to distribute the heat upwards, and then out through the many folded-aluminum fins.
As the copper transfers the heat away from the processor core it passes through a layer of what appears to be regular old silicon-based thermal compound. The compound acts as the interface between the aluminum and the copper core to promote better heat transfer in the wake of any really metal-to-metal joints.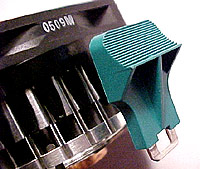 The folded aluminum fins form a flute around the outside of the central copper core and are open at the top, bottom, and lower-edge.
One of the best aspects of the design of this heatsink is the clipping mechanism. Rather than rely on a difficult to engage screw driver method, the Molex uses a molded plastic thumb lever to make attaching and removing the stiff stainless steel clip relatively easy.