AVC 112BJO Heatsink Review
---
In the days of copper-this and copper-that it is refreshing to see a good old all-aluminum heatsink crop up to tackle a 1.4GHz Athlon. The 112BJO is AVC's solution to the overheating crisis, however their approach is more subtle than many other manufacturers.
Where many heatsink makers will opt for the largest and simply most-massive heatsink they can construct, AVC have created a thin fin aluminum extrusion that looks quite promising. Coupled with a low-profile 60mm fan and directional fan hood, the 112BJO is a slim heatsink with high aspirations. The reference coolers await, let's see how the AVC handles the competition.
Designed for:

AMD Athlon (1.4GHz), Duron, Socket A. Intel Socket 370.

Heatsink Data:

Model: 112BJO
Fan: AVC, 4800RPM, 43dBa, 12V, 0.19A
Fan Dim: 11x60x60mm
Heatsink Dim: 48x63x78mm
HS Material: Aluminum
Mfg by: AVC
Cost: $unknown
There are two aspects of the 112BJO we'd like to touch upon before getting into the meat of this review. The first point is the clip.

It's no secret that using a screwdriver to attach a heatsink is inconvenient, but in some cases it seems to be a necessity. As manufacturing simplifies the products to the nth degree, user-friendliness gets the boot.
The clip used on this heatsink is one of the most awkward variety as it is only workable via a flathead screwdriver. The clip itself is quite stiff, but not so much so as to bring up concerns of breaking a processor in two. Still, we would have like to have seen a thumb lever or anything other than just a tab on the clip.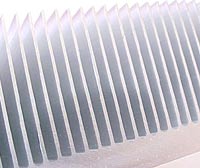 The next point which seems to be taking over the cooling world is the move toward thin fin heatsinks.
Where the 112BJO departs from the emerging standard is on the fin spacing. Where many of todays high-end (ie Delta toting heatsinks) have 1mm thin-fin spacing, this heatsink uses a 2mm spacing. Coupled with the AVC's 0.7-0.5mm thick fins, it will be interesting to see how the results turn out.
In the end it may be that the thickness is not ideally suited to the efficient convection of heat on such a relatively wide fin spacing.