Millennium Thermal Glaciator Copper Heatsink Review
---
The Glaciator is an "Integrated Augmented Fan Heatsink". Constructed from a solid block of copper, the fin section of this heatsink is so finely constructed it will put even the venerable CAK38 to shame. What's more, the Glaciator employ's some interesting technology designed to reduce the amount of noise it produces, but not cut back on pure performance.
The large solid copper Glaciator was developed from a long line of prototype heatsinks by Andrew Lemont of Lemont Aircraft Corp. The reasons why the Glaciator is such a unique cooling solution relates to the patented (5292088, 5895917) technologies it makes use of.
MTS have used a technology originally created to quiet cooling fans. These augmented fans had slits cut into the airfoil which surrounds the fan blades. In Laymen's terms the slits augment the way the air moves as it passes thru the fan so that it produces less noise (between 3-10 dBa lower).
Designed for:

AMD Athlon, Duron, Socket A. Intel Socket 462, Socket 370.

Heatsink Data:

Model: Glaciator
Fan: Evercool 5700RPM, 12V, 0.22A, 29CFM
Fan Dim: 25x55x55mm
Heatsink Dim: 54x68x68mm
HS Material: 99% Pure Copper
Weight: 780 grams
Mfg by: Millennium Thermal Solutions
Cost: $35.75


Sold By: MTS Online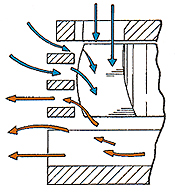 The fan on the Glaciator sits within the heatsink in a machined rest. With this method of securing the fan to the copper heatsink the Glaciator is able to take advantage of several characteristics relating to airflow. The following image, taken from the patent on this technology, illustrates the unique airflow paths that occur with the Augmented fan system.
The cool intake air is represented by the blue arrows, and the warm exhaust air by the orange arrows. The setup not only allows the cool air to be drawn in from the top of the heatsink, but also from the side, overtop of the horizontal fins. The effect on overall cooling is hard to judge by these extra airflow patterns, but it is an interesting technique none the less.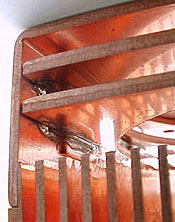 The base is cut from a solid chunk of copper, but the top portion of the Glaciator is assembled from some cut pieces of thin copper. The top section is soldered together and also soldered to the base along the edges.
The solder appears to be mainly acting as a means for holding the assembly together, rather than as a thermal conduit. A few gaps exist along the side of the top portion, and the soldering along the bottom edge is not completely consistent.