Vantec CCK-6035 Copper Heatsink Review
---
Thin-fin copper heatsinks are becoming as popular as the Orb's were when they first arrived on store shelves these days. This time the reasons have more to do with pure cooling power then anything else however. With the amazing performance brought about by the Thermalright SK6, we were really excited to see what the brand new Vantec CCK-6035D could do.
The CCK-6035D is assembled in much the same way as the Thermalright SK6, although is uses a more traditional way of attaching the fan to the body of the heatsink. Solder marks are clearly visible along the base of the fins so the interface between the 34 fins appears quite solid.
Vantec are known for their prolific use of Delta fans & wire grills and the CCK-6035D is no exception. Clad in its shinning chrome armor the Delta whirled up when we dropped the power switch - with a noise like that you can just tell this heatsink is going to put up a good fight against the SK6!
Designed for:
Socket A, Socket 370, Socket 462.

Heatsink Specs:

HS Model: Vantec CCK-6035D
Fan: Delta AFB0612EH
Fan Spec: 6800RPM, 12V, 0.48A, 2 ball bearing
Fan Dim: 25x60x60mm
HS Dim: 64x65x65mm
HS Material: Assembled copper parts, aluminum
Comes with pass through power adapter cable.
Mfg by: Vantec
Cost: unknown


Sold By:
Vantecusa.com,
One of the nicest features of the CCK-6035D is the clip it uses. The hinged clip is incredibly easy to use and enables you to position the heatsink on a processor with a minimum of tipping action. The thumb pad is easy to hold onto and is a nice change from heatsinks that require a screwdriver to engage.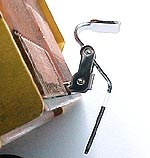 The fins are each bent on the base so that there is a millimeter or so of material to come in contact with the copper base plate. From the looks of it, the base plate was heated up and a good amount of solder was used to form a solid joint. Since the fins are packed so closely together it is difficult to say for sure, but there are no spaces visible that we could see.
The tops of the fins are all interlocked by means of small flaps that help give the thin-fins some support, and maintain their separation.