With the Thermalright SK6 the fan is attached to the body of the heatsink by means of two springy wire clip. The clips hook into little tabs on the base of the unit which have a small hole. With the fan in place a top of the fins, the clip can be positioned so that they lock into place in the small screw holes in the fans' plastic frame.
The SK6 comes with two sets of these clips so that fans of 25mm in height, or 15mm in height can be used with the heatsink. Depending of on the height of the fan you wish to use, one set or another of the clips are used.
| | | |
| --- | --- | --- |
| | | |
| The two types of clip. | The copper tab on the base. | The clip locks into the tab to hold the fan in place. |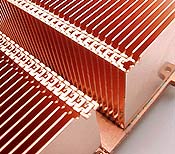 Each of the fins are punched out from a thin sheet of copper, and then mechanically joined to one-another. The process results in a copper structure which is quite intricate, but simple and accurate at the same time.The fins are spaced at just slightly over 1mm apart which is a bit unusual, as most coolers we've looked at work off of a 2mm spacing regime.
The base is machined very flat but not well smoothed over. Marks from the face milling are still slightly visible, and can be felt if you drag a fingernail over the surface. The SK6 comes with a small thermal interface pad that can be applied to the base (marked with four small depressions) to improve the effect of heat conductivity. For the real performance junkies, I would suggest giving the SK6 a good lapping to smooth out the very small machining marks.
The base of the Thermalright SK6 is marked with four small depressions so that the thermal pad can be properly positioned. While the surface of the copper is very flat from the face milling operation, the unit we tested still had a relatively non-smooth surface finish.

A few minutes with some 800 grit wet sand paper on a flat piece of glass would do wonders to smoothing out the minute milling marks and better prepare the copper surface for a silver-based thermal compound instead of the less conductive thermal pad.
We were a bit surprised when we saw the Thermalright SK6 arrive in a long flat box. The unit comes unassembled, but it only takes a few seconds to put it together. Along with the heatsink, the cooler comes with two sets of different sized spring clips and a thermal interface pad (not shown).