The FrostyTech Synthetic Temperature Test Platform consists of an aluminum block heated by a 120V 250 Ohm precision resistor producing 50W of heat. That heat is transmitted to the heatsink via the aluminum block and up through special copper die templates with thermistors embedded directly in them.
A temperature reading for a particular heatsink is taken once the temperature stabilizes in the copper die template. Since each of the die templates have the surface area of either a silicon topped or heatspreader-topped processor the flow of heat to the base of the heatsink accurately mimics a real life configuration.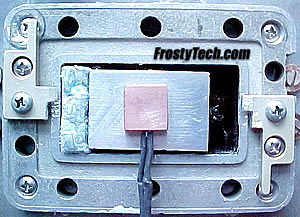 Shown with the copper die template for a silicon-topped processor, the synthetic heatsink test apparatus awaits a coating of silver-based thermal compound and the Zalman CNPS5000-Plus FHS heatsink. A slightly larger copper die template was used to test the effective cooling ability of the CNPS5000-Plus atop a heatspreader-based processor like a Pentium 4 processor.