The CNPS5000P comes with an assortment of gear. Along with the manual (very small type and a bit difficult to read) there is a set of longer mounting screws, a spare package of screws, and two different sized resistors. The resistors connect to the fan and the motherboard to drop the voltage and thus the RPM of the fan, allowing for even quieter operation if desired.
The two sets of screws are necessary for a reason we'll elaborate on in a second. Since the CNPS5000 mounts to the motherboard, and not the socket, it is necessary to have a motherboard with four holes around the socket. Without those holes there is no way to attach this heatsink. Now getting back to those screws. The heatsink fits on both Pentium 4 and Socket A processors. Since the mounting holes are in different locations for each chip, the Zalman heatsink has four sets of holes.
| | |
| --- | --- |
| | CNC machined heatsink bases are one of the best possible surfaces to mount onto a silicon processor die. In this close up of the CNPS5000's base you can see the folds which helped to give the FHS its shape when compressed. |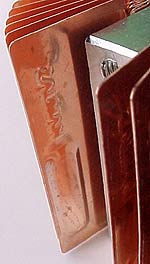 Depending on the particular processor the heatsink is being mounted on, the screw is moved to the appropriate hole and a spring dropped in. The springs keep the screws under tension, and without them the heatsink will not mount properly. In a worst case scenario, the heatsink will be over tightened an possibly cruse the processor, or not mount flush and the silicon may overheat.
Each of the copper fins is stamped with the Zalman name, and indented slightly with a small rectangular shape. The bump helps create turbulence as the air flows over the fins.
Let's set how the CNPS5000-Plus performed on the Frosty Synthetic Temperature Test platform...