The Core Heatsink Review
---
Right out of the box "The Core" just has to win the coolest-looking heatsink award. Its' shiny machine-faced surface and uniquely drilled construction are like no other heatsink we've tested. As preconceptions go, this heatsink has a lot to live up to.
Don't be mistaken in thinking this is anything other than a jumbo-sized heatsink. "The Core", as its' makers Cpufx.com have nicknamed it, is over 100mm in height with its 6800 RPM Delta fan bolted on. The actual heatsink measures 76mm x 64mm x 76mm and has a total of (20) 10mm diameter holes drilled through its' side and top. The holes are designed, the instructions tell us, to channel the moving air from the very loud Delta fan through the body of the heatsink, and out to each side.
In principle this cooling method looks like it could be very good. In practice, reality doesn't always live up to our preconceptions.
Designed for:

AMD Athlon, Duron, K6-2. Intel FC-PGA, PGA. VIA Cyrix III.

Model: "The Core"
Fan: Delta 6800 RPM, 12V, 0.48A, w/h grill
Fan Dim: 25x60x60mm
FHS Dimensions: 102x76x64mm
Material: machined cold rolled aluminum
Stainless steel hardware.
Comes with following: instructions, nylon screws, blue-anodized aluminum shim, thermal compound.
Made & Sold by: CPUFX.com
Cost: $65USD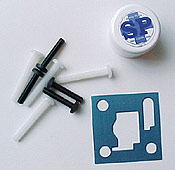 The heatsink comes with a bunch of accessories to make mounting it on an Athlon or Duron all that much simpler, and secure. In addition to the built-on spring tensioned clips the heatsink can also be mounted by means of the Socket A motherboards' support holes. The four holes usually surround the socket and with them some nylon screws can be threaded through and into the base of "The Core."
The inclusion of an blue-anodized aluminum shim is a really nice feature for such a large and bulky heatsink. The aluminum shim is die cut from a sheet of aluminum, not laser cut. The process causes a very slight difference in height around the edges of the die pattern.