The Arctic Liquid Freezer 240 is an all-in-one CPU water cooling solution built around a large 240mm-sized aluminum heat exchanger that's well suited to full tower PC cases. The unit ships four 120mm fans which pretty much assures it's going to A) perform well, and B) be kind of loud at full tilt. Like many other CPU liquid cooling systems in the wild, the Liquid Freezer 240 is built by Asetek, which actually imbues a healthy measure of confidence in its long term reliability in our books.
The Liquid Freezer 240 ships with four 120mm fans mounted in a push-pull configuration on either side of the 49mm thick aluminum heat exchanger. The pump head/waterblock is built on a successful foundation that many generations of micro skived copper base plates have laid down, and again, makes use of proven Asetek metal mounting bracket design. The aluminum heat exchanger is connected to the waterblock by a 30cm length of flexible 10.5mm OD rubber tubing. The hoses don't swivel at the waterblock to make routing tubes easier, but I think this is a better design choice as it reduces the chance of coolant leaks.
Arctic's Liquid Freezer 240 ships fully assembled, plumbed and filled. The whole system weighs around 1190grams and installs onto Intel socket LGA115x/2011(-3) processors and AMD socket AM2/AM3/FM1/FM2 CPUs. The four 120mm PWM fans operate at 1350-500RPM and feature 54mm long Y-splitter power leads, which is kind of nice.
The Arctic Liquid Freezer 240 CPU cooler retails for about $70 USD.
Arctic Liquid Freezer 240 Liquid Cooling System

---




heatsink specsheet
manufacturer: arctic
model no.: liquid freezer 240
materials: aluminum radiator, copper-base water block.
fan mfg: arctic p1300001-001a1

fan spec: 1350-500rpm, 12v, 0.25a (x2)

fan dim: 25x120x120mm
waterblock dim: 39x82.5x82.5mm
heat exchanger dim: 120x273x38mm
pump spec: n/a
flow rate: n/a
head: n/a
coolant: distilled water/propylene glycol
weight: 1190 grams
includes: multi-socket mounting hardware, mx4 thermal compound, instructions.

---

Compatible with Sockets:
AMD - AM2/AM3/FM1/FM2
Intel - LGA2011(-3)/115x
Est. Pricing: $70USD ($100CDN)
Analysis of Heat Exchanger via Thermal Image
With the front-facing fans removed from the Liquid Freezer 240's heat exchanger for imaging clarity, a pretty basic coolant path can be easily be discerned. Judging by the resultant radiometric image, the Liquid Freezer 240's heat exchanger uses a simple parallel flow path design. In other words, coolant flows in one direction across the entire top half of the heat exchanger and then returns back along the entire lower half. Each direction of flow splits the coolant flow into four or five narrow tubes which are interconnected by thin aluminum vanes, thus increasing cooling surface area greatly.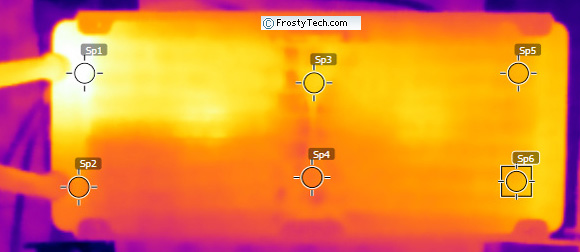 For the curious, the temperature difference between inlet and outlet coolant was 4.1°C, this is of course while the heat exchanger was operating with just two rear fans drawing cooler air in through the heat exchanger.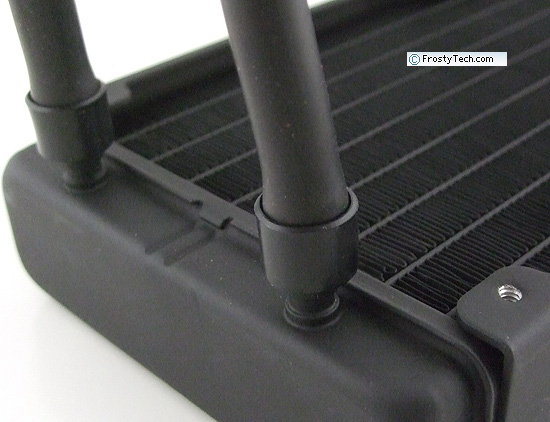 The Liquid Freezer 240's heat exchanger uses a simple parallel flow path.
Liquid-to-Air Heat Exchanger
Arctic's Liquid Freezer 240 utilizes an all-aluminum heat exchanger that's 38mm thick, 273mm long and 120mm wide. Arctic supply four fans with the Liquid Freezer 240, each capable of spinning at 1350-500RPM to drive upwards of 74CFM according to manufacturer specs. That's a lot of airflow, so it's equally important that whatever computer case potential users install this cooler into, that it also have excellent intake venting or this heatsink might be starved for airflow.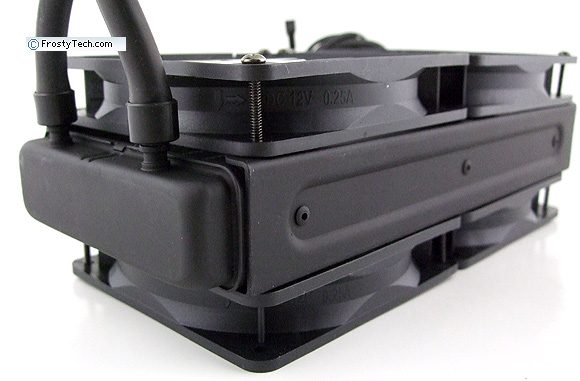 It should go without saying that you'll need a PC case with a pair of 120mm fan mounting points along the rear or top panel to facilitate mounting the Liquid Freezer 240's heat exchanger.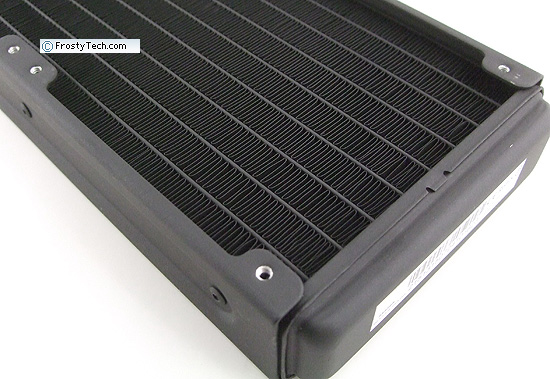 The manufacturer supplies long mounting screws which are intended to pass through the chassis fan vent, fan and thread into the heat exchanger body.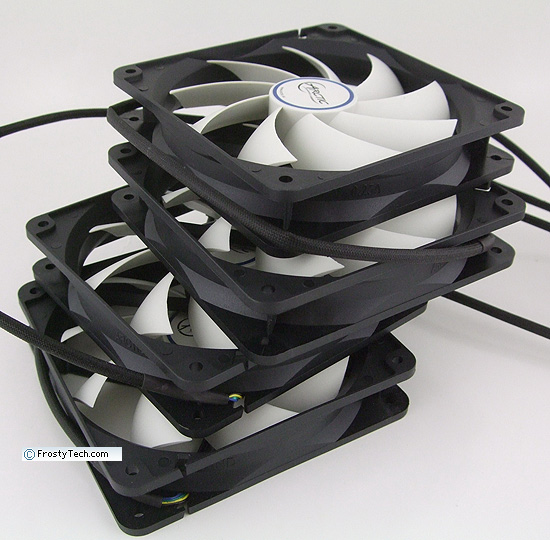 CPU-to-Liquid Heat Exchanger
To reduce the amount of audible pump noise, Arctic have taken the unusual approach of inserting a small die-cut bit of sound absorbing foam in the upper half of the waterblock head. Kind of clever, more manufacturers should follow this lead.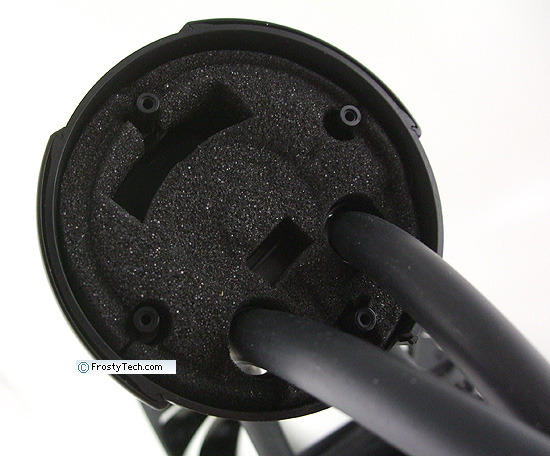 Sitting below the foam is a smallish, ~30mm diameter pump motor. Most of the waterblock's volume is empty space; this has the benefit of reducing the thermal mass of the block, which helps the coolant more rapidly drop the CPU temperature. Of course, if the coolant stops for any reason the opposite holds equally true - CPU temps skyrocket RAPIDLY. Next to the pump motor is a bleed port which is probably used to syphon off trapped air when the system is first filled with coolant at the factory. The port is sealed with a stainless steel screw and rubber washer.
The working side of the Liquid Freezer 240's waterblock contains a micro-skived copper plate into which coolant flows. Propylene Glycol based coolant is pumped in through a slit along the center-line of the plate, before flowing out through miniature skived copper fins where it picks up the heat. The heated coolant then exits at the sides where it is pumped to the aluminum liquid-to-air heat exchanger.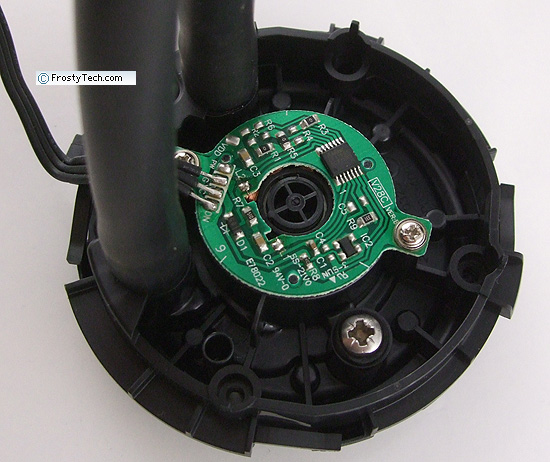 The screws holding the copper plate on are a little too soft to undo, so we weren't able to remove the plate for a closer look at the skived liquid-to-CPU heat exchanger. Based on previous waterblock designs, we'd estimate the finned area is roughly 32mm square.
Installation Hardware
The Arctic Liquid Freezer 240 is compatible with Intel socket LGA2011(-3)/115x and AMD socket FM2/FM1/AM2/AM3 processors. It does not support LGA775 or LGA1366 processors.
The cooler ships with two Asetek-style metal mounting brackets that clip in place without the need for tools. The brackets connect via an assortment of screws with an associated rear motherboard bracket. The mounting system is simple, easy to install and uses a minimum of parts. We particularly liked the clip in place aspect... it's much nicer than fussing with screws in the confines of a cramped computer case.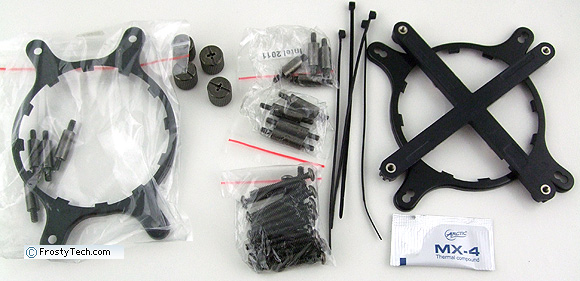 This heatsink will be tested on FrostyTech's Intel and AMD version of the Mk.II synthetic thermal temperature test platform, and compared against hundreds of reference Intel and AMD heatsinks. The whole test methodology is outlined in detail here if you'd like to know what equipment is used, and the parameters under which the tests are conducted.