For the experienced computer enthusiast, the attraction of all-in-one CPU water coolers is often tempered by future failure concerns; will the coolant evaporate or leak out... will the pump fail... how will I know if either of these failures occur? By comparison, there's not much that can go wrong with a standard air cooled heatsink that can't be directly seen. With either type of CPU heatsink, dust accumulation and dead fans are impossible to miss, but how exactly are you supposed to diagnose clogged coolant lines due to corrosion or bacterial growth through an opaque tube on a CPU liquid cooler?!
For those of you who swear by CPU air coolers, today on Frostytech's test bench we'll be testing the Scythe Fuma SCFM-1000 dual tower heatsink.
The Fuma heatsink stands 148mm tall and features twin 120mm PWM fans arranged in push-pull configuration. Even with dual fans, it manages to maintain a relatively compact footprint of 130x130mm. Both fans operate at 1400-600RPM, moving upwards of 79CFM at 1.56mmH20 static pressure according to manufacturer specs. As with most Scythe heatsinks, the Fuma is designed primarily as a lower noise thermal solution; in our real word sound tests noise output topped out at a moderate 49.1dBA.
The 920gram Scythe Fuma heatsink is constructed around six 6mm diameter copper heatpipes and a pair of aluminum fin stacks that measure 104x130x37mm (HxWxD) in size. The heatpipes are liberally soldered to a chunky nickel plated copper base plate, this plate helps to more evenly conduct heat away from hot-spot ridden multi-core CPUs. The ~47 aluminum fins in each tower are swagged onto the heatpipes, which is unfortunate as we tend to witness better thermal performance when the manufacturer takes the extra step to solder fins to heatpipes as well. The cooling fins feature alternating straight and acme-toothed leading/trailing edge patterns to help brake up laminar airflow.
In most other respects the Scythe Fuma SCFM-1000 heatsink is pretty standard; it supports the full range of AMD socket AM2/AM3/FM1/FM2 CPUs and Intel socket LGA2011-3/2011/1366/115x/775 processors. The heatsink ships with three sets of springy wire fan clips and a fan Y-splitter, so users can even mount a third fan (not included) if desired. The Scythe Fuma SCFM-1000 heatsink retails for around $42USD, $60CAD.
Scythe Fuma SCFM-1000 Heatsink

---

heatsink specsheet
manufacturer: scythe
model no.: fuma scfm-1000
materials: aluminum fins, nickel plated copper heatpipes and copper base plate
fan mfg: (x2) scythe sy1225sl12m-cjp
fan spec: (x2) 1400-600rpm, 12v, 0.2
fan dim: (x2) 25x120x120mm
fan rating: 5.6-79cfm
Fan Pressure: 0.01 - 1.56mmH2O
Heatsink & Fan Dim: 148x130x130mm
Weight: 920grams
Includes: multi-socket mounting hardware, thermal compound, (x3 sets) fan clips, Y-fan splitter, instructions

---

Compatible with Sockets:
AMD: AM2/AM3/FM1/FM2
Intel: LGA2011-3/2011/1366/115x/775
Est. Pricing: $42USD ($60CDN)
Heatsink Details:
To make it easy for users to quickly install and remove fans on the Scythe Fuma SCFM-1000 heatsink, it's nice to see that spring wire fan clips all feature a finger tab. The tab sticks out a minimal ~4mm, so it shouldn't interfere with adjacent devices. Up to three 120mm fans can be installed on the Fuma heatsink.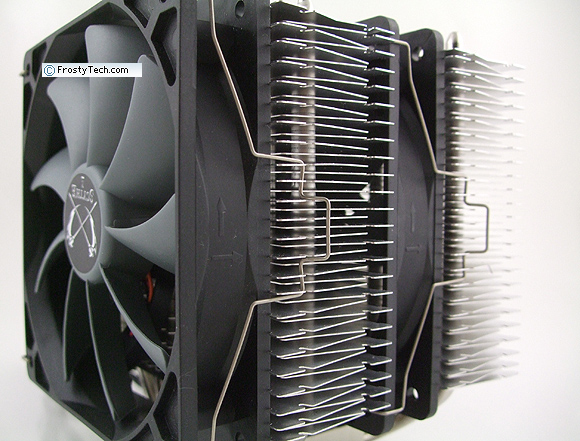 The two 120x120x25 fans that ship with the Scythe Fuma operate at 1400-600RPM and draw power from a 4-pin PWM power cable. Scythe have released a few recent heatsinks with fans that included built in fan speed controllers (ostensibly a small switch tucked into an outside corner of the fans' frame), however neither of these fans included with the Fuma have that feature.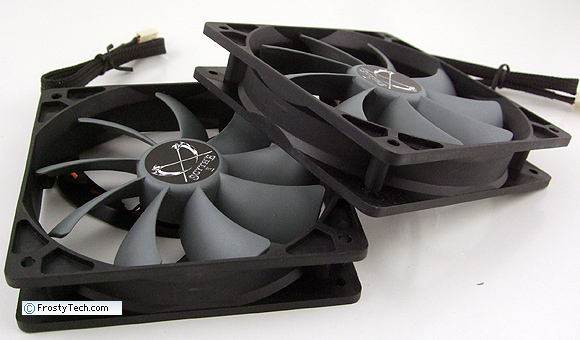 There are two aluminum cooling fin towers on the Scythe Fuma, separated by ~26.5mm space that's just large enough for a 25mm thick, 120mm fan. To access the fulcrum mounting plate which rests in a groove on the top of the heatsinks' base plate, the center fan must be removed. The six 6mm diameter heatpipes intersect each of the 103x130x40mm cooling towers in a straight row, with each heatpipe swagged in place, ~11.5mm from the next.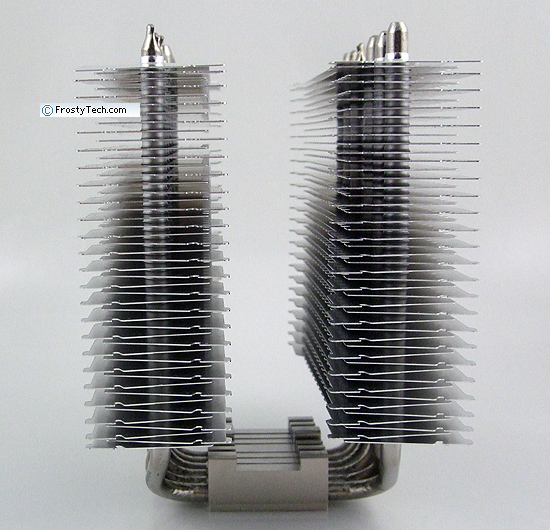 The leading and trailing edges of the aluminum fins feature an alternating straight and saw tooth pattern which is intended to help break up laminar airflow. Breaking up the leading edges of a cooling fin array makes it easier for air to enter, which can also alleviate air flow derived noise.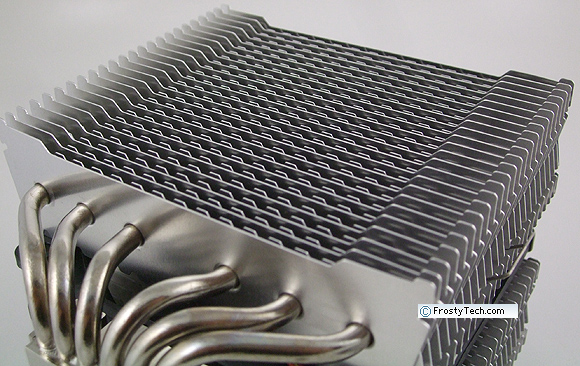 At the base of Scythe's Fuma heatsink is a fairly hefty nickel plated copper heatspreader. There's actually a fair bit of solder bleed out around the heatspreader-to-heatpipe joints, but this a nice change as we're seeing far too many heatsinks with gaps in this crucial area. A good bond here ensures lower thermal joint resistance and a more efficient heatsink. Skimping on solder can lead to gaps and play havoc with heat transfer from the copper base plate to the heatpipes.... and as you know, if the heat energy doesn't conduct to the heatpipes, the rest of the heatsink isn't of much use!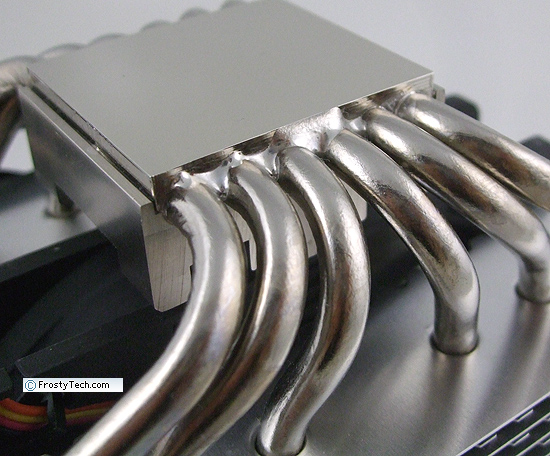 Heatsink Installation Hardware
The Scythe Fuma heatsink is compatible with Intel socket LGA2011-3/2011/1366/115x/775 and AMD socket AM2/AM3/FM1/FM2 processors. It ships with one rear motherboard metal bracket and a set of universal metal adaptor onto which a metal fulcrum plate attaches with non-spring tensioned screws to hold the 920gram heatsink in place.
Clamping forces are applied by a fulcrum plate down the center of the base plate of the heatsink. Frostytech tends to prefer spring tensioned fulcrum plates as they mounting pressure more evenly. Beyond the hardware, the Scythe Fuma ships with a syringe of thermal grease and a fan Y-splitter.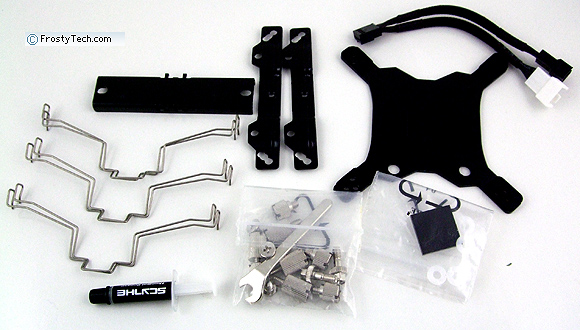 FrostyTech's Test Methodologies are outlined in detail here if you care to know what equipment is used, and the parameters under which the tests are conducted. Now let's move forward and take a closer look at this heatsink, its acoustic characteristics, and of course its performance in the thermal tests!