DeepCool's Maelstrom 240 is a self contained CPU liquid cooling system consists of a dual fan, 240mm wide aluminum heat exchanger and combination pump head / skived copper waterblock. The Maelstrom 240 is based on the same basic collection of parts that literally dozens of other liquid coolers utilize, but with Frostytech's synthetic thermal test platforms applying up to a 200W heat load, only we can accurately rank how the Maelstrom 240 liquid cooler stacks up against these other all-in-one CPU liquid coolers! With so much competition from the likes of Coolermaster, Asetek, Corsair, NZXT, Silverstone, Thermaltake , etc. it'll be interesting to see where a relative new comer like DeepCool, rank.
Let's start by examining the DeepCool Maelstrom 240 CPU liquid cooler by the numbers; the most critical part of the system is undoubtedly the liquid-to-air heat exchanger. The Maelstrom 240 employs a light weight aluminum heat exchanger which measures 274x120mm in size and 27mm thick. This allows two 120mm PWM GF120 fans to be placed side-by-side on the heat exchanger, so when it's installed onto chassis top/rear fan exhausts the maximum surface area is working to shed heat from the computer system. The unit ships with two GF120 fans that rotate at 2200RPM-800RPM to individually drive 91CFM airflow at 3.71mmH2O air pressure, according to manufacturer specs. The five-bladed red impeller fans incorporate rubber over-molding on the fan frame to eliminate the need for a rubber gasket between the fan and case, or fan and heat exchanger; this can often be a source if irritating vibration noises.
Connecting the heat exchanger to the Maelstrom 240's pump/waterblock is a 29cm length of 7-9.5mm O.D. corrugated Fluorinated Ethylene Propylene (FEP) tubing. The narrow FEP tubing does reduce the volume of coolant required in the system, but we'd have liked to have seen Deepcool launch the Maelstrom 240 with 15.5mm OD FEP tubing for a better apples-to-apples comparison against the current thermal performance front runner, the Coolermaster Nepton 240M.
The working end of the waterblock/pump is built around a 68x52mm copper plate which is ~1.5-2mm thick and covered with 0.2mm thick micro fins. The copper fins are skived from the copper plate, a manufacturing process which uses a very sharp knife to peel up a little of the surface metal, leaving the base intact.
DeepCool's Maelstrom 240 liquid cooler installs on Intel socket LGA2011-V3/2011/1366/115x CPUs and AMD socket AM3/AM2/FM1/FM2 processors. At the time of this review, the DeepCool Maelstrom 240 retails for around $110 USD.
DeepCool Maelstrom 240 Liquid Cooling System

---




heatsink specsheet
manufacturer: deepcool
model no.: maelstrom 240 (dp-gs-h24rl-ms240)
materials: aluminum radiator, skived copper water block.
fan mfg: gamerstorm gf120

fan spec: (x2) 2200-800rpm, 12v, 0.26a

fan dim: (x2) 25x120x120mm
waterblock dim: 32x85x70mm
heat exchanger dim: 274x120x27mm (without fans)
pump spec: 2800rpm, 12v dc
flow rate: unknown
head: unknown
tubing: corrugated fep 7-9.5mm o.d., 29cm long
coolant: distilled water/propylene glycol
weight: 1116 grams
includes: multi-socket mounting hardware, thermal compound, instructions.

---

Compatible with Sockets:
AMD - AM2/AM2+/AM3/FM1/FM2
Intel - LGA2011/1366/1155/1156
(does not support LGA775)
Est. Pricing: $110USD ($60CDN)
Waterblock / Pump Head
The Maelstrom 240's pump head is fairly compact, measuring 32mm tall, 70mmx85mm wide. The pump motor is audible at start up, but generally quiet in operation. Power is supplied via a standard 3-pin motherboard fan header, 27cm in length. When the pump is on, the DeepCool icon on top of the pump pulsates slowly from an internal white LED. This serves as a visual check that the pump is plugged in correctly and receiving power.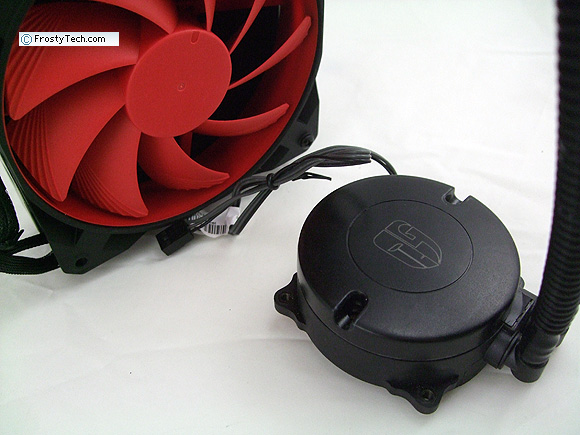 In terms of build quality, DeepCool seem to have made good choices with the pump head; the Maelstrom 240 makes use of kink resistant corrugated FEP tubing (~29cm long) to connect the waterblock with the heat exchanger. FEP tubing material is reportedly also less prone to coolant evaporation through osmosis.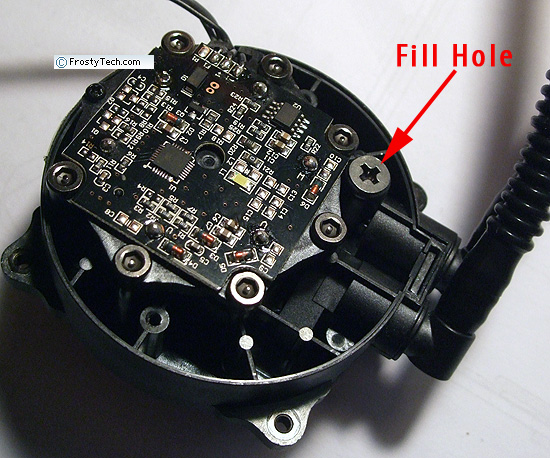 The pump motor employs Zirconia ceramic bearings for long life (rated to 120K hours MTBF) and low vibration.

The 90-degree tubing connectors which go into the waterblock can swivel approximately 45-degrees from vertical; the maximum swivel is pictured above. The tubing connections to the heat exchanger are static.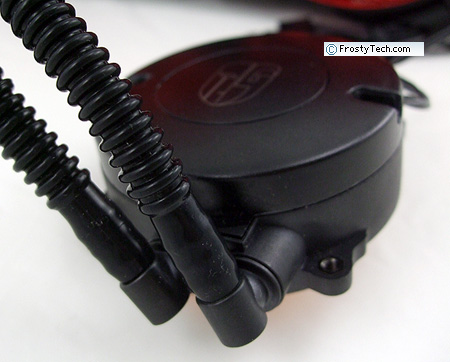 The coolant used in the DeepCool Maelstrom 240 is likely a mix of Propylene Glycol and distilled water, with corrosion inhibitors (the manufacture does not disclose the exact formula).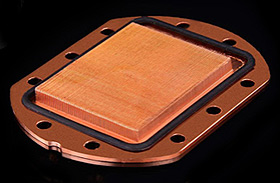 Inside the pump head is a 1.5-2,, thick copper plate with a series of micro-skived fins, as pictured. This is the working end of the Maelstrom 240 waterblock. The skived copper fins are 0.2mm thick and cover a patch roughly 35x48mm in size.
Based on previous liquid cooling blocks Frostytech has disassembled, coolant will enter the top of the skived copper fins along narrow central axis. The coolant is forced by gasket in between the micro skived copper fins where it picks up heat energy, before exiting along the outer edges where it's pumped out to the aluminum heat exchanger.
Liquid-to-Air Heat Exchanger
DeepCool's Maelstrom 240 CPU liquid cooling solution is equipped with a 273x120x27mm aluminum heat exchanger that accommodates the two supplied 120mm fans. Two sets of fan mounting holes are present on both faces of the heat exchanger, so potentially four fans could be installed onto it.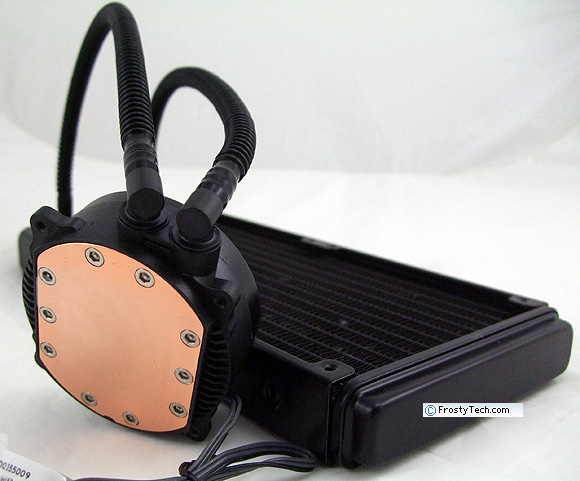 Rubberized Fans
The dual 120mm Gamerstorm GF120 fans are rated to 100K hours MTBF and employ rubber over-molding to reduce vibrational noises as well.
The red portions of the fan impeller and frame (pictured below) are made of standard plastic, the black areas are rubber which has been moulded over the ridged fan frame. This essentially create a vibration dampening surface no matter where, or to what, the 120mm fans are mounted. Other companies rely on small rubberized inserts which fit over the corners of the fan frame, or require small strips of elastomer applied directly to the fins of the heatsink.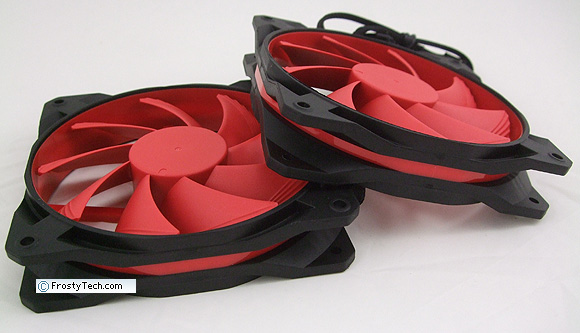 Installation Hardware
Your computer case will need to have a pair of 120mm fan holes located at the back, or a vented top with holes for mounting a pair of 120mm fans, in order for the Maelstrom 240's heat exchanger to be installed.
The DeepCool Maelstrom 240 self contained watercooler is compatible with Intel socket LGA2011/1366/115x and AMD socket FM2/FM1/AM2/AM3 processors. The system ships with a universal motherboard bracket and two pairs of metal mounting plates that attach to the pump head to facilitate each particular motherboard socket. A PWM fan splitter and small case badge are also included.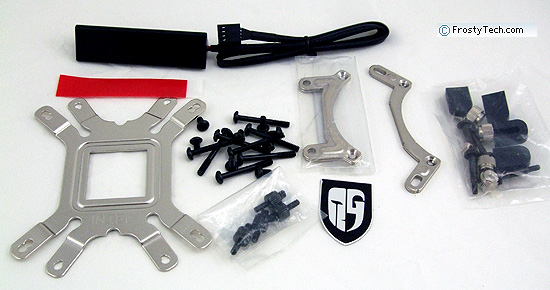 The Maelstrom 240 ships fully assembled, plumbed and filled with coolant. A single 3-pin motherboard fan header supplies power to the pump. The two PWM fans can work off separate motherboard fan headers or via the included fan splitter.
This heatsink will be tested on FrostyTech's Intel and AMD version of the Mk.II synthetic thermal temperature test platform, and compared against hundreds of reference Intel and AMD heatsinks. The whole test methodology is outlined in detail here if you'd like to know what equipment is used, and the parameters under which the tests are conducted.