In this review Frostytech is testing the Gelid Solutions Antarctica CPU heatsink. This is a pretty standard 160mm tall tower cooler, built around five nickel plated copper heatpipes that join a substantial copper heat spreader to a stack of swaged-in-place aluminum fins. The aluminum fins lack fancy dimples or other surface features to disrupt laminar air flow and improve heat transfer, but the copper base plate is a significant design choice. The once popular "exposed heatpipe base" design is viewed as less robust design element if it's not implemented in a way which securely constrains the heatpipes against repeated heating and cooling cycles.
The Gelid Antarctica heatsink features a nice narrow footprint which measures 141x74mm with the 140mm fan installed. The slim profile should make the Antarctica cooler more compatible with a larger range of motherboards, we all know how frustrating it can be when the CPU heatsink interferes with motherboard memory slots that too closely straddle the CPU socket.
Gelid's Antarctica heatsink ships with a single 140mm PWM fan that operates at 1500-450RPM and moves upwards of 81CFM at 1.86mmH2O pressure, according to the manufacturer's listed specs. The heatsink ships with a second set of springy wire fan clips so users can mount their own exhaust fan on the back of the heatsink, if they wish. Typically, a two-fan configuration makes it possible to run both fans at slower speeds and thus save on noise output without sacrificing cooling performance. For this review, Frostytech will be testing the Gelid Antarctica in its stock single fan configuration, however.
Gelid's Antarctica tower heatsink retails for around $45USD and is compatible with Intel socket LGA1366/115x/775 processors and AMD socket AM2/AM3/FM1/FM2 CPUs. Intel socket LGA2011 motherboards are not supported.
Gelid Antarctica Heatsink

---

heatsink specsheet
manufacturer: gelid
model no.: antarctica
materials: aluminum fins, nickel plated copper heatpipes, aluminum base cap, copper base plate
fan mfg: gelid
fan spec: 1500-450rpm, 12v, 0.2a
fan airflow: 80.6cfm
fan air pressure: 1.86 mmh2o
fan dim: 25x140x140mm
heatsink & fan dim: 160x141x74mm
weight: 635 grams
includes: multi-socket socket mounting hardware, thermal compound, instructions

---

Compatible with Sockets:
AMD - FM2/FM1/AM2/AM3
Intel - LGA1366/115x/775
(LGA2011 not supported)
Pricing: $42USD ($65CDN)
Heatsink Details
The aluminum cooling fin array on the Gelid Antarctica measures 107x141x49mm in size. The fins' leading and trailing edges have a shallow arc which naturally creates a small plenum behind the fan. A little bit of space between the rear of the fan and the cooling fins is important to reduce noise and ease air flow. Weighing in at 635 grams, the Antarctica heatsink is pretty light.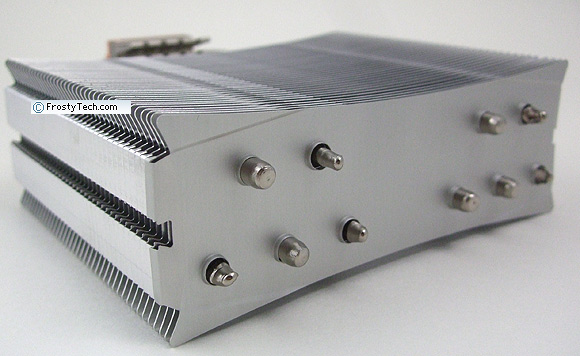 The five 6mm diameter heatpipes intersect the aluminum fin stack in an asymmetrical pattern, on a 20mm spacing. That means from one face air impinges around three vertical heatpipes and from the opposite, two heatpipes. Frostytech tested the Antarctica with the fan attached to the three-heatpipe side of the cooling tower, but realistically I don't think it will make a significant difference.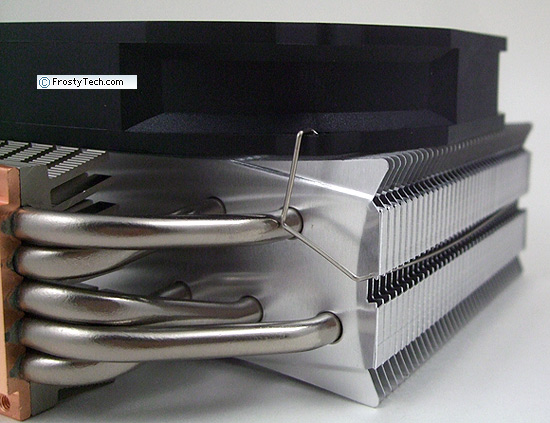 The springy wire fan clips have no thumb tabs sticking out to potentially contact the back of a videocard, but this also makes them more difficult to install than the variety Noctua supply, as an example. The heatsinks' fins are made from raw aluminum, although the top fin is anodized for esthetic reasons.
The five 6mm diameter nickel plated heatpipes are soldered to the copper heat spreader to ensure good thermal conduction. Some gaps are visible between the copper plate and upper aluminum plate, so it's difficult to comment on how thorough a solder job Gelid's manufacturing process employs.
The wick structure of the heatpipes isn't disclosed. I wish more heatsink manufacturers would reveal whether the heatpipes they employ use wire mesh, groove, or sintered metal wicks. Zalman was really good in this aspect, particularly when it adopted heatpipes employing a composite wick structure for the CNPS11X Extreme. Sadly, I'm not even sure if Zalman is actively still in the heatsink business...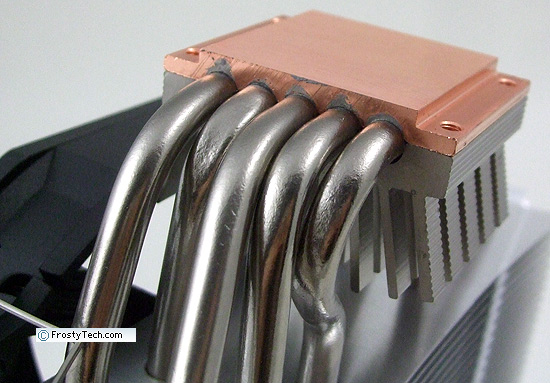 Multi-core processors can develop hot spots in regions of the CPU die, so a copper heat spreader is considered more beneficial than direct heatpipe contact systems, the trick is ensuring a thorough heatpipe-to-base plate solder joint.
Heatsink Mounting Hardware
The Gelid Antarctica heatsink accommodates Intel socket LGA1366/115x/775 processors and AMD socket AM2/AM3/FM1/FM2 CPUs. LGA2011 motherboards are not supported. The Antarctica ships with a metal rear motherboard support bracket, a variety of metal mounting brackets, associated hardware and an extra set of wire fan brackets. A small syringe of grey thermal compound is also supplied.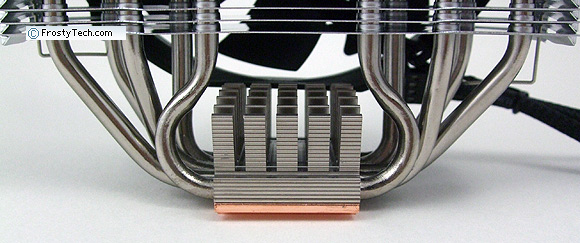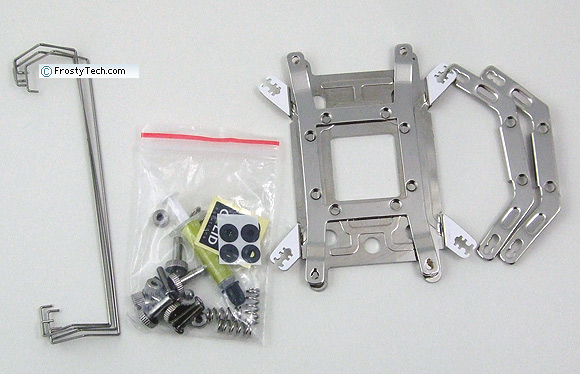 FrostyTech's Test Methodologies are outlined in detail here if you care to know what equipment is used, and the parameters under which the tests are conducted. Now let's move forward and take a closer look at this heatsink, its acoustic characteristics, and of course its performance in the thermal tests!