The Noctua NH-D9L is a mid-sized heatsink suitable for use in 3U height computer chassis where low noise CPU cooling is desired. It's compact stature makes it ideal for 3U rack mounted computers in a recording studio, office environment or even book-sized miniITX cases. The NH-D9L heatsink stands 114mm tall and has a footprint just 95mm square, ensuring it will not overhang adjacent memory slots on any current Intel or AMD motherboard, or interfere with PCI Express graphics card on mini-ITX platforms.
The NH-D9L heatsink ships with one 92mm Noctua NF-A9 fan sandwiched between two 33.5mm thick nickel plated aluminum fin towers. An extra set of wire fan clips is supplied for users who wish to mount a second 92mm fan (not included) off the front cooling tower; in Frostytech's tests this brought a ~4°C decrease in temperatures. The stock PWM fan rotates at a fixed speed of 2000RPM, or with the use a supplied fan speed resister, 1550RPM.
The heatsink itself is built around four 6mm diameter copper heatpipes (wick structure undisclosed) which are soldered to two separate stacks of nickel plated aluminum fins and a copper heatspreader for low thermal joint resistance and long term stability. Soldering dozens of heatsink fins to heatpipes can be a tricky manufacturing step to get right, so most entry level cooler makers don't do it. Another Noctua hallmark is the use of a 5mm thick copper heatspreader in place of exposed heatpipes; apparently this approach evens out temperature gradients inherent in multi-core processor designs which can potentially localize heat to one to two heatpipes in an exposed heatpipe heatsink design.
Noctua's NH-D9L heatsink is rated for heat loads up to 140W TDP and installs onto AMD socket AM2/AM3/FM1/FM2 and Intel LGA2011-0/LGA2011-3/115x processors. The NH-D9L is covered by a 6-year warranty and the SSO2 bearing based NF-A9 fan is rated for 150K hours MTBF. The Noctua NH-D9L heatsink retails for about $75USD/CDN at NCIX.com, the manufacturer even provides an Intel LGA775/1366 NM-13 mounting kit free of charge, if you're looking at a legacy application.
Noctua NH-D9L 3U Heatsink

---

heatsink specsheet
manufacturer: noctua
model no.: nh-d9l
materials: nickel plated aluminum fins, nickel plated copper heatpipes and copper base plate
fan mfg: noctua nf-a9 pwm
fan spec: 2000rpm, 12v, 0.1a
fan dim: 25x92x92mm
heatsink & fan dim: 114x95x95mm
weight: 531 grams
includes: mounting clips, thermal compound, fan speed reducers, screwdriver, instructions

---

Compatible with Sockets:
AMD - FM2/FM1/AM2/AM3
Intel - LGA2011-0/2011-3/115x
(does not support LGA1366/775 without NM-13 mounting kit)
Pricing: $75USD ($75CDN)
MOUNTING KIT UPGRADEABLE TO SUPPORT AMD SOCKET AM4?

Manufacturer Provided Mounting Kit Required to Support AMD Socket AM4 Motherboards? YES

Manufacturer AM4 Kit Request Form Link:
https://noctua.at/en/nm-am4-mounting-kit-order-form

Noctua state: "Owners of Noctua CPU coolers can obtain the Noctua NM-AM4 SecuFirm2 Mounting-Kit free of charge via this form. A proof of purchase (electronic version, photo or scan of the invoice) of both a Noctua CPU cooler and either a socket AM4 mainboard or socket AM4 CPU are required. There is a dedicated upgrade kit (NM-AM4-UxS) available for NH-U14S, NH-U12S and NH-U9S"

For more details, heatsink exceptions and a complete list of incompatible coolers, see here.


Noctua NM-AM4 SecuFirm2 Mounting-Kit supported on following Noctua heatsinks Frostytech has tested: NH-C12P , NH-C14 , NH-D14 , NH-D15 , NH-D9L, NH-L12, NH-L9x65, NH-U12 , NH-U12P , NH-U9, NH-U9B . Noctua NM-AM4-UxS Mounting-Kit: NH-U14S, NH-U12S and NH-U9S.
Noctua NF-A9 Fan
The cooler ships with a single 92mm NF-A9 fan that spins at 2000RPM and moves up to 78.9 cubic meters of air per hour, at 2.28mmH2O static pressure, according to manufacturer specs. All eight corners of the fan are protected with vibration absorbing pads so the fan can be mounted to any surface without the chance of creating errant noises.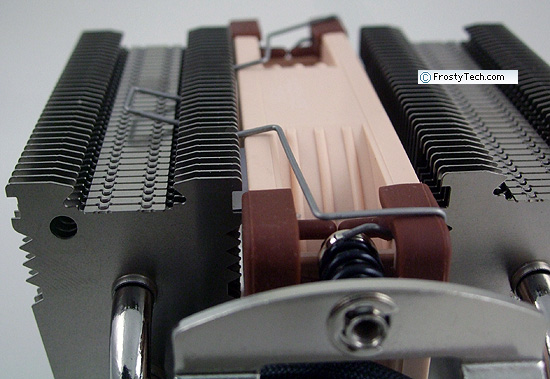 Also included is a NA-RC7 wire fan speed reducer (a 51Ohms resistor on the 12V+ PWM wire) that drops fan speed to 1500RPM for situations where much quieter operation is desired.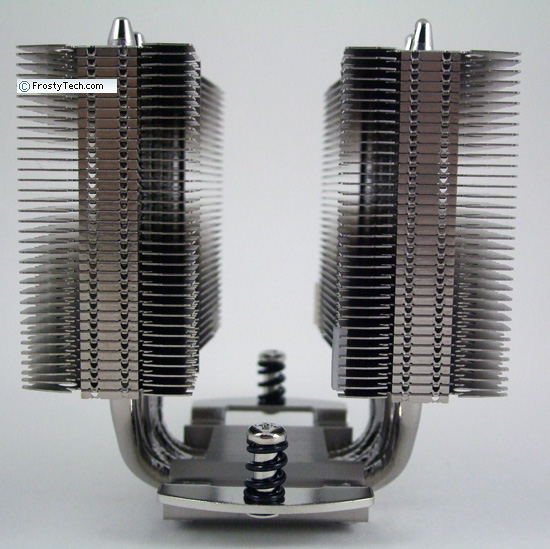 With the central fan removed we get a better sense of just how small the Noctua NH-D9L heatsink is: 114x95x95mm! Noctua have added a couple elastomeric strips along the internal edge where the fan makes contact, because the aluminum cooling towers are only 67mm tall and the stock vibration absorbing pads on the NF-A9 fan are spaced 65mm apart!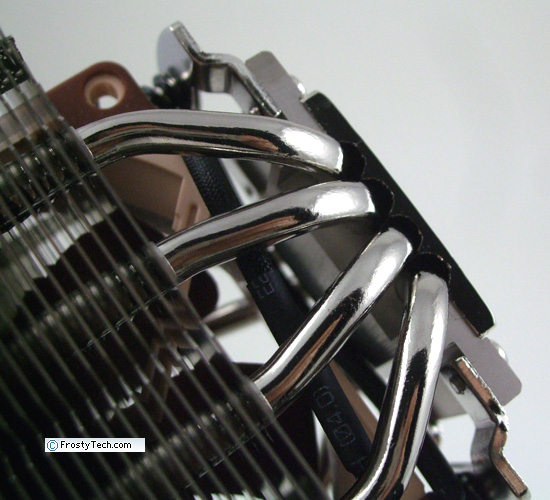 Testing the Noctua NH-D9L heatsink with two fans
For this review Frostytech will be also test the Noctua NH-D9L heatsink on our synthetic thermal test platforms with a second NF-A9 fan mounted to the front aluminum cooling tower. This increases the heatsink dimensions to 114x95x122mm and improves airflow through the heatsink.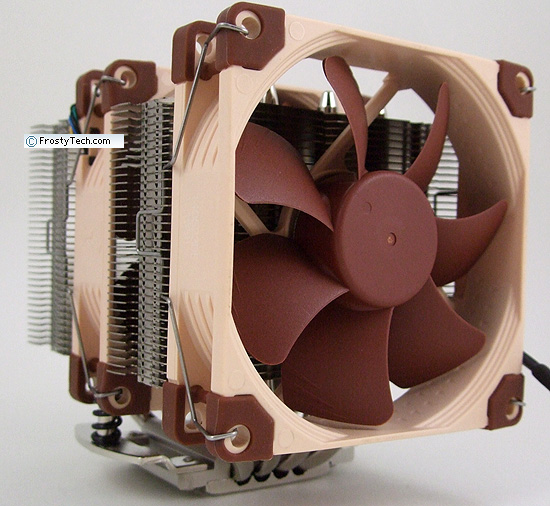 (second fan not included)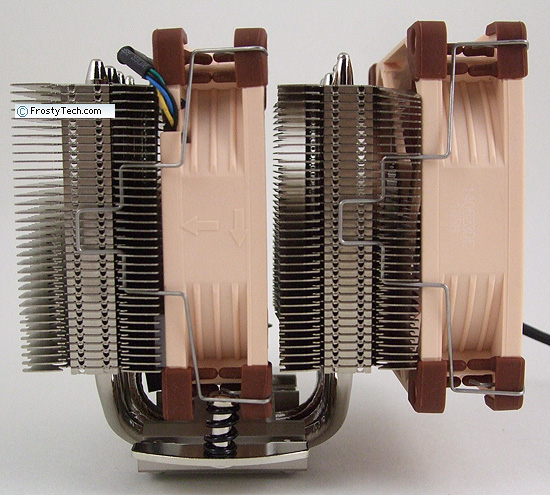 (second not included)
Heatsink Mounting Hardware
Noctua's NH-D9L heatsink is compatible with Intel socket LGA2011-0/2011-3/115x and AMD socket AM2/AM3/FM1/FM2 processors. Small metal tabs are attached to the heatsink base, a metal backplate positioned behind the motherboard, then everything fixed in place with two spring-tensioned screws. The installation process is straight forward and access is generally easy with the center fan popped out. This heatsink uses Noctua's SecuFirm 2 mounting system and is backwards compatible with the NM-I3 mounting kit.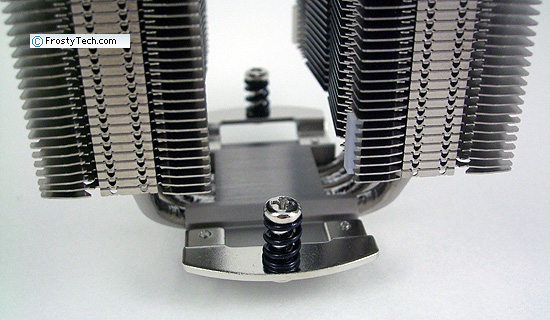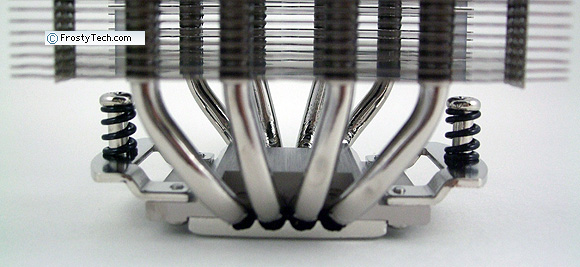 A multi-language manual is provided along with two extra fan clips, a screwdriver, Noctua NT-H1 thermal compound and NA-RC7 wire fan speed reducer.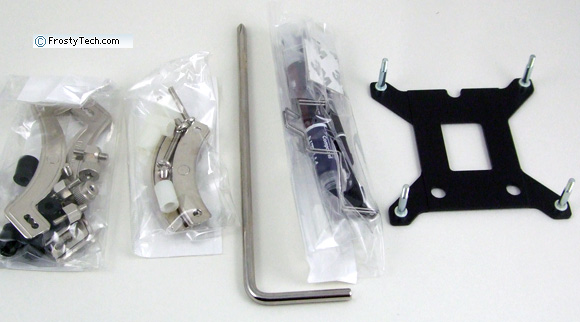 FrostyTech's Test Methodologies are outlined in detail here if you care to know what equipment is used, and the parameters under which the tests are conducted. Now let's move forward and take a closer look at this heatsink, its acoustic characteristics, and of course its performance in the thermal tests!