While it's obvious that the height of a low profile heatsink must no taller than the space available inside compact PC case, most people tend to overlook the point that the heatsink fan also demands a bit of clearance to work properly. If there's only 3mm to spare between the top of the fan and a solid metal case wall, a 50cfm fan is not going to move anywhere near 50cfm of air... The restricted air intake will leave the fan starved for air and consequently, the heatsink won't have a sufficient volume of air passing through it to keep CPU temperatures in check.
You can experiment with airflow restriction yourself by holding a stiff piece of cardboard 3mm to 8mm in front of a CPU fan for a few minutes while monitoring CPU temps.
Lack of sufficient intake air is only one of the challenges compact computer enclosures and low profile heatsinks face. Sometimes mini PC cases have insufficient venting which causes hot exhaust air to recirculate through the heatsink multiple times... the warmer the ambient air temperature, the hotter the CPU will run. Ideally, low profile heatsinks should intake cool air from outside the computer chassis in one axis, then exhaust the heated air in the direction of case vents positioned in a perpendicular axis so the warm air isn't immediately drawn back in.
For some users, the solution to all these low profile cooling woes is watercooling - it's got to be simpler to just put a water block on the CPU and run the heat exchanger outside the case where there is plenty of unobstructed cool air, right? Well, based on some reader feedback Frostytech has received recently, it seems there's a growing segment of PC builders ditching all-in-one liquid cooling solutions and moving back to good old air coolers. The perception driving this movement is that liquid coolers have long term maintenance and reliability issues, in one form or another... real or imagined.
In any case, whether you think watercooling is the devil's work or you're looking for an economical and quiet air cooler for a compact PC build, on the test bench today we have BeQuiet's Shadow Rock LP heatsink for your reading pleasure.
BeQuiet Shadow Rock LP Heatsink

---

heatsink specsheet
manufacturer: bequiet
model no.: shadow rock lp (bk002)
materials: nickel plated aluminum fins, copper heatpipes, aluminum base cap and copper base plate
fan mfg: bequiet purewings 2 bq-puw2-12025-ms-pwm
fan spec: 1500rpm, 12v, 0.2a
fan airflow: 51.4cfm
fan air pressure: 1.25 mm/h2o
fan dim: 120x120x25mm
heatsink & fan dim: 75x122x136mm
weight: 395 grams
includes: multi-socket socket mounting hardware, instructions

---

Compatible with Sockets:
AMD - FM2/FM1/AM2/AM3
Intel - LGA2011(-3)/1366/115x/775
Pricing: $45USD ($45CDN)
The Shadow Rock LP is a 75mm tall low profile heatsink rated for heat loads up to 130W TDP. It's built around four 6mm diameter copper heatpipes and relies on a single 120x120x25mm "PureWings 2" fan operating at 1500RPM (51CFM at 1.25mm/H2O according to manufacturer specs) to move air through a 22mm thick, horizontal nickel plated aluminum fin stack. The large fan gives the Shadow Rock LP an effective footprint of 122x136mm, with the solid copper heatspreader located asymmetrically to one side (85mm:51mm offset). The fan exhausts downward, so near by motherboard VRM components benefit from some airflow as well. Beyond that, BeQuiet's Shadow Rock LP weighs in at 395grams and features soldered heatpipe-to-aluminum fin joints for low thermal joint resistance.
BeQuiet's Shadow Rock LP heatsink installs onto AMD socket AM2/AM3/FM1/FM2 CPUs and Intel LGA2011/2011-3/1366/115x/775 processors. Retail price is around $45USD/CDN through the usual computer stores.
The Shadow Rock LP heatsink close up
Looking at the working end of the Shadow Rock LP heatsink reveals a nickel plated copper base plate and four 6mm diameter copper heatpipes - all heatpipe-to-fin joints are soldered, which is a sign of excellent build quality. The center two heatpipes are long enough to make another 180-degree turn and proceed back through a secondary, smaller aluminum fin stack positioned just above the CPU block.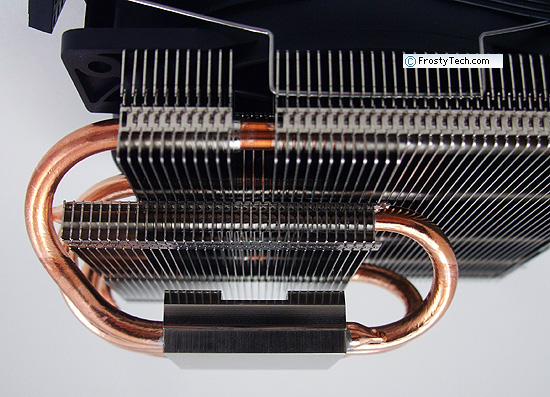 What this does is increase the cooling surface area AND act as a structural reinforcement for the upper portion of the heatsink. A lot of top-down heatsinks are supported entirely by their heatpipes, which means if the heatpipes are bent accidentally while pressing the heatsink down their internal wick structure can be damaged (not good). Some manufacturers add metal struts to support the upper fin stack and prevent bending, but this doesn't add to the cooling capability of the heatsink. BeQuiet have killed two birds with one stone, so to speak, resulting in a rigid heatsink structure and a little extra surface area for cooling. Smart & simple design.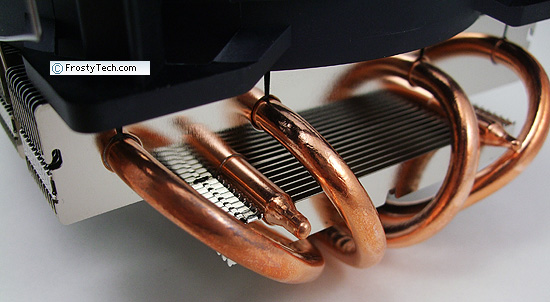 The wire fan clips are low profile and without thumb tabs, so you may need a narrow tool to help remove them.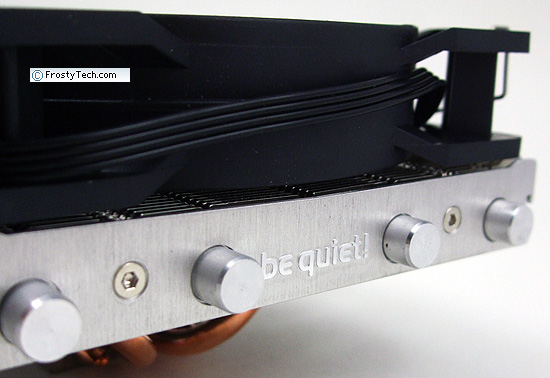 The BeQuiet Shadow Rock LP heatsink uses BeQuiet's house brand "PureWings 2" fan which features wavy impeller blades that are said to cut down on noise generation.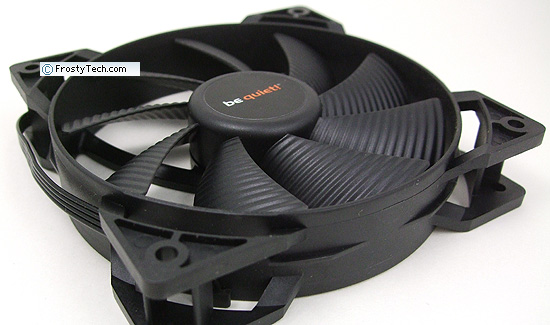 Heatsink Mounting Hardware
The BeQuiet Shadow Rock LP heatsink installs onto Intel socket LGA2011(-3)/1366/115x/775 processors and AMD socket AM2/AM3/FM1/FM2 chips. The heatsink ships with a metal rear motherboard support plate and assortment of metal mounting brackets and hardware. Access to the mounting hardware is a little challenging, so you may want to install this heatsink before installing the motherboard into its case.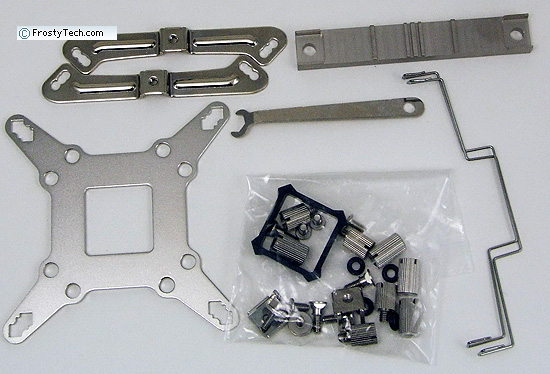 FrostyTech's Test Methodologies are outlined in detail here if you care to know what equipment is used, and the parameters under which the tests are conducted. Now let's move forward and take a closer look at this heatsink, its acoustic characteristics, and of course its performance in the thermal tests!