Based on some of the reader feedback we've gotten, it seems there's also a growing segment of PC builders determined to move away from all-in-one liquid cooling solutions and back to the arms of heatpipe based air coolers. This shift could be due to maintenance concerns which have always surrounded liquid coolers in one form or another, real and imagined, or because of the changing face of desktop computing. Where once a desktop lasted maybe 12 months before being upgraded, most desktop PCs now pretty much require a lifespan in excess of 5-7 years between major upgrades.
When you're doing real work on a desktop PC, creating content in whatever its form, there is nothing more annoying than a loud fan droning on or a computer randomly restarting because some component is overheating under load. Cooling brings reliability and quiet cooling is the only way to go!
With that in mind, on the test bench today we have BeQuiet's Dark Rock TF heatsink - a top-down dual tower heatsink which features a pair of BeQuiet SilentWings fans and stands 130mm tall. The Dark Rock TF heatsink is built around six 6mm diameter heatpipes which link a large primary aluminum fin stack and smaller secondary set of aluminum cooling fins to a chunky copper heatspreader below. The 135mm PWM fans are arranged in a push-pull configuration, exhausting downwards so related motherboard CPU VRM components benefit from the cooling air flow.
The Dark Rock TF has an upside-down pyramid sort of profile, measuring 140x165mm at the top and 98x102mm at a height of 22mm above the CPU. It ships with two identical 135x25mm SilentWings fans that operate 1400RPM and move upwards of 68CFM at 1.85mm/H2O according to manufacturer specs. Beyond that, the coolers' aesthetic is monolithic; dark nickel plating and shades of black. Although it doesn't have any onboard lighting, I'd wager the Dark Rock TF would look pretty cool with a halo of white LEDs downlighting the motherboard... someone should invent that.
BeQuiet Dark Rock TF Heatsink

---

heatsink specsheet
manufacturer: bequiet
model no.: dark rock (bk020)
materials: dark nickel plated aluminum fins, copper heatpipes, aluminum base cap, copper base plate
fan mfg: bequiet bq siw3-13525-mf-pwm
fan spec: 1400rpm, 12v, 0.4a
fan airflow: 67.8cfm
fan air pressure: 1.85 mm/h2o
fan dim: 135x135x25mm
heatsink & fan dim: 130x140x165mm
weight: 810 grams
includes: multi-socket socket mounting hardware, fan y-splitter, thermal compound, instructions

---

Compatible with Sockets:
AMD - FM2/FM1/AM2/AM3
Intel - LGA2011(-3)/1366/115x/775
Pricing: $79USD ($79CDN)
Weighing in at 810 grams, BeQuiet's Dark Rock TF heatsink is rated for heat loads up to 220W TDP and is compatible with AMD socket AM2/AM3/FM1/FM2 CPUs and Intel LGA2011/2011-3/1366/115x/775 processors. Retail price is around $79USD/CDN through the usual computer stores.
The Dark Rock TF Exposed
With the top and bottom 135mm SilentWings fans removed, we can see the leading & trailing edges of the Dark Rock TF's dark nickel plated aluminum fins have a shallow concave profile interspaced with small notches. The concave void serves to create a plenum behind the fan, the notches apparently help reduce air flow resistance.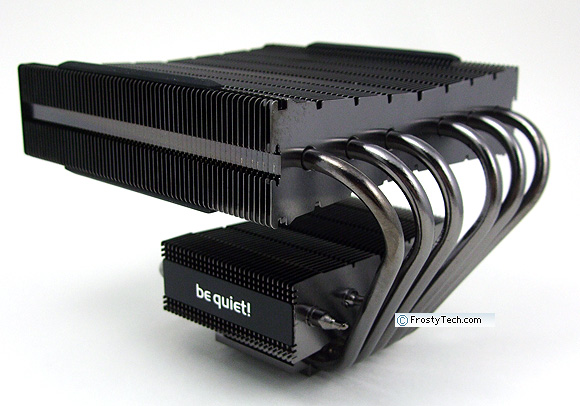 Each of the two 135mm PWM fans are held in place with a set of springy wire fan clips. Both the top and bottom fan rest on narrow rubber vibration absorbing pads - so there's no chance of a fan frame rattling against aluminum and generating noises down the road.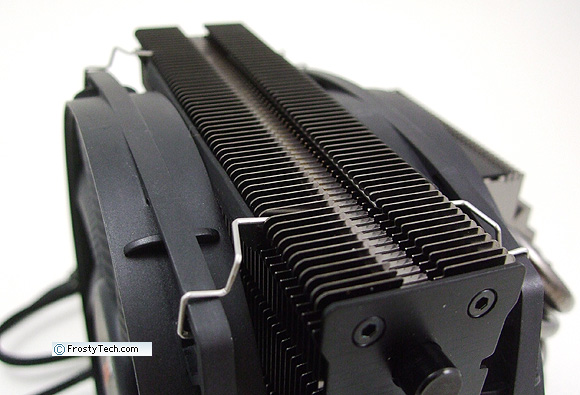 The fan clips are low profile and without thumb tabs, so you may need a narrow tool to help remove them. The BeQuiet Dark Rock TF contains two separate aluminum cooling fin arrays; the larger one measures 131x140x35mm and the smaller one is 98x64x27mm.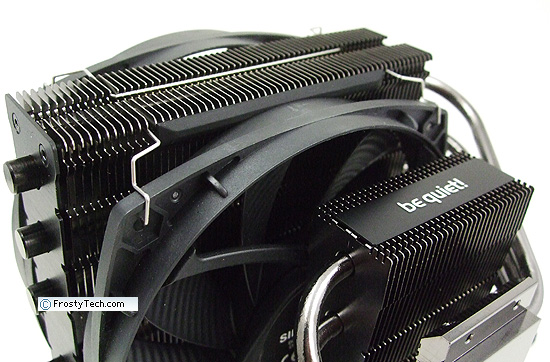 If you look carefully, you'll notice that all six heatpipes connect the base plate to the primary aluminum cooling fin array on top. Of those six heatpipes though, only four pass through the base plate which contains a thick copper heatspreader, loop around 180 degrees and intersect with the smaller aluminum cooling fin array. The small cooling fin array is located just 22mm above the CPU so airflow is bound to be somewhat restricted.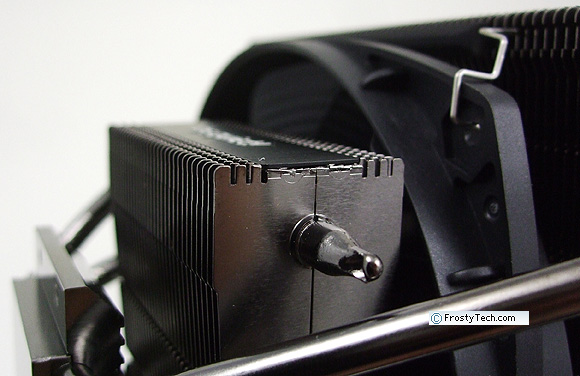 From what we can tell, the heatpipes are bonded to the fins by either solder or swaging.
Heatsink Mounting Hardware
The BeQuiet Dark Rock TF accommodates Intel socket LGA2011(-3)/1366/115x/775 processors and AMD socket AM2/AM3/FM1/FM2 CPUs. The heatsink ships with a metal rear motherboard support bracket, a variety of metal mounting brackets and associated hardware. A syringe of thermal compound and a very short fan Y-splitter is also included.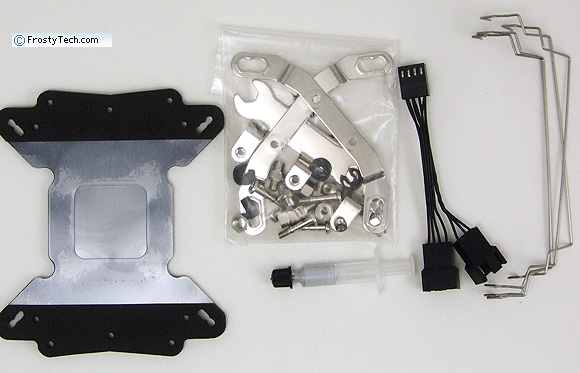 FrostyTech's Test Methodologies are outlined in detail here if you care to know what equipment is used, and the parameters under which the tests are conducted. Now let's move forward and take a closer look at this heatsink, its acoustic characteristics, and of course its performance in the thermal tests!