The whole premise behind the slim-tower Phanteks PH-TC14S heatsink is not overhanging memory slots - if you've built an Intel X99 based computer recently, you're undoubtedly aware that the memory slots straddle either side of the LGA2011-3 CPU socket with a little less than 20mm to spare. As performance oriented memory is usually clad in heat spreaders too, interference will occur if a CPU heatsink is too wide or the memory heat spreaders too tall. The challenge with the LGA2011-3 platform is how to properly cool a 140W TDP chip, quietly and ideally with a really compact heatsink.
According to the Intel Core i7 Thermal / Mechanical Specification and Design Guide, the minimum keep out zone between the memory slots is 92mm -- the dimension of the top-side LGA2011-3 ILM frame. Motherboard manufacturers require more space for circuit trace wiring, so a more realistic figure is ~110mm. Figure a 10mm buffer on either side of that and you're left with 72mm, the thickness of the Phanteks PH-TC14S heatsink!
The Phanteks PH-TC14S heatsink stands 161mm tall and weighs 740grams. It's built around six 6mm diameter heatpipes, a chunky nickel plated copper heatspreader and two black painted aluminum cooling fin towers, each 19mm wide. At the center of the heatsink is a 140mm PWM fan that operates at 1600-500RPM, producing upwards of 47dBA according to our real world noise measurements. The fan itself moves 68CFM at 1.62mmH2O, according to manufacturer specs.
Phanteks' PH-TC14S heatsink installs onto AMD socket AM2/AM3/FM1/FM2 and Intel LGA2011/1366/115x/775 processors. Retail price is around $49USD/CDN.
Phanteks PH-TC14S Heatsink

---

heatsink specsheet
manufacturer: phanteks
model no.: ph-tc14s
materials: black painted aluminum fins, nickel plated copper heatpipes, nickel plated copper base plate, aluminum base cap
fan mfg: ph-f140hp
fan spec: 1600-500rpm, 12v, 0.20a
fan airflow: 68cfm
fan air pressure: 1.62mmh2o
fan dim: 140x140x25mm
heatsink & fan dim: 161x140x72mm
weight: 740 grams
includes: multi-socket socket mounting hardware, thermal compound, instructions

---

Compatible with Sockets:
AMD - FM2/FM1/AM2/AM3
Intel - LGA2011/115x/775/1366
Pricing: $50USD ($50CDN)
The aluminum fins of the Phanteks PH-TC14S heatsink have been painted black for aesthetic reasons, not anodized as several novice reviews have mistakenly reported. A coating of paint on a heat transfer surface is not ideal as it insulates the aluminum fins from the surrounding air mass to some degree.
Furthermore, judging by the shiny nickel plated heatpipes visible between the joints of the black painted cooling fins, each zippered fin section is first painted, then installed onto the heatpipes as a single unit. That means there will be paint between the cooling fin and heatpipe joint as well.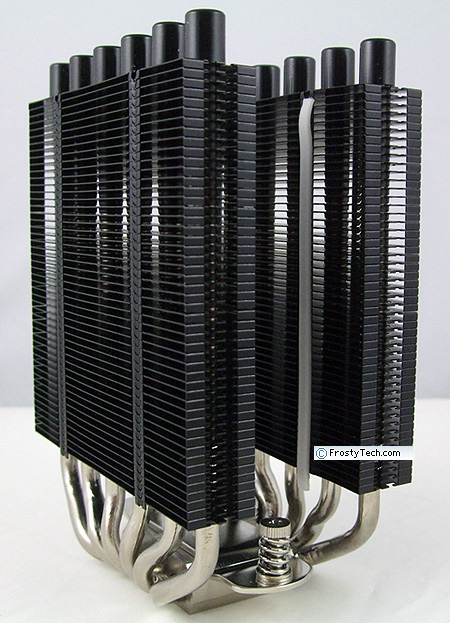 Looking more closely, we noticed the painted aluminum fins are in fact adhesively bonded to the heatpipes along a roughly 90mm length of the total 106mm fin stack height, not swagged or soldered in place (soldering is not possible if the fins are painted before assembly). Due to the incomplete glue up, the painted aluminum fins at the outside edges of the fin stack actually slide a little on the heatpipes if you wiggle them... this indicates a poor thermal joint.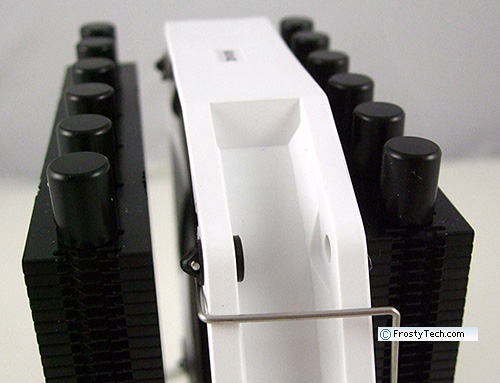 The 140mm fan rests against a pair of elastomer anti-vibration strips and is held in place with spring wire clips. The tips of the heatpipes are capped, purely for aesthetics.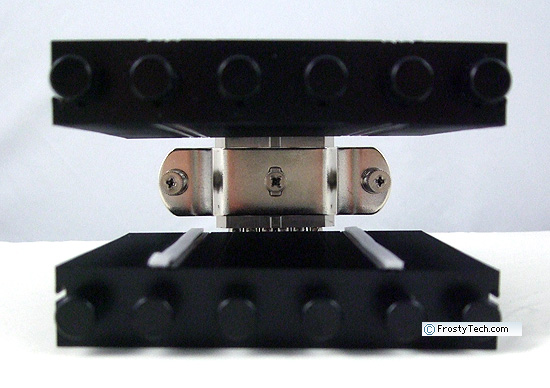 At the base, we find the heatsinks' mounting bracket attached to the aluminum base cap with a screw. To access the spring tensioned mounting screws the fan must be removed first, but otherwise installation is pretty straight forward. The spring tensioned screws ensure even mounting pressure is applied by the heatsink.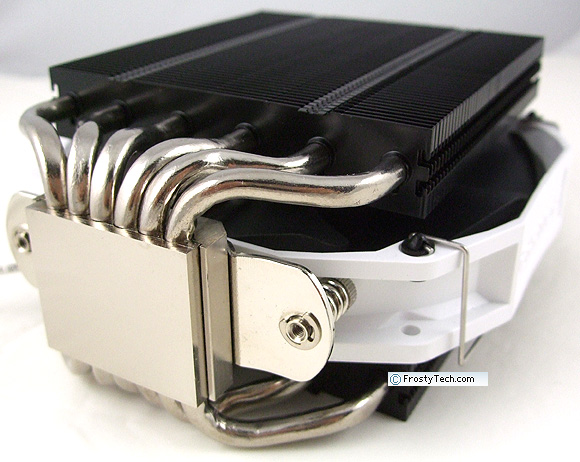 Heatsink Mounting Hardware
The Phanteks PH-TC14S heatsink accommodates Intel socket LGA2011/1366/115x/775 processors and AMD socket AM2/AM3/FM1/FM2 chips. The heatsink ships with a metal rear motherboard support bracket, a variety of metal mounting brackets and associated hardware. Phanteks include extra fan clips, vibration absorbing strips and a syringe of thermal compound.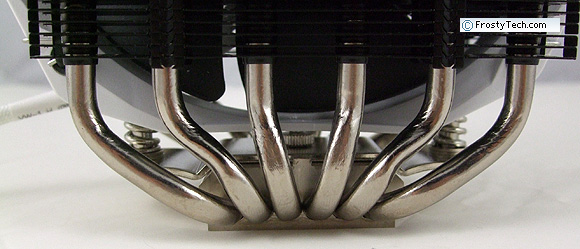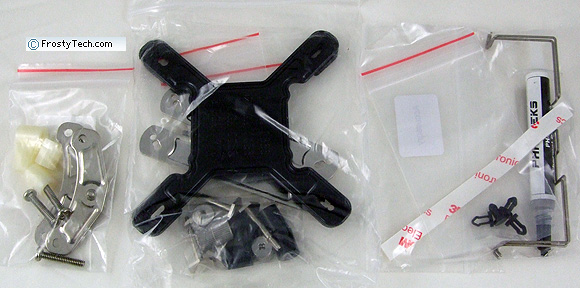 FrostyTech's Test Methodologies are outlined in detail here if you care to know what equipment is used, and the parameters under which the tests are conducted. Now let's move forward and take a closer look at this heatsink, its acoustic characteristics, and of course its performance in the thermal tests!