Somewhere along the line, heatsink manufacturers decided to toss volumetric size restrictions out the window. Consumers now frequently fawn over utterly gigantic CPU coolers that are quiet and cool extremely well, but don't really fit inside anything less than an E-ATX case. The other half of the problem with big heatsinks is that motherboard makers only have so much wiggle room with respect to where they can locate the CPU socket and memory slots. Sooner or later, these three volumetric spaces overlap and the headaches start... I'm sure many of you have faced the situation where a new heatsink forces you to sacrifice half the memory slots or downgrade to IGP graphics just to get the computer up and running!
Noctua has responded to the siren call for a more compact CPU cooler with its NH-U9S heatsink. It claims this mid-size cooler has "100% RAM compatibility" and "100% compatibility with PCIe cards on miniITX" motherboards. That's relatively easy to accomplish by sticking to the Intel/AMD thermal design guidelines, but how much thermal performance is sacrificed?
Noctua's NH-U9S heatsink is an upgraded version of the NH-U9B, incorporating more heatpipes, a completely revamped fin geometry and a higher airflow Noctua NF-A9 fan. Noctua's NH-U9S mid-size heatsink is rated to heat loads of 140W TDP and installs onto AMD socket AM2/AM3/FM1/FM2 and Intel LGA2011-0/LGA2011-3/115x processors. The NH-U9S is covered by a 6-year warranty and the fan is rated to 150K hours MTBF. The Noctua NH-U9S retails for about $75USD/CDN at NCIX.com .
Noctua NH-U9S Heatsink

---

heatsink specsheet
manufacturer: noctua
model no.: nh-u9s
materials: aluminum fins, nickel plated copper heatpipes and base
fan mfg: noctua nf-a9 pwm
fan spec: 2000rpm, 12v, 0.1a
fan dim: 25x92x92mm
heatsink & fan dim: 125x95x95mm
weight: 618 grams
includes: mounting clips, thermal compound, fan speed reducers, screwdriver, instructions

---

Compatible with Sockets:
AMD - FM2/FM1/AM2/AM3
Intel - LGA2011-0/2011-3/115x
(does not support LGA1366/775)
Pricing: $75USD ($75CDN)
MOUNTING KIT UPGRADEABLE TO SUPPORT AMD SOCKET AM4?

Manufacturer Provided Mounting Kit Required to Support AMD Socket AM4 Motherboards? YES

Manufacturer AM4 Kit Request Form Link:
https://noctua.at/en/nm-am4-mounting-kit-order-form

Noctua state: "Owners of Noctua CPU coolers can obtain the Noctua NM-AM4 SecuFirm2 Mounting-Kit free of charge via this form. A proof of purchase (electronic version, photo or scan of the invoice) of both a Noctua CPU cooler and either a socket AM4 mainboard or socket AM4 CPU are required. There is a dedicated upgrade kit (NM-AM4-UxS) available for NH-U14S, NH-U12S and NH-U9S"

For more details, heatsink exceptions and a complete list of incompatible coolers, see here.


Noctua NM-AM4 SecuFirm2 Mounting-Kit supported on following Noctua heatsinks Frostytech has tested: NH-C12P , NH-C14 , NH-D14 , NH-D15 , NH-D9L, NH-L12, NH-L9x65, NH-U12 , NH-U12P , NH-U9, NH-U9B . Noctua NM-AM4-UxS Mounting-Kit: NH-U14S, NH-U12S and NH-U9S.
The NH-U9S heatsink stands 125mm tall and has a square footprint of 95x95mm. Weighing 618 grams, the heatsink is built around five 6mm diameter copper heatpipes which are soldered to the aluminum cooling fins as well as the copper base plate, in typical Noctua fashion.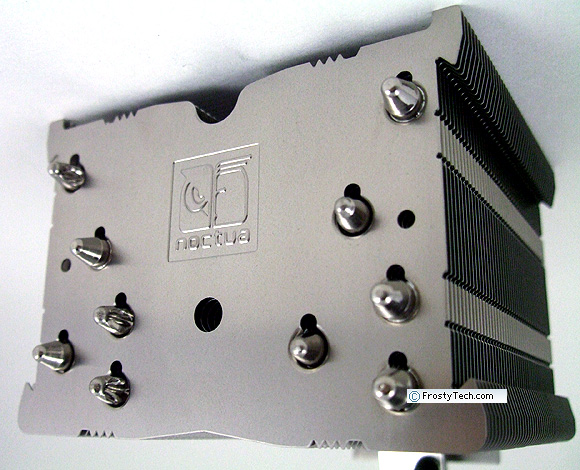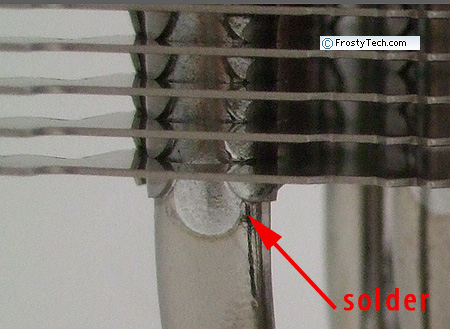 The cooler ships with a single 92mm NF-A9 fan that spins at 2000RPM and moves 78.9cubic meters per hour of air, at 2.28mmH2O static pressure, according to manufacturer specs. All eight corners of the fan are protected with rubber vibration pads so the heatsink can be mounted to any surface without increasing the chance of errant noises.
Also included is a NA-RC7 wire fan speed reducer (a 51Ohms resistor on the 12V+ PWM wire) that drops fan speed to 1500RPM, for situations where much quieter operation is desired.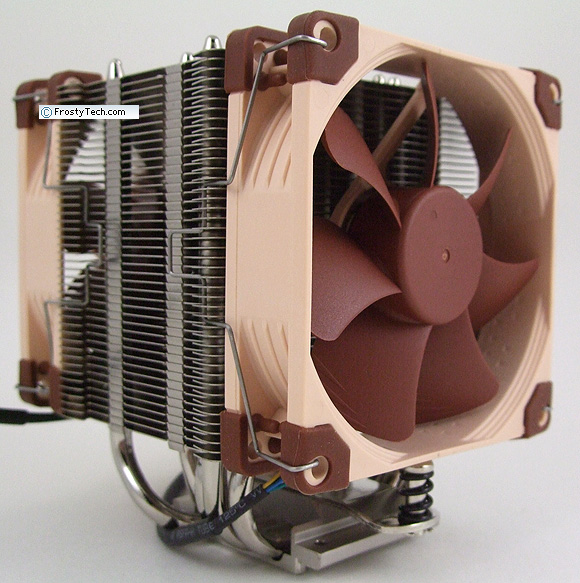 (second rear fan added)
For this review Frostytech will also be testing the Noctua Nh-U9S heatsink with a second rear-mounted NF-A9 fan (not included). Adding a second fan increases the length of the heatsink body from 95mm to 122mm.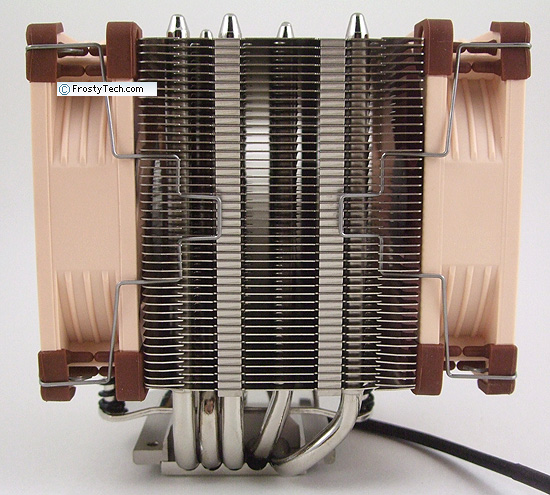 (second rear fan added)
Heatsink Mounting Hardware
Noctua's NH-U9S heatsink is compatible with Intel socket LGA2011-0/2011-3/115x and AMD socket AM2/AM3/FM1/FM2 processors. Small metal tabs are attached to the heatsink base, a backplate positioned behind the motherboard, then everything fixed in place with two spring-tensioned screws. The installation process is straight forward, but you may have to remove the motherboard from the computer case.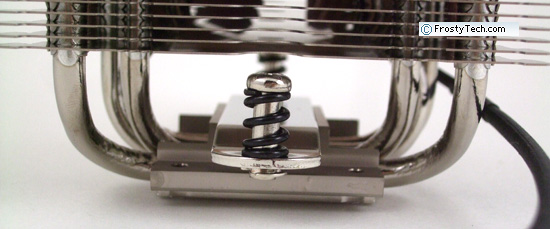 A multi-language manual is provided along with two extra fan clips, a screwdriver, Noctua NT-H1 thermal compound and NA-RC7 wire fan speed reducer.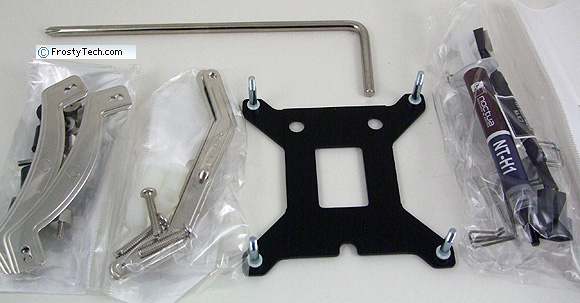 FrostyTech's Test Methodologies are outlined in detail here if you care to know what equipment is used, and the parameters under which the tests are conducted. Now let's move forward and take a closer look at this heatsink, its acoustic characteristics, and of course its performance in the thermal tests!