There's this neat video of a heatpipe and solid copper rod being lowered into a cup of hot water to demonstrate how different forms of metal conduct heat differently. Both rods are 8" long, the same diameter and made from copper, except one is solid and the other a hollow sealed tube (a heatpipe). Thermocouples are attached to the top ends of each rod and hooked up to dedicated digital thermometers so the instantaneous temperatures of both samples can be read as the experiment progresses. Copper has a thermal conductivity of 398 W/mK, nearly double that of some alloys of aluminum, but viewer is left to wonder, "does the shape of the metal matter too?" At first glance, a solid rod of metal vs a thin hollow tube might point to one particular answer... yet as I'm sure most Frostytech readers are already aware, heatpipes are very efficient conductors of heat energy. We've explained the science behind heatpipes before, so I won't repeat that.
In the video, both digital thermometers report a starting temp. of ~25°C, then the two copper rods are lowered into the hot cup of water. A mere 67 seconds later the end of the solid copper rod has risen in temperature by a modest 4.7°C. On the other hand, the temperature reading off the end of the heatpipe has risen by 31.1°C!
It's a neat demonstration of a fundamental principle, but the test doesn't address the challenges of getting heat into and out of the heatpipe, not how bends affect a heatpipes' power handling capability and so on... Suffice to say, with a tower heatsink there are a great many variables in play, which is why you never can tell how a heatsink will perform just by looking at it! :-)
On the test bench today we have BeQuiet's Pure Rock heatsink - a 155mm tall tower cooler built around four 6mm diameter copper heatpipes and paired with one of BeQuiet's 'Pure Wings 2' low noise 120mm fans. The Pure Rock heatsink has a relatively narrow footprint of 121x89mm so it should fit most motherboards where the memory slots are tight against the CPU socket. The heatsink ships with a single 120x25mm fan that spins at 1500RPM, moving up to 51CFM at 1.25 mm/H2O according to manufacturer specs.
Weighing in at 660grams, the Pure Rock CPU cooler is rated for heat loads of 130W TDP and is compatible with AMD socket AM2/AM3/FM1/FM2 and Intel LGA2011/1366/115x/775 processors. Retail price is around $35USD/CDN.
BeQuiet Pure Rock Heatsink

---

heatsink specsheet
manufacturer: bequiet
model no.: pure rock (bk009)
materials: aluminum fins, copper heatpipes, aluminum base cap, nickel plated copper base plate
fan mfg: bequiet bq puw2-12025-ms-pwm
fan spec: 1500rpm, 12v, 0.2a
fan airflow: 51cfm
fan dim: 120x120x25mm
heatsink & fan dim: 155x121x89mm
weight: 660 grams
includes: multi-socket socket mounting hardware, pre-applied thermal compound, instructions

---

Compatible with Sockets:
AMD - FM2/FM1/AM2/AM3
Intel - LGA2011/1366/115x/775
Pricing: $35USD ($35CDN)
The leading edge of the Pure Rock's aluminum fins are saw toothed to help reduce air flow resistance and the fin profile is slightly concave to create a 3-8mm deep plenum behind the fan. Bequiet have added a pair fo large cut outs directly behind the fan motor, where largely stagnant airflow can trap heat.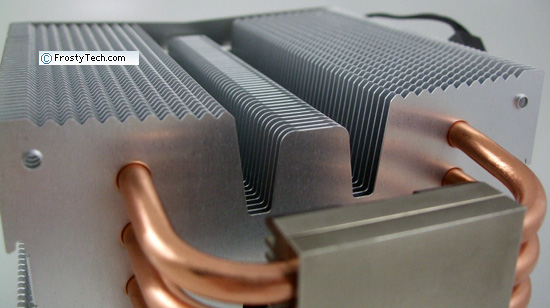 Being that the Pure Rock is a mainstream cooler destined for users on a bit of a budget, we were pleased to see a patch of pre-applied thermal compound on the base.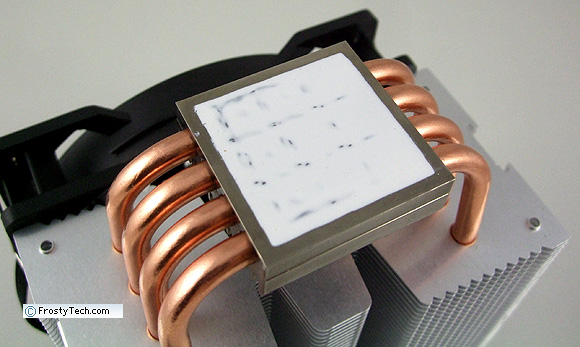 The 120mm PWM fan BeQuiet have chosen for the Pure Rock employs a unique fin geometry as you can see below. The top and bottom faces of each impeller blade are covered with shallow grooves which are supposed to "optimize airflow" over the surfaces and reduce noise.
Heatsink Mounting Hardware
The BeQuiet Pure Rock heatsink accommodates Intel socket LGA2011/1366/115x/775 processors and AMD socket AM2/AM3/FM1/FM2 CPUs. The heatsink ships with a metal rear motherboard support bracket, a variety of metal mounting brackets and associated hardware. Being an economy heatsink, it does not comes with extra wire fan brackets. A patch of thermal compound is pre-applied to the base.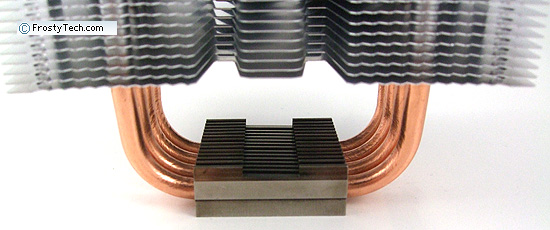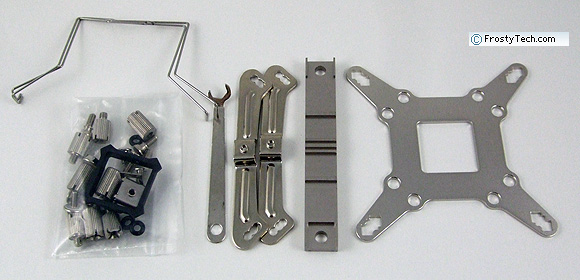 FrostyTech's Test Methodologies are outlined in detail here if you care to know what equipment is used, and the parameters under which the tests are conducted. Now let's move forward and take a closer look at this heatsink, its acoustic characteristics, and of course its performance in the thermal tests!