The DeepCool Gamer Storm Lucifer heatsink is a fairly large CPU cooler, very much resembling a passive thermal solution on quick glance due to its boxy footprint and widely spaced aluminum fins. The heatsink isn't a passive cooler though, its single fan is very much required to keep the Lucifer from becoming like its name-sake. The 140mm PWM fan is made by Deepcool with a rubberized frame so it sits comfortably against the aluminum fin stack without any rattling noises.
At the working end of the Gamer Storm Lucifer heatsink we find a chunky copper heat spreader, nickel plated to prevent copper oxidation. Six 6mm diameter copper heatpipes are soldered to this heatspreader and rise up through the 105mm cooling fin stack in two rows roughly corresponding to the regions of highest airflow. DeepCool's Lucifer heatsink stands 163mm tall and has a footprint of 142x135mm; the bottom fins are elevated 46mm so clearance with adjacent motherboard components shouldn't be too problematic.
DeepCool's Lucifer heatsink ships with a 140mm PWM fan that rotates at 1400-700RPM and moves upwards of 81CFM, according to manufacturer specifications. Extra wire fan clips are supplied so users can mount an additional fan to the back of the heatsink if they wish.
The Gamer Storm Lucifer heatsink weighs in at 1079grams and is compatible with all of today's current processors: Intel socket LGA2011/1366/1115x/775 and AMD socket FM1/FM2/AM2/AM3. It retails for around $60 USD at the usual online computer stores.
DeepCool Gamer Storm Lucifer Heatsink

---

heatsink specsheet
manufacturer: deepcool / gamer storm
model no.: lucifer (dpgs-mch6n-lc)
materials: nickel plated aluminum fins, copper heatpipes and copper base plate
fan mfg: deepcool (n/a)
fan spec: 1400-700rpm, 12v, 0.13a
fan dim: 26x140x140mm
heatsink & fan dim: 163x142x135mm
weight: 1079 grams
includes: multi-socket mounting hardware, thermal compound, instructions

---

Compatible with Sockets:
AMD: AM2/AM3/FM1/FM2
Intel: LGA2011/1366/115x/775
Est. Pricing: $60USD ($60CDN)
Deep Cool Rubberized Fan
All heatsinks made by DeepCool are shipped with the same style of rubberized fans. The green portions of the fan impeller and frame (pictured blow) are made from standard plastic, the black areas are rubber which has been moulded over the ridged fan frame. This essentially create a vibration dampening surface no matter where, or to what, the 140mm fan is mounted. Other companies rely on small rubberized inserts which fit over the corners of the fan frame, or require small strips of elastomer applied directly to the fins of the heatsink.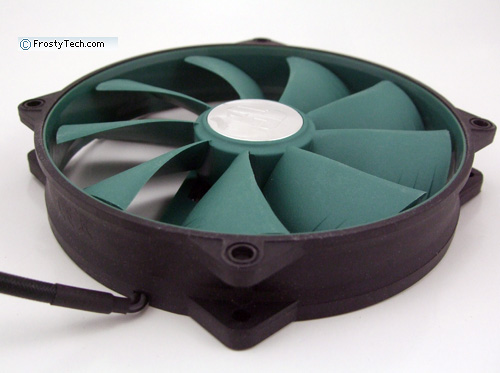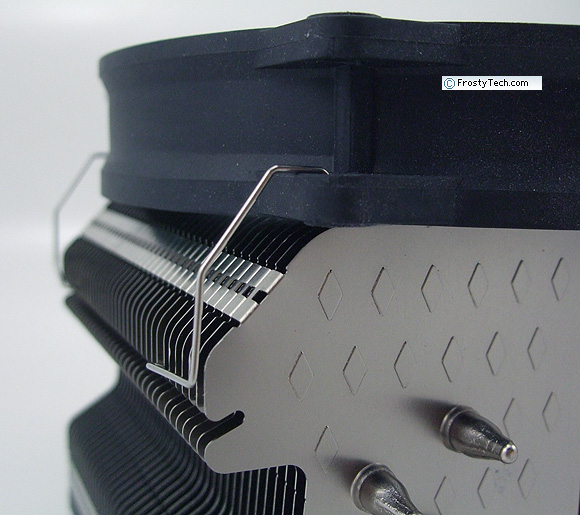 The surface of each aluminum fin on the Lucifer heatsink has been embossed with a series of diamonds that add texture to the cooling fins and (theoretically) break up laminar air flow. Breaking up laminar air flow can decrease the boundary layer and improve metal-to-air heat conduction. The fin texturing is easily visible from a highly acute angle.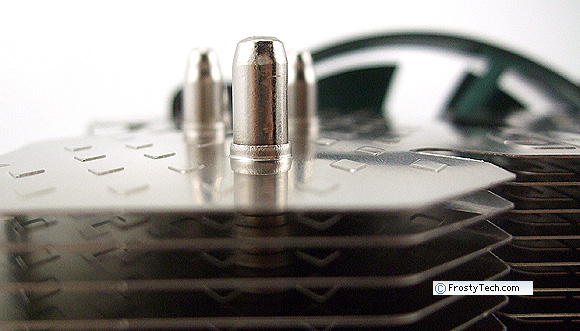 In addition to texturing the aluminum cooling fins, DeepCool employ a series of cut outs in the area of the fin which roughly correspond to known "dead spots" in airflow.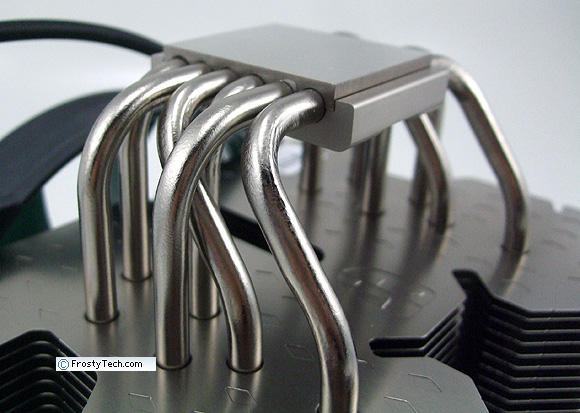 DeepCool's Gamer Storm heatsink has six 6mm diameter copper heatpipes, each sparingly soldered to the hefty copper base as you can see above. A little more solder may have been necessary, judging by the gaps still visible at the edge of the baseplate.
Heatsink Installation and Hardware
The DeepCool Gamer Storm Lucifer heatsink accommodate the full gamut of Intel socket LGA2011/1366/115x/775 processors and AMD socket AM2/AM3/FM1/FM2 CPUs.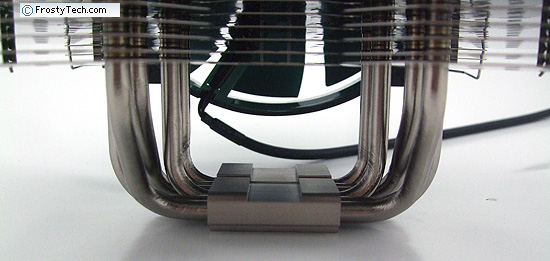 The mounting hardware includes a rear motherboard support plate to prevent the board from flexing under the weight of this 1079gram heatsink. For both Intel and AMD mounting systems, small threaded nipples are attached to the studs on the rear support bracket and then the corresponding Intel or AMD brackets installed around the CPU socket. The heatsink mounts to these brackets with a common spring-tensioned fulcrum load plate.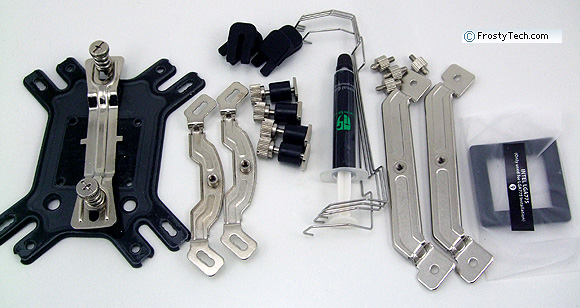 Apart from mounting hardware, DeepCool supply four wire fan clips and a syringe of thermal grease.
FrostyTech's Test Methodologies are outlined in detail here if you care to know what equipment is used, and the parameters under which the tests are conducted. Now let's move forward and take a closer look at this heatsink, its acoustic characteristics, and of course its performance in the thermal tests!