At first glance you probably won't notice that Reeven's Okeanos RC-1402 heatsink uses slightly different sized fans - a 120mm vaneaxial fan hanging off the front and a 140mm fan in between the two aluminum fin stacks. The difference in fan size is an effort to assure airflow through each fin tower is roughly equalized. Using matched fans in a dual tower heatsink is always somewhat counter productive as the internal fan has to deal with the obstruction in front of it which negatively affects airflow and RPM. In the case of the Okeanos heatsink, both fans operate at nearly the same speed range, the 120mm unit rotating at 1800-300RPM and the 140mm PWM fan at 1700-300RPM.
In most other respects, the dual tower, twin fan, Reeven Okeanos RC-1402 heatsink is pretty standard stuff. The cooler weighs in at 1060grams, stands 163mm tall and is built around six heatpipes (4x 6mm, 2x 8mm) which support a pair of 120x40x140mm aluminum fin stacks. On the bottom of the cooler we find a nickel plated copper heatspreader soldered to the heatpipes.
The Reeven Okeanos RC-1402 heatsink retails for $75USD and is compatible with AMD socket AM2/AM3/FM1/FM2 CPUs and Intel socket LGA2011-3/2011/1366/115x/775 processors. It comes with a set of wire fan speed adaptors, but no Y-splitter, so you'll need a motherboard with dual 4-pin CPU fan headers. Extra fan brackets are even included if you want to mount a third exhaust fan (not included).
Reeven Okeanos RC-1402 Heatsink

---

heatsink specsheet
manufacturer: reeven
model no.: okeanos rc-1402
materials: aluminum fins, copper heatpipes, copper base plate
fan mfg: (outside) reeven rm1425s17b-p
(inside) reeven rm1225s18b-p
fan spec:
(outside) 1800-300rpm, 12v, 0.38a
(inside) 1800-300rpm, 12v, 0.25a
fan dim:
(outside) 25x120x120mm
(inside) 25x140x140mm
fan rating: 16-92cfm, 16-92cpm
heatsink & fan dim: 163x140x136mm
weight: 1030grams
includes: multi-socket mounting hardware, thermal compound, (2) fan speed reducers, instructions

---

Compatible with Sockets:
AMD: AM2/AM3/FM1/FM2
Intel: LGA2011-3/2011/1366/115x/775
Est. Pricing: $75USD ($75CDN)
The two fans are pictured below: the front 120mm fan rotates at 1800-300RPM and the internal 140mm PWM fan spins at 1700-300RPM.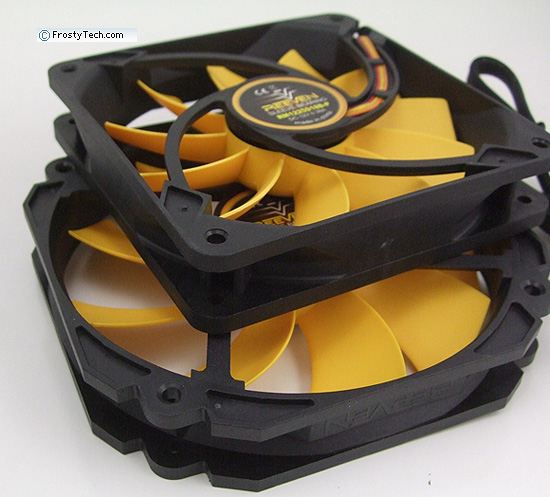 Both fans mount directly to the aluminum fin stacks with springy wire fan clips.
As the Okeanos RC-1402 heatsink is 140mm wide, Reeven have done away with the finger tabs on the fan brackets to keep the profile as narrow as possible. This keeps the heatsink from interfering with adjacent devices, like the back of a videocard PCB for example, but it does make it more difficult to remove the center fan prior to heatsink installation.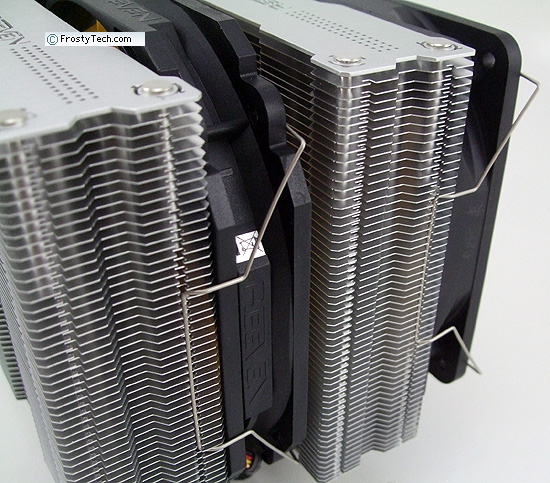 At the business end of the Okeanos RC-1402 heatsink we find the same nickel plated copper heatspreader and mixture of 8mm and 6mm heatpipes as is used on the Reeven Ouranos heatsink. The copper base plate varies from 3-5mm thick and appears to be soldered to the heatpipes.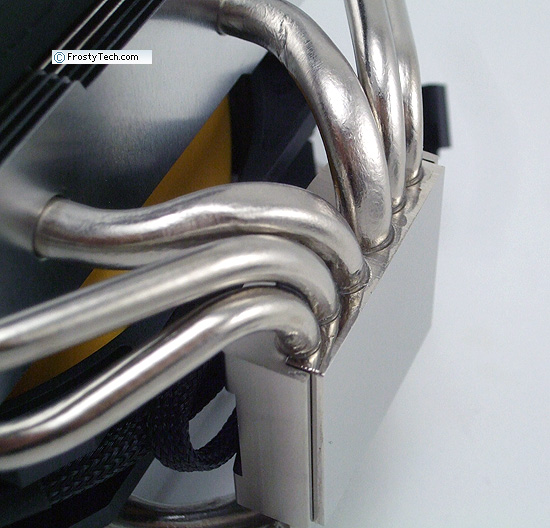 Heatsink Installation Hardware
The Reeven Okeanos RC-1402 heatsink is compatible with Intel socket LGA2011-3/2011/1366/115x/775 and AMD socket AM2/AM3/FM1/FM2 processors and ships with a pair of metal brackets that attach to the motherboard to securely hold the 1030gram heatsink in place.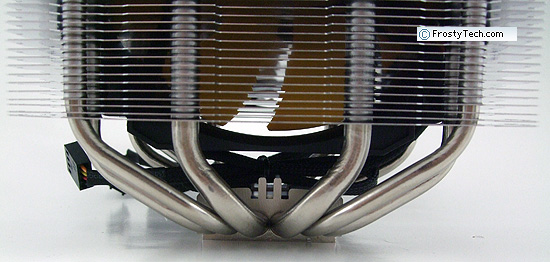 As a metal plate needs to be installed at the back of the motherboard to prevent clamping forces from distorting the PCB, be prepared to pull off case side panels when installing this heatsink.
Clamping forces are applied by a fulcrum plate, which in theory applies mounting pressure more evenly than four-point screw-tensioned systems. Beyond the hardware, we find a small pack of grey thermal grease, fan speed reducer and extra set of fan brackets included.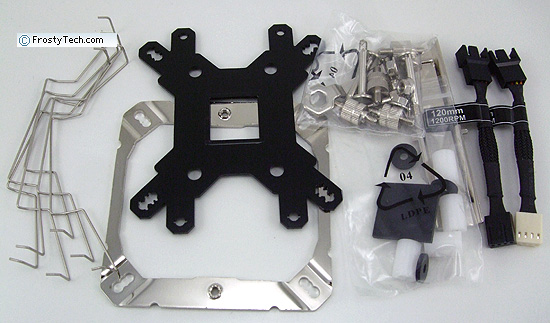 FrostyTech's Test Methodologies are outlined in detail here if you care to know what equipment is used, and the parameters under which the tests are conducted. Now let's move forward and take a closer look at this heatsink, its acoustic characteristics, and of course its performance in the thermal tests!