Tower heatsinks are one of the most popular offshoots from the evolutionary heatsink tree; from a users' perspective they're also a lower cost alternative to the expensive all-in-one liquid cooling solutions so prevalent right now.
In this review Frostytech will be testing the Reeven Justice RC-1204 heatsink, a 162mm tall tower CPU cooler with a 125x100mm footprint. Weighing in at 930grams, the Justice RC-1204 comes with a single 120mm PWM fan that spins at 1500-300RPM and moves upwards of 82CFM according to manufacturer specs. Reeven include an extra set of plastic fan clips for users who wish to install their own rear-mounted exhaust fan too.
Built around six 6mm diameter copper heatpipes, the Reeven Justice RC-1204 follows a familiar design format as that of the Hans and Ouranos heatsinks Frostytech recently tested. Rather than exposed heatpipes at the base though, Reeven opt for a nickel plated copper base plate which is more durable in the long term and of course, acts as a heatspreader to multi-core processors which have hot-spots in certain regions of the silicon die.
Reeven's Justice RC-1204 heatsink accommodates Intel socket LGA2011-3/2011/1366/115x/775 processors and AMD socket AM2/AM3/FM1/FM2 CPUs, retail price is $45USD.
Reeven Justice RC-1204 Heatsink

---

heatsink specsheet
manufacturer: reeven
model no.: justice rc-1204
materials: aluminum fins, copper heatpipes, copper base plate
fan mfg: reeven rm1225s15b-p
fan spec: 1500-300rpm, 12v, 0.25a
fan dim: 25x120x120mm
fan rating: 16-82cfm
heatsink & fan dim: 162x125x100mm
weight: 930grams
includes: multi-socket mounting hardware, thermal compound, instructions

---

Compatible with Sockets:
AMD: AM2/AM3/FM1/FM2
Intel: LGA2011-3/2011/1366/115x/775
Est. Pricing: $45USD ($45CDN)
The Reeven Justice heatsink uses four yellow plastic clips to hold the fan onto the aluminum fin stack. Wire fan clips are generally preferred, but can be problematic if the heatsink is too close to the back of a videocard. With plastic clips there is, at least, no chance of a wire shorting out a graphics card!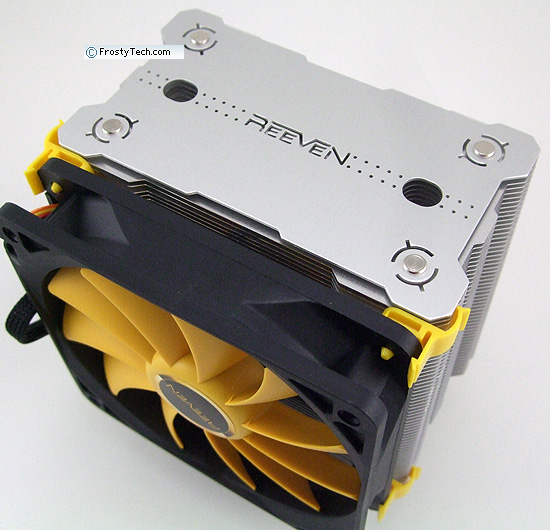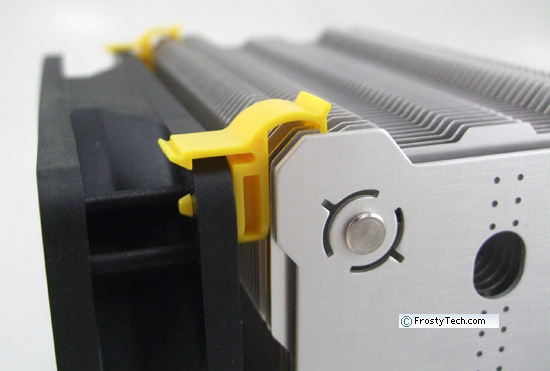 The 6mm diameter heatpipes extend out from the base with a leisurely curve - bending a heatpipe beyond its minimum bend radius will reduce the heat carrying capacity of the device.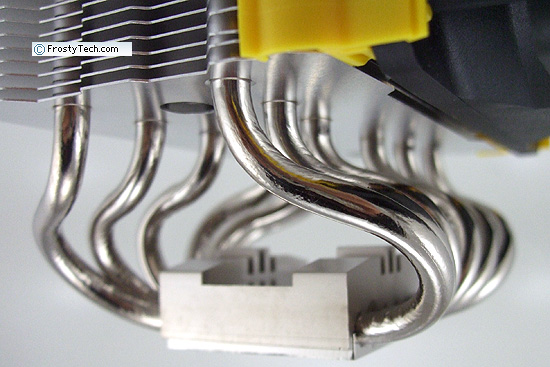 The leading edges of the aluminum fins are basically flat across the entire 115mm height of the fin stack. The fan brackets create an 8mm plenum behind the fan.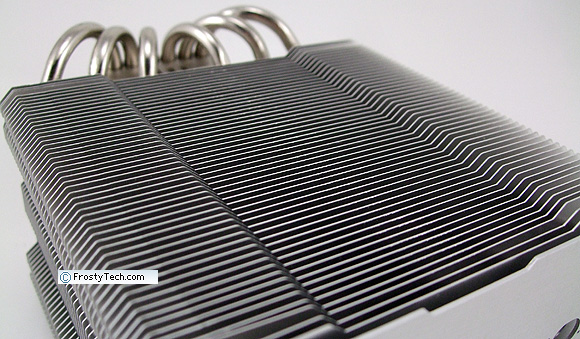 Heatsink Installation Hardware
The Reeven Justice RC-1204 heatsink is compatible with Intel socket LGA2011-3/2011/1366/115x/775 and AMD socket AM2/AM3/FM1/FM2 processors. The heatsink ships with a pair of metal brackets that attach to the motherboard to securely hold the 930gram heatsink in place and prevent clamping forces from distorting the PCB.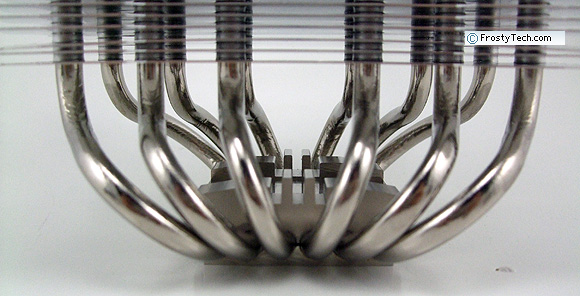 Clamping forces are applied by the same type of fulcrum plate used on other Reeven heatsinks, this method tends to apply pressure more evenly than four-screw-systems. Beyond the hardware, a pack of grey thermal grease and extra set of orange plastic fan clips included.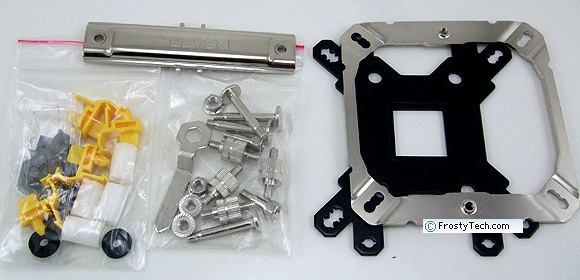 FrostyTech's Test Methodologies are outlined in detail here if you care to know what equipment is used, and the parameters under which the tests are conducted. Now let's move forward and take a closer look at this heatsink, its acoustic characteristics, and of course its performance in the thermal tests!