The First Step
---
The base of the CuPins Heatsink is not as thick as our previous attempt at copper based cooling. This time the base is mear 4mm thick. A 1/4" plate formed the basis of the heatsink previously.
The source of this 4mm copper is an old printing plate. During a recent excursion to a metal suppliers and a scrap dealer it was one of the many things we returned with. The only problem that the printing plate poses is that we have to remove some of the leftovers from its original purpose. Namely a little copper maple leaf :)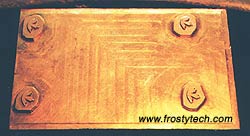 Before being able to use this old copper printing plate as the base of our CuSink we had to remove one of the engraved maple leaves.
To remove the maple leaf from the surface of the plate we used a combination of tools. Using a Foredom with a high speed steel rotary bur, and a range of single-cut to second-cut files we removed the copper bump from the square section of plate which was to be cut out.
Since this side would be the top of the heatsink we weren't very concerned if the end result was not perfectly flat. The base of the plate was coated in a green resist, left over from when the plate was etched. Some wet-dry sand paper of suitable grade (300-600) removed it easily, and smoothed out the base further.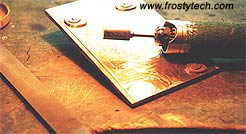 A combination of rotary burs for the rough work and a fine files for the finishing work were used to flatten the surface of the section of copper which we would be working with.
Once the area needed was flat, we set about cutting off a 45mm x 50mm section. Nothing more sophisticated then a small coping saw was used to do this. Lines were marked on the plate to guide the saw and that was about it.