BeQuiet's Shadow Rock Slim heatsink stands 159mm tall and has a footprint of 130x74mm so it will fit most motherboards where space between the memory slots and videocard is on the tight side. The heatsink employs a single 136x136x22mm fan that spins at 1400-800RPM, although extra fan clips are supplied if users wish to tack on their own exhaust fan.
The Shadow Rock Slim heatsink weighs 730 grams and is constructed around four 6mm diameter copper heatpipes onto which are swaged raw aluminum cooling fins. The heatpipes use an unknown wick type... BeQuiet list the heatpipes as "high-performance" but who knows if that means sintered metal wick, wire mesh or grooves & sintered metal? I wish more heatsink manufacturers would disclose this information, a good heatpipe wick structure ensures efficient heat conduction. Maybe we'll have to start cutting every heatsink open...
At the working end of BeQuiet's Shadow Rock Slim heatsink we find a nickel plated copper base plate rather than four exposed heatpipes. In the long term, capped heatpipes are more reliable than exposed heatpipes which can be punctured through careless handling. The Shadow Rock Slim is rated for heat loads of 160W TDP and at full clip the low noise 136mm fan (1400-800RPM) pushes upwards of 68CFM according to the manufacturer.
BeQuiet's Shadow Rock Slim heatsink is compatible with AMD socket AM2/AM3/FM1/FM2/939/754/940 CPUs and Intel LGA2011/1366/115x/775 processors. Retail price is around $59USD/CDN at shops such as NCIX.com
BeQuiet Shadow Rock Slim Heatsink

---

heatsink specsheet
manufacturer: bequiet
model no.: shadow rock slim (bk010)
materials: aluminum fins, copper heatpipes, aluminum base cap, nickel plated copper base plate
fan mfg: bequiet bq siw3-13525-mr-pwm
fan spec: 1400-800rpm, 12v, 0.4a
fan airflow: 68cfm
fan dim: 22x136x136mm
heatsink & fan dim: 159x130x74mm
weight: 729 grams
includes: multi-socket socket mounting hardware, thermal compound, instructions

---

Compatible with Sockets:
AMD - FM2/FM1/AM2/AM3/754/939/940
Intel - LGA2011/1366/115x/775
Pricing: $59USD ($59CDN)
The 136mm PWM fan BeQuiet have chosen for the Shadow Rock Slim employs a unique fin geometry as you can see above. The top and bottom faces of each impeller blade are covered with shallow grooves which is supposed to "optimize airflow" over the surfaces. Fan speed ranges from 1400RPM (stock) to ~800RPM and to cut down on vibrations which may generate noise, a rubber mount buffers the fan from direct contact with the aluminum cooling fins.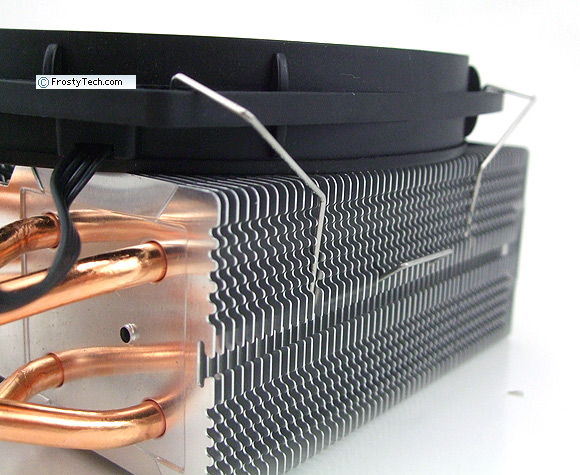 The wire fan clips easily un-clip from the side of the frame and the thumb tabs don't stick out too much. On other coolers, the thumb tabs stick out nearly 10mm and this can lead to problems if the heatsink is right up against the rear of a videocard PCB.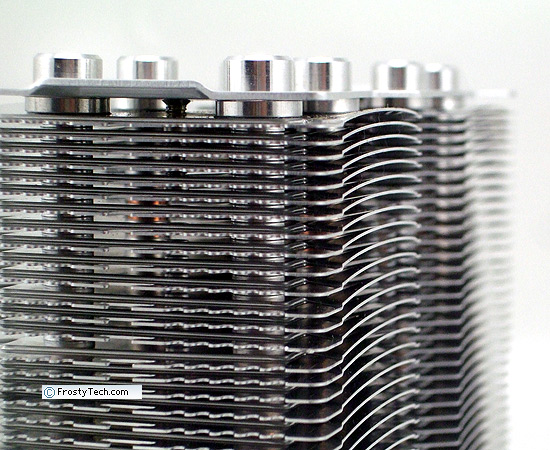 The geometry of the aluminum fin stack is unique in a couple ways. First, the edges employ a scalloped edge. Second, the center area of the fins have a cut-out portion which corresponds to the void normally situated behind the fan motor hub. Third, the aluminum fins aren't flat across the entire surface. You can see this clearly in the image above and below.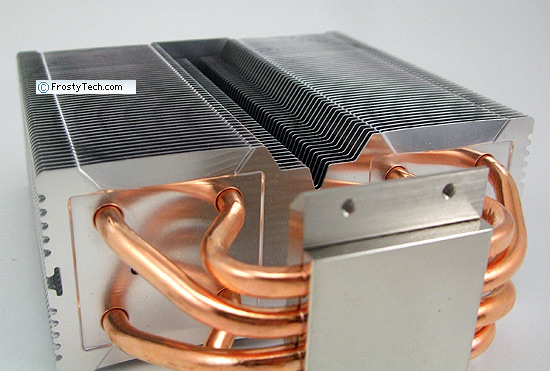 Instead of laying flat, the leading and trailing edges of the Shadow Rock Slim's aluminum fins have a pair of small winglets bent up to form a little curve. This may help break up airflow as it enters the fin stack.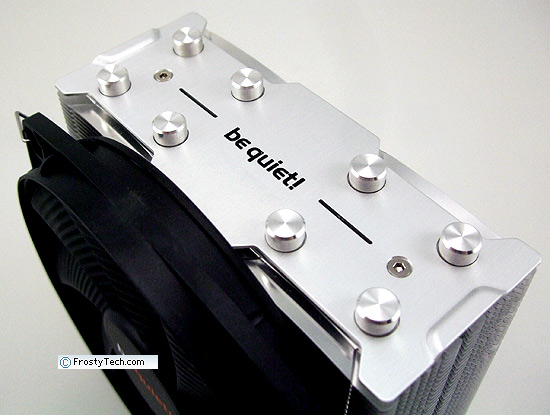 The aluminum fin stack measures 110mm tall, 130mm wide and 52mm deep.
Heatsink Mounting Hardware
The BeQuiet Shadow Rock Slim heatsink accommodates Intel socket LGA2011/1366/115x/775 processors and AMD socket AM2/AM3/FM1/FM2/754/939/940 CPUs. The cooler ships with a metal rear motherboard support bracket, a variety of metal mounting brackets and associated hardware. It comes with an extra set of wire fan brackets and a small syringe of thermal compound.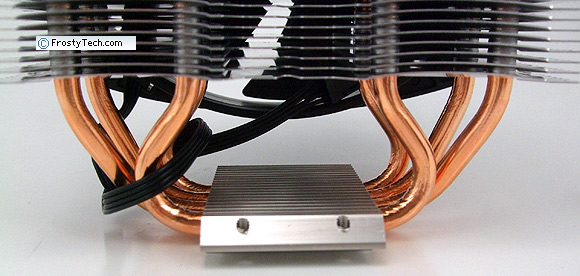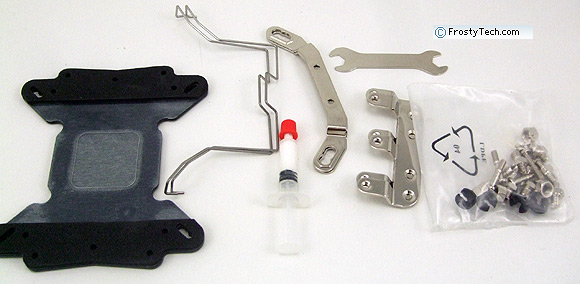 FrostyTech's Test Methodologies are outlined in detail here if you care to know what equipment is used, and the parameters under which the tests are conducted. Now let's move forward and take a closer look at this heatsink, its acoustic characteristics, and of course its performance in the thermal tests!