On the test bench today we have BeQuiet's Dark Rock 3 heatsink; the "little brother" to the dual-tower Dark Rock Pro 3 CPU cooler Frostytech recently put through the thermal wringer. The Dark Rock 3 stands 159mm tall and weighs in at 976 grams. Built around six, 6mm diameter copper heatpipes and a large aluminum fin stack, the Dark Rock 3 is rated to heat loads up to 190W TDP by the manufacturer. Flipping the heatsink over, we find not exposed heatpipes, but a nice flat slab of copper to ensure good heat spreading when installed onto multi-core microprocessors. The copper base plate is plated with nickel for long term oxidation prevention.
As with BeQuiet's previous heatsinks, the focus here is clearly on lower noise cooling. The 135mm PWM "Silent Wings" fan rotates at 1400-900RPM, moving upwards of 68CFM at a pressure of 2.1mm/H2O. BeQuiet's Dark Rock 3 heatsink is compatible with Intel LGA2011/1366/115x/775 processors and AMD socket AM3/AM2/FM2/FM1/939/940/754 CPUs. The Dark Rock 3 heatsink retails for around $85 CDN at NCIX.com, Overclockers.co.uk carry it in the United Kingdom for ~£54 GBP.
Esthetically, the Dark Rock 3 heatsink is a bit of a black monolith. If you're assembling a PC in a windowed full tower chassis, with a black power supply, motherboard, videocard, memory and SSDs, the BeQuiet Dark Rock 3 will definitely get you over that last boxy-black-metalic hurdle. We don't usually touch on heatsink esthetics, but I'm sure a few colour-coordinated PC builders will be happy this heatsink stays on the dark side, from the extruded aluminum cap to the dark nickel plated aluminum fins, heatpipes and everything else. That is, except for the mounting hardware.
BeQuiet Dark Rock 3 Heatsink

---

heatsink specsheet
manufacturer: bequiet
model no.: dark rock 3
materials: dark nickel plated aluminum fins, copper heatpipes, aluminum base cap, copper base plate
fan mfg: bequiet silentwings bqsiw3-13525-mf-pwm
fan spec: 1400-900rpm, 12v, 0.4a
fan airflow: 68 cfm
fan dim: 23x135x135mm
heatsink & fan dim: 159x133x97mm
weight: 976 grams
includes: multi-socket socket mounting hardware, thermal compound, instructions

---

Compatible with Sockets:
AMD - FM2/FM1/AM2/AM3/754/939/940
Intel - LGA2011/1366/115x/775
Pricing: $85USD ($85CDN)
The BeQuiet SilentWings fan is attached to the aluminum fin stack with a set of wire fan clips. The fan rests on a pair of rubber anti-vibration strips embedded in the edge of the fins. Remove the fan frame-to-aluminum fin contact and you do away with annoying rattling sounds.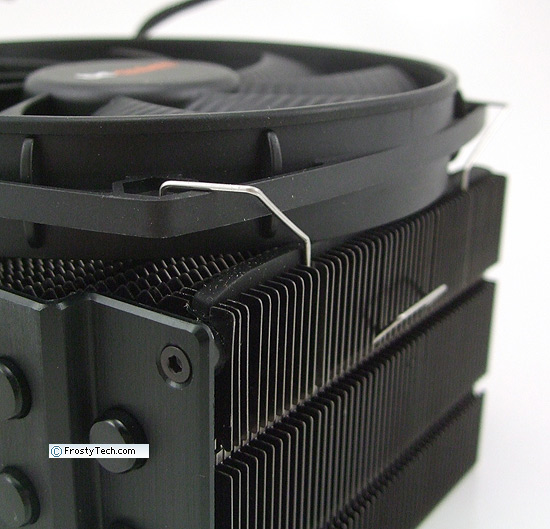 The fans' impeller blades also utilize subtle corrugations which are said to be flow-optimized.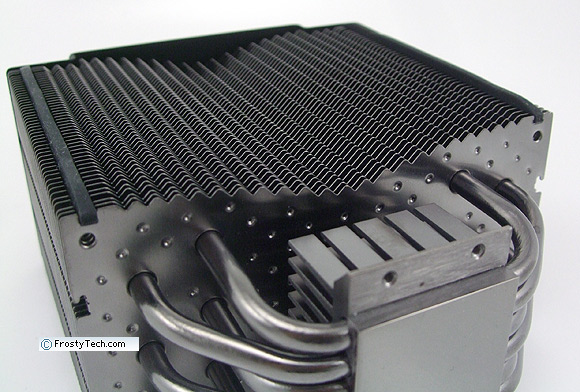 Behind the 135mm SilentWings fan is a triangular shaped plenum. As a further measure to reducing noise associated with airflow, the leading edges of the aluminum fins have a saw toothed profile which is supposed to lower air flow resistance. In our real world sound measurements, noise output from the heatsink at top speed was a pretty quiet 41 dBA.
An extra set of fan clips are supplied so a rear exhaust fan can be mounted onto the Dark Rock 3 as well (fan not supplied).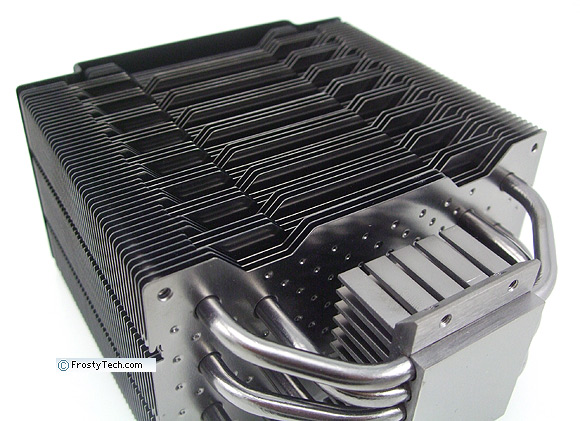 With the fans removed, it's easier to see the different aluminum fin edge geometries the heatsink designers at BeQuiet have employed. The trailing edge of the fin stack has a variable geometry/variable depth fin pattern which could be an attempt to reduce airflow noise when an exhaust fan is mounted in a pull-configuration.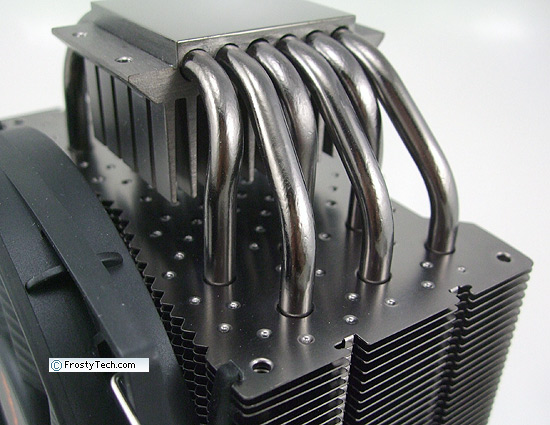 As if all that weren't enough, the aluminum fins are dimpled to break up laminar airflow which (theoretically) enhances heat transfer to the air stream.
Heatsink Mounting Hardware
The BeQuiet Dark Rock 3 heatsink ships with a rear motherboard support frame for socket LGA2011/1366/115x/775 Intel motherboards and AMD socket 754/939/940/AM2/AM3/FM1/FM2 motherboards. The mounting hardware is a little finicky to install, requiring a small wrench to torque down the motherboard mounting nuts as the studs are passed through from behind. Installation is best done with the motherboard out of the chassis if you can manage that.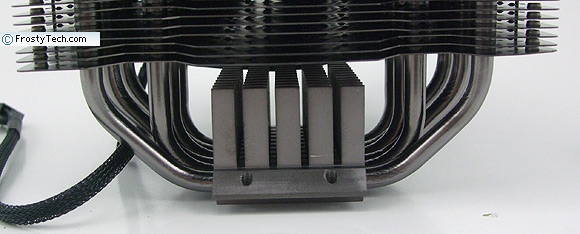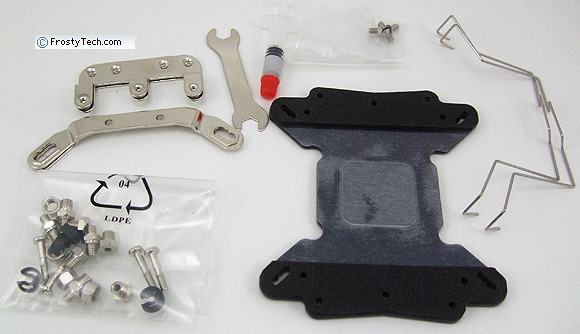 An extra set of fan brackets and a small syringe of thermal compound are supplied as well.
FrostyTech's Test Methodologies are outlined in detail here if you care to know what equipment is used, and the parameters under which the tests are conducted. Now let's move forward and take a closer look at this heatsink, its acoustic characteristics, and of course its performance in the thermal tests!