There's a running joke on IFC's television show 'Portlandia,' where a writer at Pitchfork magazine lays down the last few keystrokes of some genre-defining review, then looks up at his co-workers and utters these words; "Everything that can be said in music, has now been said. I think...we're done. We can shut the site down. We did it!"
Testing heatsinks on Frostytech can sometimes feel like this - like every word that can be said about a heatsink, has been said. The running joke is, this happens every season on 'Portlandia.'
Like music, heatsinks are in a constant and unyielding state of change. Every time we think we've seen it all, something entirely new drops. This year, evolutionary thermal technologies like the Sandia Rotary Cooler are taking their final steps towards commercialization, while vapour chambers rise from obscurity and self-contained watercooling systems branch off into new directions. Even plain old tower heatsinks like the Noctua NH-D15 we're testing today, present us with refinements and incremental design optimizations that shift performance boundaries.
We take for granted the behind-the-scenes work that goes into lowering heatsink temperatures and noise levels, but we certainly notice when CPU cooler prices go up and the volume of space a heatsink occupies inside a PC chassis, balloons.
Gone are the days when enthusiasts could plunk $12 bucks down on a lump of extruded aluminum and call it a day. If you're building a custom PC - be it small form factor, gaming or a high end video editing box - you need to spend a few minutes reading legitimate heatsink reviews before investing $60 or $100 on a bad horse.
In this fantastic Frostytech review we're going to sink our teeth into Noctua's NH-D15 dual tower CPU cooler. Noctua are labeling this 162mm tall, 1.3kg beast as a "premium cooler." We'll see about that...
Noctua NH-D15 Heatsink

---

heatsink specsheet
manufacturer: noctua
model no.: nh-d15
materials: nickel plated aluminum fins, copper heatpipes, copper/aluminum base.
fan mfg: (2) noctua nf-a15

fan spec: 1500rpm, 12v, 0.13a

fan dim: 25x140x150mm

heatsink & fan dim: 162x151x161mm
weight: 1320 grams
includes: multi-socket mounting hardware, thermal compound, fan speed adaptors, fan clips, screwdriver, instructions

---

Compatible with Sockets:
AMD: AM2/AM3/FM1/FM2
Intel: LGA2011/115x
Est. Pricing: $90USD ($99CDN/£ 65GBP)
MOUNTING KIT UPGRADEABLE TO SUPPORT AMD SOCKET AM4?

Manufacturer Provided Mounting Kit Required to Support AMD Socket AM4 Motherboards? YES

Manufacturer AM4 Kit Request Form Link:
https://noctua.at/en/nm-am4-mounting-kit-order-form

Noctua state: "Owners of Noctua CPU coolers can obtain the Noctua NM-AM4 SecuFirm2 Mounting-Kit free of charge via this form. A proof of purchase (electronic version, photo or scan of the invoice) of both a Noctua CPU cooler and either a socket AM4 mainboard or socket AM4 CPU are required. There is a dedicated upgrade kit (NM-AM4-UxS) available for NH-U14S, NH-U12S and NH-U9S"

For more details, heatsink exceptions and a complete list of incompatible coolers, see here.


Noctua NM-AM4 SecuFirm2 Mounting-Kit supported on following Noctua heatsinks Frostytech has tested: NH-C12P , NH-C14 , NH-D14 , NH-D15 , NH-D9L, NH-L12, NH-L9x65, NH-U12 , NH-U12P , NH-U9, NH-U9B . Noctua NM-AM4-UxS Mounting-Kit: NH-U14S, NH-U12S and NH-U9S.
Weighing 1,320 grams with both fans installed, Noctua's NH-D15 heatsink is big. It stands 162mm tall and has a footprint of 151x161mm so prospective buyers will want to measure their case clearances first. It's six heatpipes are soldered to the nickel plated copper base plate and aluminum cooling fins; overall the fit and finish is top notch.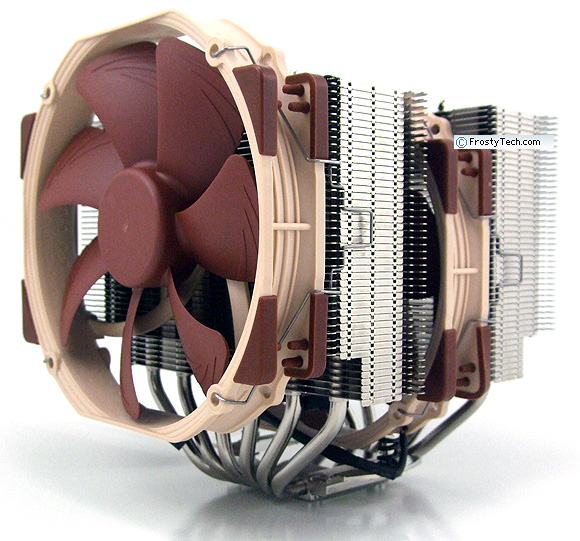 The heatsink installs onto Intel socket LGA2011/115x processors and AMD socket AM2/AM3/FM1/FM2 CPUs. You'll note that Intel LGA775/1366 platforms are no longer supported. Expect to find Noctua's NH-D15 heatsink going for $99CDN at NCIX.com and ~$90USD at the usual US computer stores. QuietPC.com have it for £65 GBP.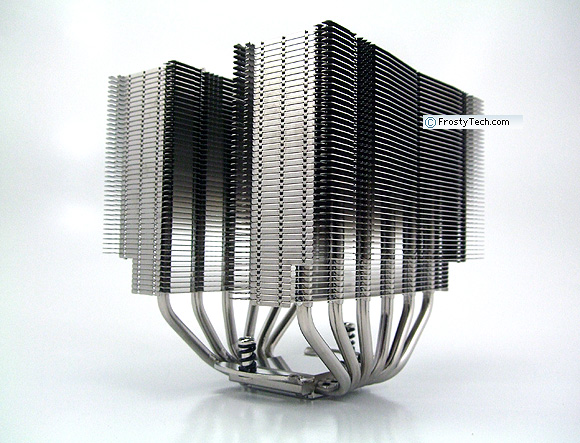 The Noctua NH-D15 heatsink is bit larger than the previous NH-D14 model, but still constructed around a core of six 6mm diameter copper heatpipes, a hefty copper heat spreader and two separate aluminum fin towers.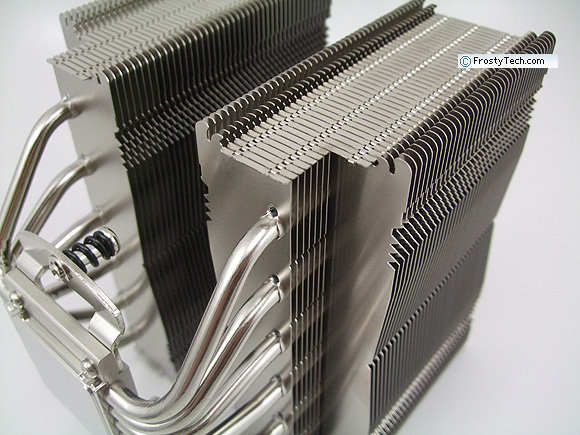 Where the NH-D15 differs from the great unwashed is in the details; the heatpipes are soldered to every single aluminum fin. Most heatsink manufacturers opt to simply and inexpensively swage aluminum fins around the heatpipes, however a soldered joint ensures lower thermal joint resistance in the present and long-term lifespan of the cooler.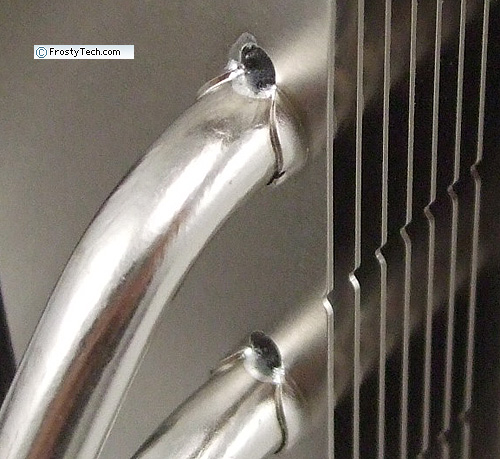 Two 140x150x25mm NF-A15 fans ship with Noctua's NH-D15 heatsink, each one rotates at 1500RPM and drives upwards of 140m3/h air according to the manufacturer's specs. Fan lifespan is pegged at 150K hours MTBF, allowing the NH-D15 cooler to be backed by a remarkable 6 year warranty.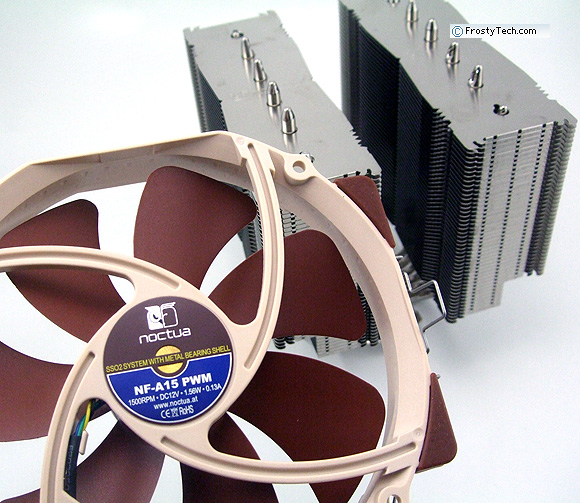 Noctua's NF-A15 fans feature the usual blend of (alleged) low noise refinements, ie. self-stabilising oil-pressure bearings, textured impeller and fan-frame surfaces, integral anti-vibration pads on all eight corners and sealed bearings. Each fan mounts to the heatsink with a pair of simple wire fan clips that engage with the edge of the aluminum fin tower. The wire clips have a low profile, so there's less chance they'll short out capacitors on the back of a videocard.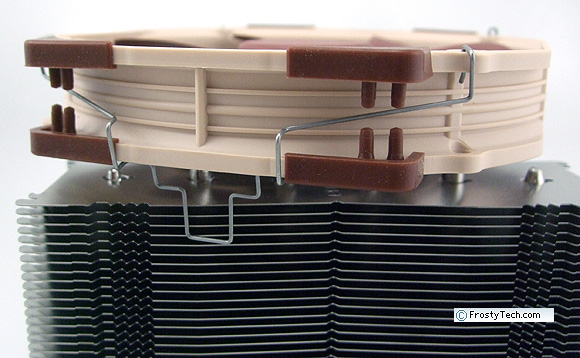 Installation Hardware
Noctua's NH-D15 heatsink is compatible with Intel socket LGA2011/115x and AMD socket AM2/AM3/FM1/FM2 processors. The CPU cooler ships with a variety of brackets, separated into several packages for AMD and Intel platforms. For each CPU socket, the same spring-tensioned metal tab is used on the heatsink base, greatly simplifying installation. Some platforms will require a backplate installed behind the motherboard along with the top-side mounting hardware.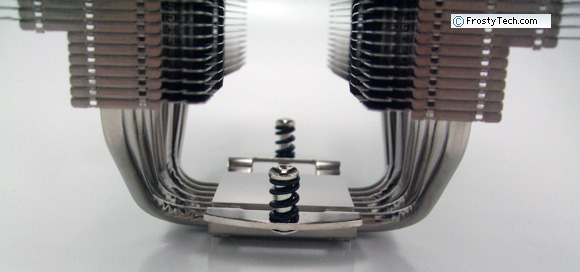 The multi-language manual makes installation straightforward. Fans may need to be removed for the installation procedure, but this is relatively painless as Noctua have designed the wire fan retention clips with hand holds. Included accessories are pictured below.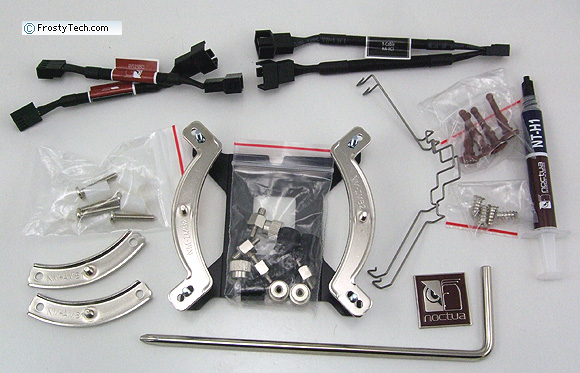 A small syringe of thermal compound is included, along with in-line resistors which can be added to reduce the speed of the fans or simplify wiring for boards with only one nearby fan header. Four fan clips are supplied.
FrostyTech's Test Methodologies are outlined in detail here if you care to know what equipment is used, and the parameters under which the tests are conducted. Now let's move forward and take a closer look at this heatsink, its acoustic characteristics, and of course its performance in the thermal tests!