BeQuiet.com is one of a pair of brands owned by Listan GmbH & Co., based out of Glinde, Germany. The BeQuiet brand has been around for years, though it initially focused on premium power supplies for gaming rigs. In 2011 the company expanded into low noise heatsinks and released a 220W TDP rated CPU cooler called the Dark Rock Pro. Since then, BeQuiet has flourished in the German PC enthusiast community and steadily become more known to North America PC builders.
In this review Frostytech will be testing BeQuiet's newest low noise CPU cooler, the Dark Rock Pro 3 heatsink. The Dark Rock Pro 3 was announced last month at CES 2014 and is distributed in Canada by NCIX.com for about $109 CDN. Overclockers.co.uk have it in the United Kingdom for £55 GBP while Performance-pcs.com seems to be the only US retailer.
The Dark Rock Pro 3 is dual tower, dual fan, low noise CPU heatsink. In other words, if you want a quiet heatsink that handles like a performance cooler AND you have a motherboard which can accommodate it's boxy footprint, you're reading the right CPU heatsink review! There is no such thing as a compact, low noise cooler after all...
Standing 163mm tall, the BeQuiet Dark Rock Pro 3 heatsink measures 133mm wide and 149mm deep, which may make it a tight fit on some ASUS/Gigabyte/Asrock/MSI motherboards. It weighs 1197 grams and installs onto Intel socket LGA2011/1366/1150/1155/1156/775 processors and AMD socket AM3/AM2/FM2/FM1/939/940/754 CPUs.
Best of all, the Dark Rock Pro 3 is rated to 250W TDP!
The cooler itself is built around seven 6mm diameter copper heatpipes which connect a hefty copper heat spreader to twin aluminum fin stacks. The entire heatsink is dark nickel plated, rigged with noise reducing amenities like rubber bumpers, grooved impeller blade fans, bummed surface aluminum fins, generous fan plenums, variable fin geometries, etc.
The cooler is equipped with a 120mm PWM "SilentWings" fan out front and a larger, 135mm PWM "SilentWings" fan sandwiched between the two fin stacks. Fan speed is between ~1700-2000RPM for the front unit and 1400RPM for the middle vaneaxial blower. Air flow is listed as 57CFM/67CFM respectively.
BeQuiet Dark Rock Pro 3 Heatsink

---

heatsink specsheet
manufacturer: bequiet
model no.: dark rock pro 3
materials: dark nickel plated aluminum fins, copper heatpipes, aluminum base cap, copper base plate
fan mfg: bequiet silentwings bqt-t12025-mf-pwm
(inside) bequiet silentwings bqsiw3-13525-mf-pwm
fan spec: 1700rpm, 12v, 0.2a
(inside) 1400rpm, 12v, 0.4a
fan airflow: 57 cfm
(inside) 67cfm
fan dim: 25x120x120mm
(inside) 25x135x135mm
heatsink & fan dim: 163x133x149mm
weight: 1197 grams
includes: multi-socket socket mounting hardware, thermal compound, instructions

---

Compatible with Sockets:
AMD - FM2/FM1/AM2/AM3/754/939/940
Intel - LGA2011/1366/115x/775
Pricing: $100USD ($100CDN)
The BeQuiet 'SilentWings' fans are attached to the aluminum fin stacks with wire fan clips and rest on rubber anti-vibration stips embedded in the edge of the fins. Since there's no fan frame-to-aluminum fin contact, there's less chance of annoying vibration sounds coming through.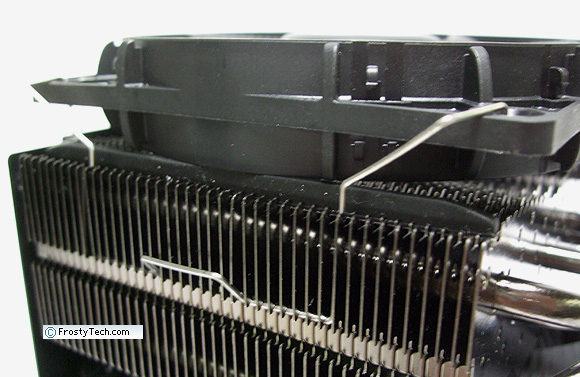 The 135mm center fan has an extra ring of rubber applied to its front edge to eliminate any chance of noises, should users want to move it to a rear exhaust fan and add a third fan of their own into the center pocket. An extra set of fan clips are supplied so three fans can be mounted onto the Dark Rock Pro 3.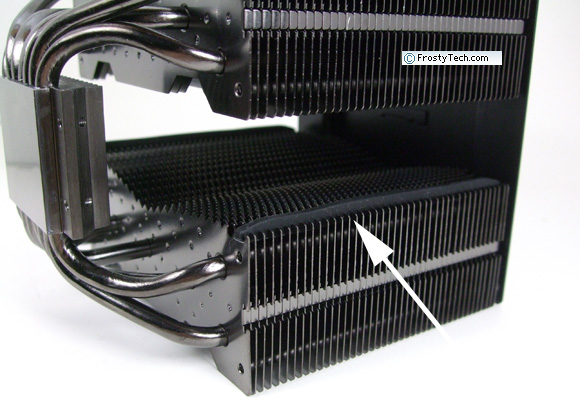 With the fans removed, it's easier to see the different aluminum fin edge geometries the heatsink designers at BeQuiet have employed. Along with slots for the rubber vibration reducing strips, the leading edges of both fin stacks have a concave profile and saw-tooth edge. The inward profile creates a 13mm plenum at the center of the fin tower and the saw-tooth edge makes it easier for airflow to pass into the fin stack as we understand it. The trailing edges of the fin stacks have a variable geometry/variable depth fin pattern which could be an attempt to reduce airflow noise when a third fan is mounted in a pull-configuration to the back of the cooling tower.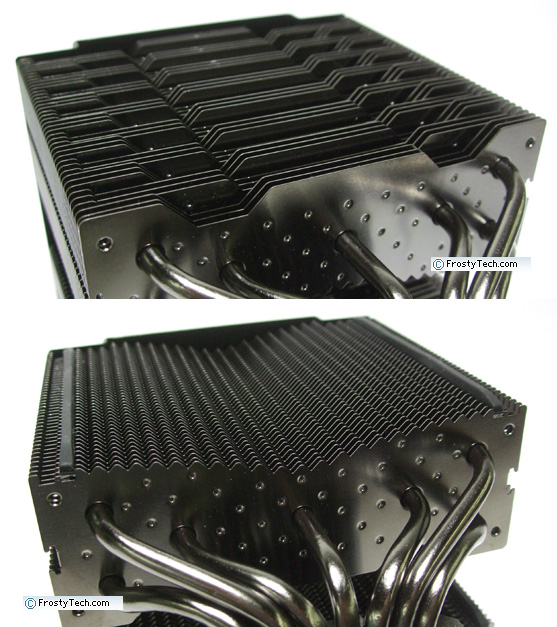 As if all that weren't enough, the aluminum fins are dimpled to break up laminar airflow which (theoretically) enhances heat transfer to the air stream.
Heatsink Mounting Hardware
The BeQuiet Dark Rock Pro 3 heatsink ships with a rear motherboard support frame for socket LGA2011/1366/115x/775 Intel motherboards and AMD socket 754/939/940/AM2/AM3/FM1/FM2 boards. The mounting hardware is finicky to install, requiring a small wrench to torque down the motherboard mounting studs... installation is best done with the motherboard out in the open, if you can manage that.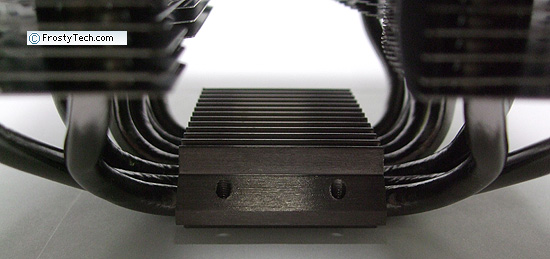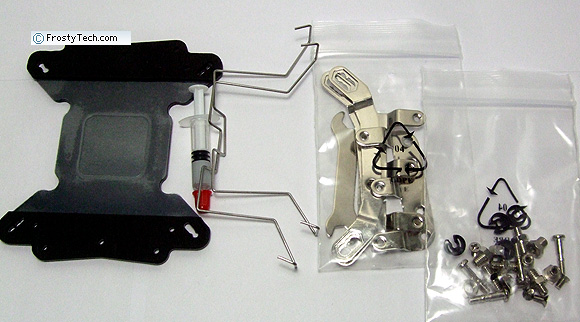 An extra set of fan brackets and a small syringe of thermal compound are supplied as well.
FrostyTech's Test Methodologies are outlined in detail here if you care to know what equipment is used, and the parameters under which the tests are conducted. Now let's move forward and take a closer look at this heatsink, its acoustic characteristics, and of course its performance in the thermal tests!