This is the Limited Edition 10th Anniversary Scythe Ashura Shadow heatsink.
The Scythe Ashura Shadow is a dark nickel plated version of the vanilla Ashura heatsink Scythe also has on the market. Structurally, there's no difference between the two coolers, aside from the cosmetic metal coating. The Ashura Shadow heatsink stands 162mm tall and has a footprint of 145x89mm so it should fit most motherboards without memory slot interference. Like most tower coolers, the Ashura comes with one 140mm PWM fan but can accommodate two; extra fan clips are supplied for this reason.
The Ashura Shadow weighs 750grams and is built around six 6mm diameter copper heatpipes. The copper heatpipes are covered by a chunky copper heat spreader, rather than being exposed at the base. The fan supplied with the Ashura Shadow is a reasonably quiet 140mm 'GlideStream' model that spins at 1400-800RPM and moves upwards of 87CFM according to the maker. Scythe's Ashura Shadow heatsink installs onto AMD socket AM2/AM3/FM1/FM2 and Intel LGA2011/1366/115x/775 processors. Retail price is around $45USD/CDN.
Scythe Ashura Shadow Heatsink

---

heatsink specsheet
manufacturer: scythe
model no.: scythe ashura shadow (scasr-1000se)
materials: dark nickel plated aluminum fins, copper heatpipes, aluminum base cap, copper base plate
fan mfg: scythe sy1425hb12m-p
fan spec: 1400-800rpm, 12v, 0.37a
fan airflow: 97cfm
fan dim: 25x140x140mm
heatsink & fan dim: 154x123x72mm
weight: 750 grams
includes: multi-socket socket mounting hardware, thermal compound, instructions

---

Compatible with Sockets:
AMD - FM2/FM1/AM2/AM3
Intel - LGA2011/1366/115x/775
Pricing: $45USD ($45CDN)
The 140mm PWM fan Scythe have chosen for the Ashura Shadow is called the "GlideStream 140" and it employs a unique fin geometry. The back of each impeller blade is smooth, but the front side is covered with shallow grooves. According to Scythe, these grooved fan blades "contribute to less air resistance". The eleven blades are mounted on a relatively compact, 40mm diameter motor hub. Fan speed ranges from 1400RPM (stock) to as slow as ~800RPM.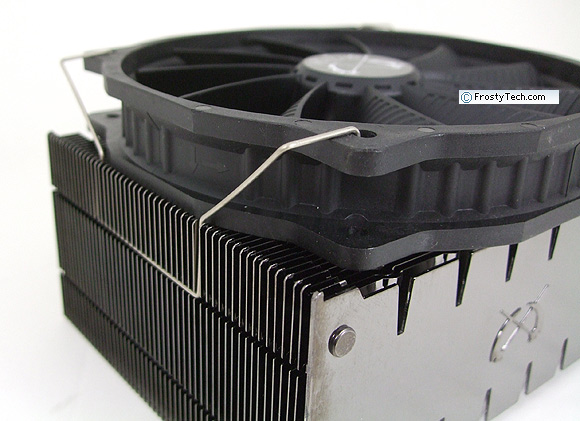 One small detail we really like are the low profile wire fan clips. At first I thought this was just bad design that made removing the fan difficult. However, as the 140mm fan frame has its mounting holes set on a 120mm-spacing, it easily unclips at the frame.
The up side is that if your motherboard can fit a 145mm wide heatsink, you won't have a nasty surprise with the Ashura Shadow - it's fan clips do not extend beyond the width of the fins. A few heatsinks we've installed have come close to shorting out an expensive videocard because the wire fan clips have little thumb tabs that extend out an extra 8-10mm.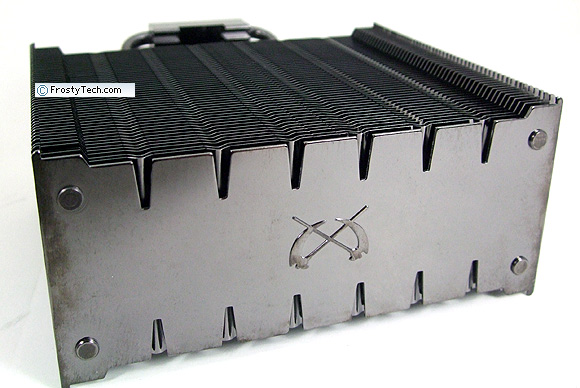 The leading and trailing edges of the Ashura Shadow's dark nickel plated aluminum fins have a small "V" bend to help break up airflow as it enters the fin stack.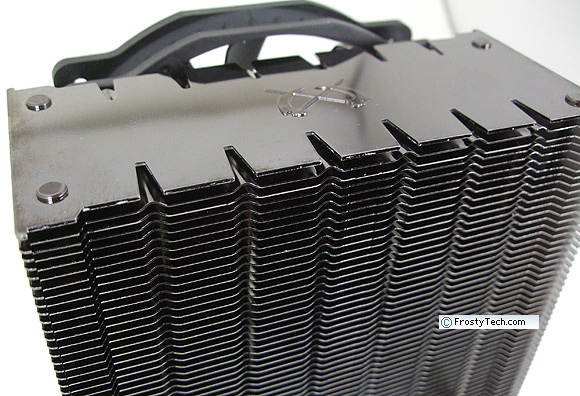 The aluminum fin stack measures 107mm tall, 145mm wide and 61mm deep.
Heatsink Mounting Hardware
The Scythe Ashura Shadow HE1224 heatsink accommodates Intel motherboards for socket LGA2011/1366/115x/775 processors and AMD motherboards for socket AM2/AM3/FM1/FM2 CPUs. The Ashura Shadow ships with a metal rear motherboard support bracket, a variety of metal mounting brackets and associated hardware and an extra set of wire fan brackets. A small pack of grey thermal compound is also provided.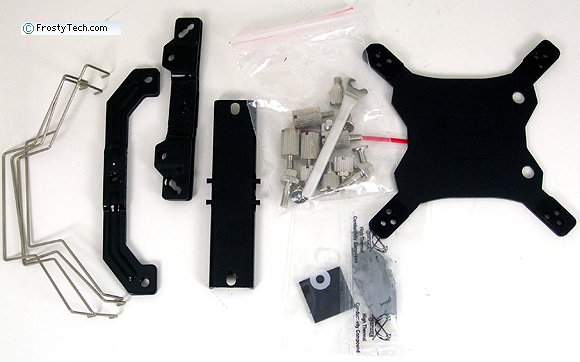 FrostyTech's Test Methodologies are outlined in detail here if you care to know what equipment is used, and the parameters under which the tests are conducted. Now let's move forward and take a closer look at this heatsink, its acoustic characteristics, and of course its performance in the thermal tests!