In this review Frostytech is testing a 2U server heatsink for Intel LGA1366 Xeon processors called the Dynatron G556 - this heatsink is identical to the G555 model, except for the absence of a wire fan grill. The Dynatron G556 was originally designed for LGA1366 'Gainestown' Intel processors of a TDP up to 130Watts. In this review Frostytech will be testing the 64mm tall G556 heatsink with a 200 Watt heat load.
The G556 2U server heatsink uses a top mounted fan which impinges air downward into densely packed aluminum fins. Given the maximum heatsink height within a 2U server chassis is >70mm, that doesn't leave the fan whole lot of room to breathe, so Dynatron have selected one with no side frame - essentially allowing air to be drawn in from 360-degrees.
The fan rotates at 5,5000RPM and moves upwards of 54CFM airflow at a very loud 68.4 dBA noise level. The 20x77x77mm PWM fan can slow to 1000RPM (8.4CFM) during low duty cycles and is rated to between 0.24mm-H2O to 5.6mm-H20 static pressure. Fan life expectancy is listed at 50,000 hrs. The motor shaft is supported by a set of ball bearings to ensure operational longevity in the hot confines of a 2U rack mount chassis.
Dynatron's G556 2U server heatsink is constructed around a large copper base plate, onto which four 6mm diameter copper heatpipes and a dense array of vertical aluminum fins are glued with thermal adhesive. It's difficult to say how evenly the bond between aluminum fin and copper heatspreader is, as glue workout is only visible in a small central area. Nickel plated aluminum fins soldered to the copper plate / heatpipes would have been a better route where thermal joint resistance is concerned.
The copper heatspreader measures 55x55mm in size and is a chunky 4-6.5mm thick. The aluminum fins are 37mm tall, with the fan and fan grill occupying the remaining permissible 21mm of 2U chassis height. Weighing in at 460 grams, Dynatron's G556 2U server LGA1366 heatsink retails for about $50 and includes a pre-applied patch of TIG830SP thermal compound so it's ready for installation right out of the box. It installs on to Intel LGA1366 Xeon processors.
Dynatron G556 2U Server Heatsink

---

heatsink specsheet
manufacturer: dynatron
model no.: g556
materials: aluminum, copper base, copper heat pipes
fan mfg: top motor df127720bh

fan spec: 5500rpm, 12v, 0.75a

fan dim: 20x77x77mm

heatsink & fan dim: 64x89x94mm
weight: 460 grams
includes: pre-applied thermal compound, mounting screws.

---

Compatible with Sockets:
AMD: none
Intel: LGA1366 (2U height)

Est. Pricing: $50USD ($50CDN)
The fan is mounted to a narrow fan shroud at a slight skew in order for the 77mm plastic frame to fit. The aluminum fins are very densely packed so a small plenum is created below the fan by recessing the top of the fins in that region. The four copper heatpipes intersect with the top of the fins and work to move heat from the copper base plate to the region with the highest airflow... the heatpipes restrict airflow somewhat.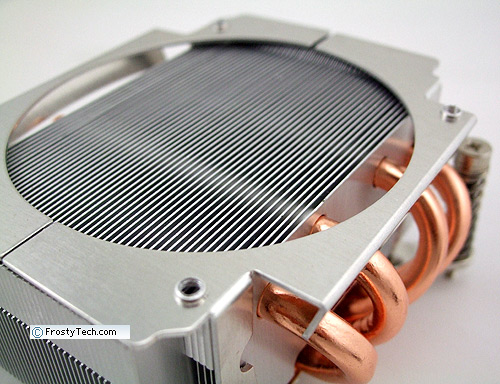 The fans' impeller blades are not protected, so be mindful of errant cables that could become entangled. In the photo below you can better see how the fan frame has been trimmed away so air can be drawn in from the top or sides.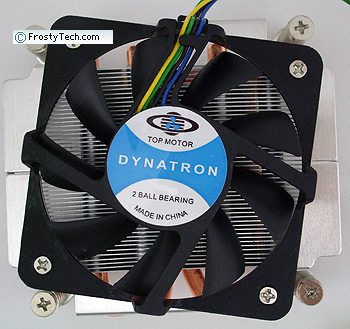 Heated air is exhausted out two of the four sides of the Dynatron G556 heatsink, while cutouts on the sides with the heatpipes allow some air to bypass the heatsink altogether.
Installation Hardware
Dynatron's G556 2U server heatsink includes a pre-applied patch of thermal compound and four spring-tensioned Intel socket LGA1366 mounting screws. The captive mounting hardware is attached to the body of the heatsink, so the cooler need only be removed from its packaging before being installed. A phillips screw driver can be used to torque down the four mounting screws to firmly hold it in place.
FrostyTech's Test Methodologies are outlined in detail here if you care to know what equipment is used, and the parameters under which the tests are conducted. Now let's move forward and take a closer look at this heatsink, its acoustic characteristics, and of course its performance in the thermal tests!