Coolermaster's Nepton 140XL self contained liquid cooling system uses a 140mm wide heat exchanger designed for two 140mm PWM fans mounted in a push-pull configuration. The fans operate at 2000RPM-800RPM and generate a fair to minimal amount of noise, while moving between 122 - 54CFM of air. The waterblock is connected to the heat exchanger not by tiny little pipes, but via larger diameter, 15.5mm O.D. FEP tubing. Larger diameter tubing means more coolant can circulate through the waterblock compared to models like the Seidon 120V. The tubing is 35cm long to better suit large gaming chassis where the Nepton 140XL's radiator is most likely to be installed at the top of the case. Many early generation all-in-one's use 24cm or 30cm lengths of tubing that can make routing difficult in certain PC chassis.
At the working end of the Nepton 140XL is a new generation pump/waterblock; we're not certain if the OEM is Asetek or CoolIT, or neither. The waterblock uses the typical micro skived copper base plate, however details on the integral pump are undisclosed. Coolermaster's Nepton 140XL CPU liquid cooling system supports the full range of Intel socket LGA775/115x/1366/2011 processors and AMD socket AM2/AM3/FM1/FM2 CPUs. It retails for around $93 USD / CDN at Newegg.com and NCIX.ca.
The Nepton 140XL ships completely assembled, plumbed and filled. The user need only attach the heat exchanger to a free fan vent (140mm or 120mm) on the inside of the PC case and mount the waterblock/pump head to the processor. There's no silly software or USB connections to monitor pump speed or liquid temperatures, just a single 3-pin motherboard fan header for power and the PWM fans to hook up. Nice and simple. Pump life is pegged at 70,000hrs MTBF.
As you'll shortly see in Frostytech's heatsink reference charts, the Nepton 140XL is among the best self-contained CPU liquid cooler we've tested to date, and for that matter CPU thermal solutions.
Coolermaster Nepton 140XL Self-Contained Liquid Cooling System

---




heatsink specsheet
manufacturer: coolermaster
model no.: nepton 140xl
materials: aluminum radiator, copper-base water block.
fan mfg: a14025-20rb-4cp-f1

fan spec: (x2) 2000-800rpm, 12v, 0.8a

fan dim: (x2) 25x140x140mm
waterblock dim: 48x70x75mm
heat exchanger dim: 38x172x140mm
pump spec: n/a
flow rate: n/a
head: n/a
tubing: 15.5mm o.d., 35cm length
coolant: distilled water/propylene glycol
weight: est. 700 grams
includes: multi-socket mounting hardware, thermal compound, instructions.

---

Compatible with Sockets:
AMD - AM2/AM3/FM1/FM2
Intel - LGA2011/1366/115x/775
Est. Pricing: $93USD ($93CDN)
Waterblock / Pump Head
The pump head / water block measures 48x70x75mm in size and mounts directly onto the processor. It is not compatible with previous Asetek or CoolIT mounting brackets, or GPU adaptors like the NZXT G10. No technical details are disclosed about the pump itself, but it's quiet under power and draws power from a 3-pin motherboard fan header. When the pump is on, the emblem around the Coolermaster logo glows white thanks to a few LEDs. The lighting effect is more than just eye candy, it's a useful indicator the pump is (actually) powered up.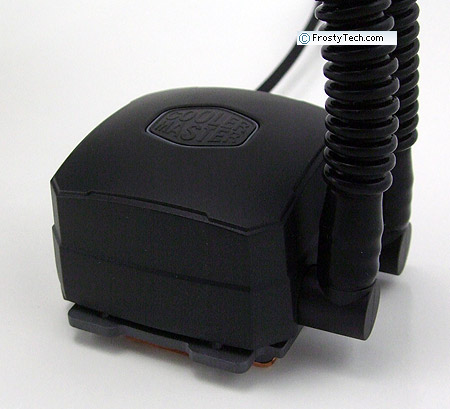 Inside the Nepton 140XL waterblock you'll find a micro-skived copper plate and rubber flow directing shield.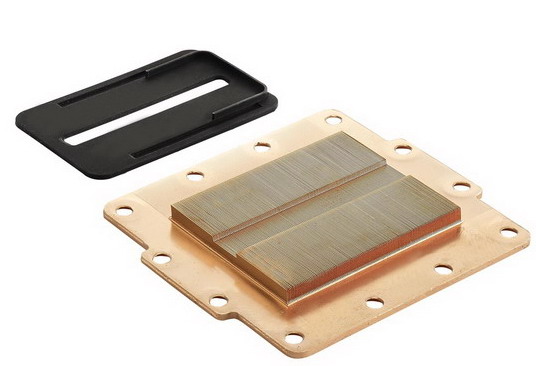 Coolant is most likely a Propylene Glycol distilled water solution. Water enters the skived copper fins along the center-line of the heat spreader where it is forced by the rubber gasket to flow in between the micro-skived copper fins and pick up heat, before it can exit at the sides and move onto the liquid-to-air heat exchanger. The skived copper fin patch looks to be around 35x40mm or 40x40mm in size. If that's correct (we couldn't disassemble the waterblock owing to the anti-tamper screws used in assembly) it would make the Nepton's skived fin area larger than previous cold plates Frostytech has disassembled.
In the photo below you can see 15.5mm OD FEP tubing on the left from the Nepton 140XL compared to smaller diameter 9.5mm O.D. FEP tubing from the Seidon 120V. The tubing connects to the Nepton 140XL waterblock via swivelling 90-degree plastic pipe connections. This makes routing hoses a little bit easier. Once the FEP tubing warms up it tends to adopt the new position and stress relieve somewhat, too.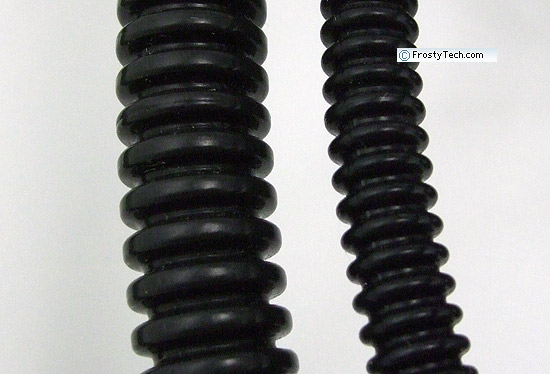 Liquid-to-Air Heat Exchanger
The Nepton 140XL's aluminum heat exchanger measures 38mm thick and 172x140mm in size. Two 140mm PWM fans are supplied with the Nepton 140XL - Coolermaster call them 'JetFlo 140 fans'. The fans use rifle sleeve bearings and rotate at 2000-800RPM. Each fan is rated to 3.5mmH20 air pressure, 122CFM, but when installed on a heat exchanger in a push-pull configuration one fan invariably operates at a slightly slower speed than the other.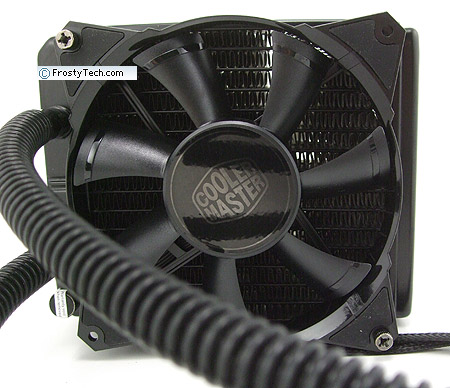 Three things we really like about this set up;
1) The use of a 140mm heat exchanger makes the Nepton 140XL a little more versatile in the number of PC cases it will fit into. On top of which, the heat exchanger has mounting holes for 140mm and 120mm fans, so if need be it can accommodate smaller fans.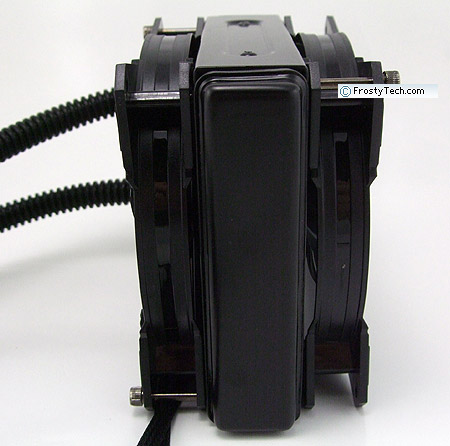 2) Each fan has eight integrated rubber pads to cut down on errant vibrations, but really they just make installing the fans that much easier since the fans don't slide around when you're fiddling with screws.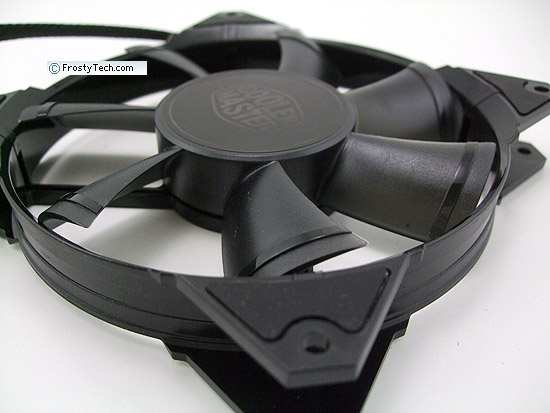 3) The thumb screws have threaded heads. I don't know why this simple measure wasn't adopted eons ago, but threaded thumbscrew heads mean you can completely assemble the fans and heat exchanger, then manoeuvrer the complete assembly into position and use a few standard computer screws to mount it to the chassis fan vent. Brilliantly simple! No more fishing screws through the back of the case, the fan and into the radiator...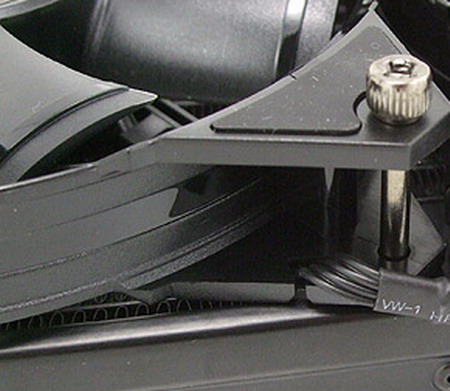 As with all other self-contained CPU liquid coolers, you'll need to install the Nepton 140XL into a PC case with at least one accessible (rear or top) 140mm fan vent. The heat exchanger mounts to the inside of the chassis with four screws through the fan vent.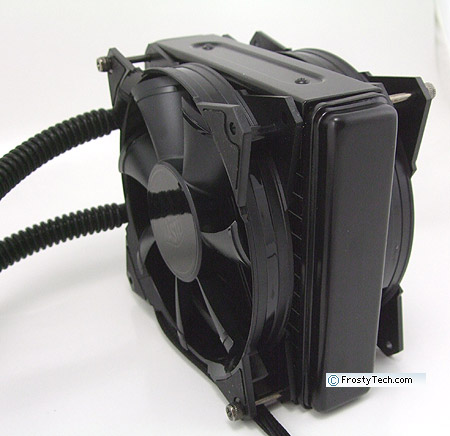 Installation Hardware
The Nepton 140XL is compatible with Intel socket LGA2011/1366/115x/775 and AMD socket FM2/FM1/AM2/AM3 processors. The cooler ships with a metal motherboard brackets and a pair of metal mounting plates that attach to the pump head to facilitate each particular socket. Unlike many past Coolermaster bracket solutions, this one is easy to use and employs a minimum of fuss. A PWM fan splitter and small syringe of thermal compound are also included.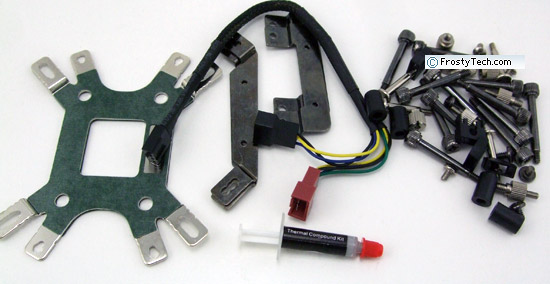 This heatsink will be tested on FrostyTech's Intel and AMD version of the Mk.II synthetic thermal temperature test platform, and compared against hundreds of reference Intel and AMD heatsinks. The whole test methodology is outlined in detail here if you'd like to know what equipment is used, and the parameters under which the tests are conducted.