The steady pace of heatsink development is quite remarkable. What passes for a everyday tower heatsink nowadays would have been considered a server thermal solution just a few years ago! Take for example the Raijintek Ereboss heatsink Frostytech is testing in this review; the Ereboss is a big boxy cooler that stands 159mm tall and looks a little bit like a 4U HP server heatsink on steroids.
Hyperbole aside, the Raijintek Ereboss heatsink is built around six 6mm diameter copper heatpipes which weave their way up from a nickel-plated copper base plate to a voluminous aluminum fin stack measuring 105mm tall and 112x140mm wide.
With a footprint of 140mm x 126mm, the Ereboss may be a tight squeeze in anything less than a full tower PC chassis, so measure your clearances first. The heatsink weighs 808grams and ships with a rather odd 140x130x13mm PWM fan that spins at 1650-1000RPM.
As you'd expect, Raijintek's Ereboss heatsink is compatible with Intel socket LGA2011/1366/1156/1155/1150/775 Core i3/i5/i7 processors. For AMD users still clinging to hope that their embattled microprocessor will have a come back, the Ereboss heatsink accommodates the complete line up of AMD socket AM2/AM3/FM1/FM2 chips. Since Raijintek is a relative new comer to the heatsink market, you may have a hard time tracking down this CPU cooler though. Retail price is estimated between $50-70USD.
Raijintek Ereboss Heatsink

---

heatsink specsheet
manufacturer: raijintek

model no.: ereboss (op105250)

materials: aluminum fins, copper heatpipes, aluminum base plate
fan mfg: raijintek
fan spec: ag14013mmspab
fan dim: 140x130x13
heatsink & fan dim: 159x141x126mm
weight: 808 grams
includes: multi-socket mounting hardware, thermal compound, instructions

---

Compatible with Sockets:
AMD - AM2+/AM3+/FM1/FM2
Intel - 775/115x/1366/2011
Est. Pricing: $50USD ($50CDN)
Raijintek's Ereboss heatsink is made from a pretty standard mix: raw aluminum fins swagged onto copper heatpipes. The six 6mm diameter heatpipes are not exposed at the base, rather a hefty nickel-plated copper base plate is soldered to them to spread the heat over a wider area. Noise wise, the odd-looking 13mm thick fan is pretty quiet at full speed. If used with sub-50W TDP processors, the Raijintek Ereboss may even be suitable as a passive thermal solution... however as this heatsink ships with a fan this is not an application Frostytech tested.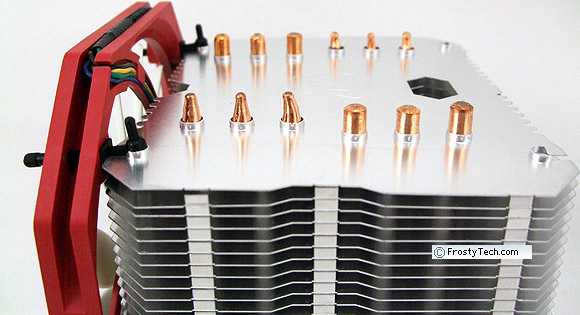 The aluminum fin stack offers lots of surface area for heat conducted up by the copper heatpipes to be expelled and the wide fin spacing reduces problems associated with back-pressure. However, as you've noticed in the above photo, the rubber fan mounts are sticking half out of the grooves... This is because Raijintek manufactured a heatsink with an aluminum fin stack measuring 105mm tall and then mounted a fan with fan mounts vertically spaced 105mm apart (on center). It's not hard to do the math on this one. The rubber fan mounts will always be 50% falling out of the aluminum fins, no matter how you install the fan.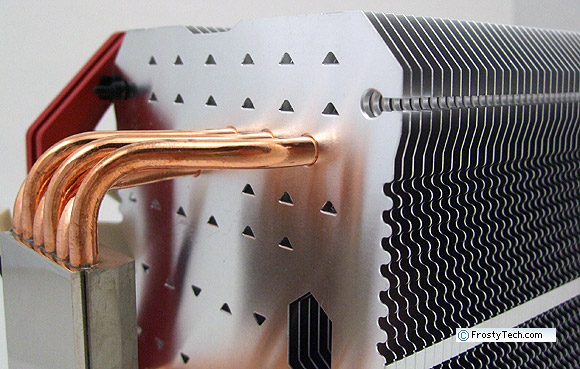 Each aluminum fin is peppered with triangular cut outs that help break up the internal surface and (ideally) introduce turbulent airflow inside the body of the aluminum fin stack. A the rear of the heatsink is a large cut out, this provides screwdriver access to the mounting mechanism.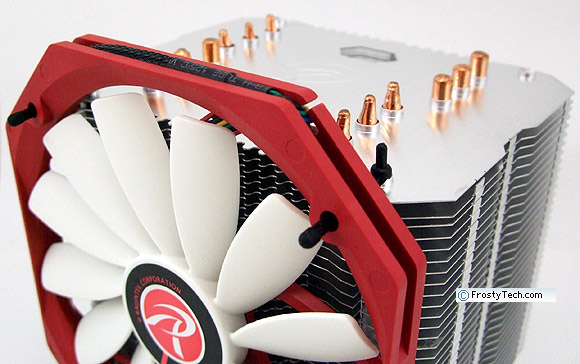 The fan is another interesting aspect of the Raijintek Ereboss heatsink. It's 13-blade impeller spins at 1650RPM to drive upwards of 66CFM and everything is squeezed into a 13mm thick package. The fan frame is slightly asymmetrical too, measuring 140mm x 130mm. When mounting the fan onto the heatsink you'll need to orient it such that the frame does not interfere with the mounting bracket hardware.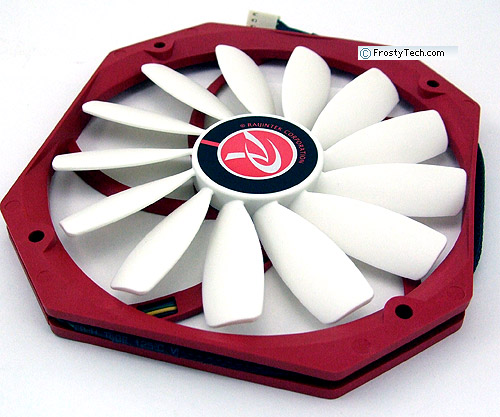 The six 6mm diameter heatpipes are soldered at the base of the heatsink to a nickel plated copper base plate. This ensures good heat spreading first of all, and secondly that there is low thermal joint resistance to heat flow from the processor. The heatpipe frame used on this heatsink is identical to that of the Silverstone HE02 heatsink. I wish manufacturers would disclose the type of wick structure their heatpipes use, however in this case no information is supplied.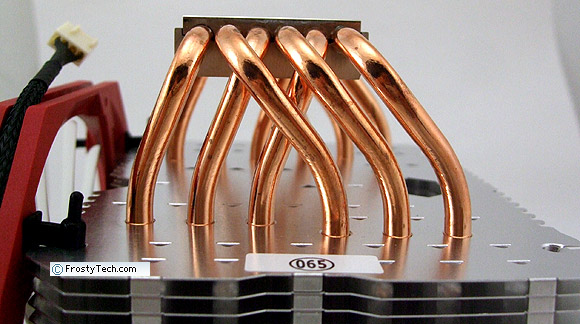 Heatsink Installation Hardware:
Raijintek's Ereboss heatsink can be installed onto Intel socket LGA775/1150/1155/1156/1366/2011 and AMD socket AM2/AM3/FM1/FM2 CPUs.

Installation is pretty straightforward as he main metal mounting brackets is shared between the AMD and Intel platforms. Keep in mind that the Ereboss requires a case with at least 160mm clearance above the CPU.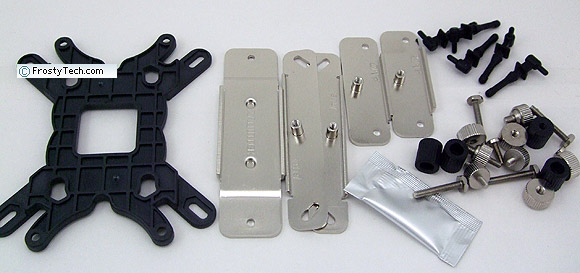 Raijintek don't supply any extra rubber fan mounts so you cannot install a second rear-mounted fan. A small pack of thermal compound is included though.
FrostyTech's Test Methodologies are outlined in detail here if you care to know what equipment is used, and the parameters under which the tests are conducted. Now let's move forward and take a closer look at this heatsink, its acoustic characteristics, and of course its performance in the thermal tests!