The
Silverstone
Argon AR01 heatsink is a great example of one very popular cooler design that has been re-spun by a great many heatsink brands. The Argon AR01 performs quite well, it's just that this must be the sixth or seventh time Frostytech has reviewed essentially the same heatsink... so... it's a good thing we're throwing the new
200W
Frostytech
Mrk.III Intel LGA2011 test platform
thermal test platform into the mix today!
Will the Argon AR01 heatsink melt in the face of a 200W heat load or bust into flames!? No, nothing quite that dramatic, but these thermal test results are certainly interesting for performance users and overclocking enthusiasts.
On with the heatsink review!
Silverstone's Argon AR01 is constructed around three beefy 8mm diameter copper heatpipes which are exposed at the base of the cooler. Putting the heatpipes in direct contact with the top of the processor makes for a very thermally efficient path with a minimum of thermal joint resistance. In short, this is a very good tower heatsink design and about the only shortcoming it has are those dinky white rubber fan mounts - more on that later.
Silverstone Argon AR01 Heatsink

---

heatsink specsheet
manufacturer: silverstone
model no.: argon ar01 (sst-ar01)
materials: aluminum fins, copper heatpipes, aluminum base with exposed heatpipes.
fan mfg: silverstone as1225h12
fan spec: 1000-2200rpm, 12v, 0.23
fan dim: 25x120x120mm
heatsink & fan dim: 159x124x77mm
weight: 420 grams
includes: multi-socket mounting hardware, thermal compound, instructions

---

Compatible with Sockets:
AMD - AM2/AM3/FM1/FM2
Intel - 2011/1155/1156/1366/775
Est. Pricing: $34USD ($34CDN)
The Argon AR01 ships with a single 120mm PWM fan that operates at 2200-1000RPM. Rubber vibration fan mounts are used to attach the fan to the heatsink fins directly; extra mounts are supplied for installing a second low-RPM fan (not included) to the rear of the cooler. The fan pushes about 37-81CFM at upwards of 53 dBA, according to our real world sound measurements.
Standing 159mm tall and weigh in at 420 grams, the Silverstone Argon AR01 heatsink is compatible ith Intel socket LGA2011/1366/1151/1155/1156/775 processors and AMD socket AM2/AM3/FM1/FM2 chips. Retail price is pegged at a competitive $34USD .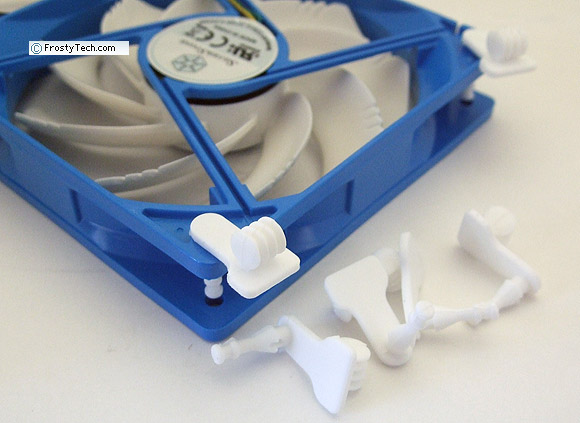 The Fan and Fan Mounts
The fan supplied with the Argon AR01 is moderately audible at full speed and whisper quiet when dialed back to its minimum RPM. The white rubber fan mounts are intended to reduce errant noises. We've seen many different styles of fan to heatsink mounting brackets in our time, these ones are supposed to be a bit easier to install than the typical rubber mount, with less chance of tearing.
The fan mounts pull through the blue fan frame like you'd expect, but instead of sliding down a slot stamped into the aluminum fins, or threading through the edge of the fins, the fan mounts wrap around the edge of the heatsink and press into a channel formed in the aluminum.
It's a new approach I'll give them that... but not one that instills a whole lot of "confidence." We'd rather see wire fan brackets used... never had a problem with that kind of fan mount.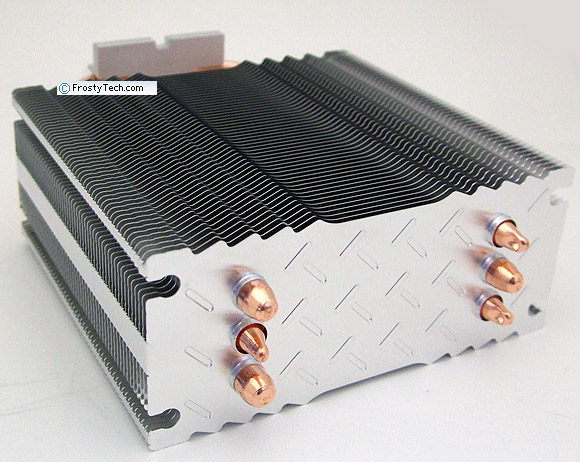 A modest effort to break up laminar air flow over the thin aluminum fins is made by these 'tire tracks' embossed into each cooling fin.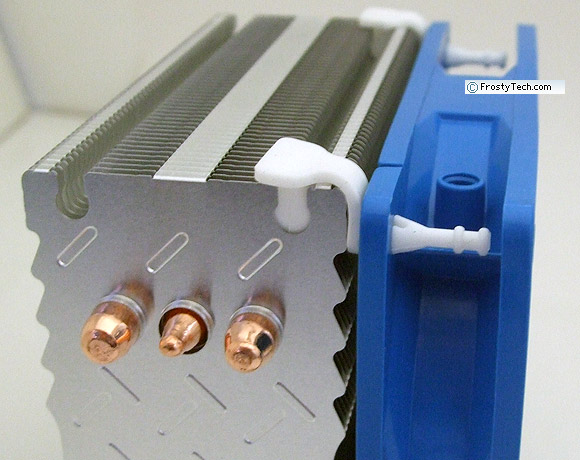 Heatsink Installation Hardware:
Silverstone's Argon AR01 heatsink is compatible with Intel socket LGA1151/1155/1156/1366/2011/775 CPUs and AMD socket AM2/AM3/FM1/FM2 processors.
The heatsink ships with a rear motherboard metal support plate, an assortment of metal mounting brackets and the necessary threaded stand-offs and thumbscrews to make it all work. Once installed the heatsink is very firmly held in position and CPU swaps are straightforward.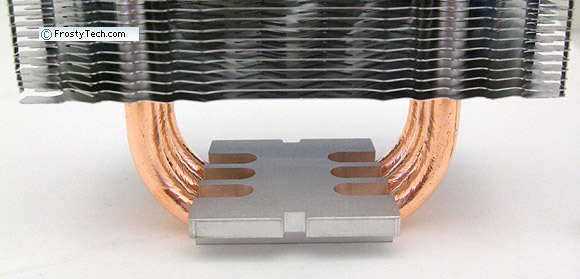 Both Intel and AMD mounting brackets make use of a common C-channel bar which applies clamping force to the base of the heatsink. The design could be improved by adding a fulcrum or spring tensioned collar screws to equalize uneven clamping forces.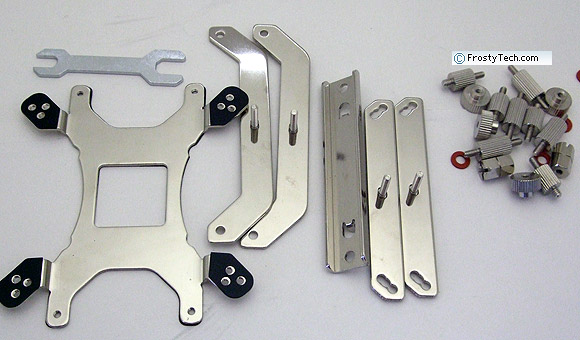 FrostyTech's Test Methodologies are outlined in detail here if you care to know what equipment is used and the parameters under which the tests are conducted. Now let's move forward and take a closer look at this heatsink, its acoustic characteristics, and of course its thermal performance on three different test platforms!