FrostyTech Mk.III Synthetic Thermal Heatsink Test Results

---

Intel Core i7, Extreme Edition class heatsinks tested at a 200W heat load.
Results based on readings from a 38x38mm copper interface die with 200W heat load on the Intel version of the Mk.III Test Platform. Temperature results listed for each heatsink were calculated by determining the rise over ambient temperatures at time of test. Information on Frostytech's test methodology is available here.
Socket LGA2011/1366 compatible CPU heatsinks

manufacturer:
model no.:
*fan speed:
200w thermal test (°c)
noise level (dba)

---

Noctua
NH-U14S
17.0
47.3
Silverstone
Argon AR01
high
18.8
53.0
Raijintek
Themis
high
19.7
52.8
Coolermaster
V8 GTS
high
20.0
59.7
Noctua
NH-U12S
21.1
46.2
Raijintek
Ereboss
high
21.4
49.7
Zalman
Reserator 3 Max
high
21.6
58.9
Silverstone
NT06-P
high
22.1
51.6
Raijintek
Aidos
high
23.0
55.6
Silverstone
Argon AR01
low
27.1
33.0
Silverstone
NT01-P
high
35.8
40.4
200w thermal test (°c)
noise level (dba)
*heatsinks are ranked according to the 125w thermal test results column (rise over ambient temp.). low temperatures with low noise levels are considered best. for reference heatsinks with variable-speed fans, only the high speed (12v) fan test result is included in the comparison sheet; more detailed results reside in each specific heatsink review.
[ this is the first review to include frostytech's 200W Intel socket LGA2011 synthetic thermal test platform results. The Intel LGA2011 processor family has a listed thermal output of 130W TDP, yet because overclocking will boost heat output significantly further than this Frostytech has chosen to stress socket LGA2011/1366 compatible heatsinks with a 200W heat load. Furthermore, given that the AMD IHS and Intel LGA2011 IHS both measure ~38x38mm, there's no point in a moving a marginal 25W or 50W beyond Frostytech's 125W AMD synthetic thermal test platform is there? Enjoy! ]
With a 200W heat load applied by the Intel LGA2011/1366 version of FrostyTech's synthetic thermal test platform, the Silverstone Argon AR01 heatsink is able to maintain the copper CPU-die at a temperature of 18.8°C over ambient at stock fan speed (2200RPM).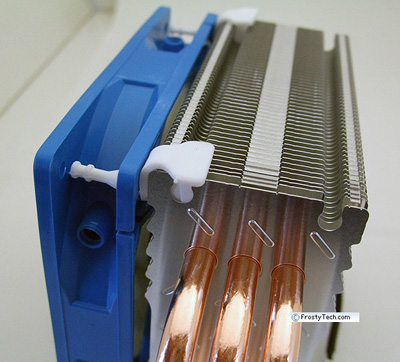 After decreasing the speed of the Argon AR01's nine whizzing impeller blades from 2200RPM to 1000RPM, test temperatures increased a good 10°C, to 27.1°C over ambient. The lower fan speed dropped heatsink noise output from a clearly audible 53 dBA, to a whisper quiet 33.0 dBA.
Is this heatsink good, or bad?
To sum up, we've seen quite a few variations of this heatsink frame from different OEM manufacturers... as tower heatsinks go, it is quite popular and thermally, performs very well.
If your computer case can stomach the 159mm tall stature of the Silverstone Argon AR01 heatsink, you should be happy with the thermal performance we've witnessed across our three synthetic thermal test platforms. That being said, we're not at all satisfied by the rubber fan brackets used here. The white wrap-around rubber fan mounts do install more easily than threaded type we're used to seeing with this heatsink frame, but I don't trust them to stay put. The 90-degree turn in the elastic material puts it under tension; with continuous heating and cooling cycles I would expect the mounts to rapidly spring free, resulting in the fan separating from the aluminum fin tower. Silverstone ought to use wire fan clips.
Bearing this in mind, the Silverstone Argon AR01 did display excellent thermal performance at moderate noise levels. Keep an eye on the fan, particularly if the CPU cooler is oriented in your PC case such that the fan hangs down from the heatsink. Gravity is unrelenting, as they say.
Related Articles:
The Top 5 best heatsinks for low noise and low temperature are ranked here. For more reviews on the latest heatsinks and cooling solutions, rely on FrostyTech's inventory of 600+ heatsink reviews. Here are a few other articles that you might enjoy as well.
- Silverstone Heligon HE01 Heatsink Review
- Corsair Hydro H100 Liquid Cooling Heatsink Review
- Noctua NH-L12 Low Profile Heatsink Review
- Thermaltake Frio Extreme Heatsink Review
- Corsair Hydro H80 Watercooling System Review
- Coolermaster TPC-812 Vapor Chamber/Heatpipe Heatsink Review
- Coolermaster Gemin II S524 Heatsink Review