It's nice to once again encounter a heatsink that stands less than 150mm tall and doesn't feature some kind of complicated self contained water cooling heat exchanger... these days it's getting more difficult to find CPU coolers for compact computer systems. Today Frostytech tested the Deepcool Gammaxx S40 heatsink; this mini-tower heatsink weighs 610 grams and stands 141mm tall. At the center of the Intel and AMD heatsink are four 6mm diameter heatpipes, which are exposed at the base so as to make direct contact with the processors' integrated heat spreader.
Now Deepcool could have gone with a bog-standard aluminium fin and packed in a regular 120mm box fan but the company seems to have taken a different path with the Gammaxx S40 cooler. The fan is 25x120x120mm in size, but it's shaped like a cone - the intake is 116mm in diameter and the exhaust port 98mm in diameter. The fan itself operates pretty quietly at 1600RPM (stock) and can dial back to 900RPM as needed. The 120mm PWM fan moves upwards of 55CFM at full speed.
DeepCool's Gammaxx S40 heatsink installs onto Intel socket LGA2011/1366/1155/1156/775 processors and the complete line up of AMD chips from socket 754/940/939 all the way too AM2/AM3/FM1/FM2. Retail price is estimated at $29 USD.
DeepCool Gammaxx S40

---

heatsink specsheet
manufacturer: deepcool
model no.: gammaxx s40
materials: aluminum fins, copper heatpipes
fan mfg: deepcool (n/a)
fan spec: 1600-900pm, 12v, 0.13a
fan dim: 25x120x120mm
heatsink & fan dim: 141x110x81mm
weight: 610 grams
includes: multi-socket mounting hardware, thermal compound, instructions

---

Compatible with Sockets:
AMD: 754/939/940/AM2/AM3/FM1/FM2
Intel: LGA775/1155/1156/1366/2011
Est. Pricing: $29USD ($29CDN)
Instead of going with flat aluminum fins, Deepcool added little 2mm tall wing lets to the trailing edge which give the Gammaxx S40 a sort of cheese greater appearance from above. Beyond that, the 53mm deep edge surface is flat and plain.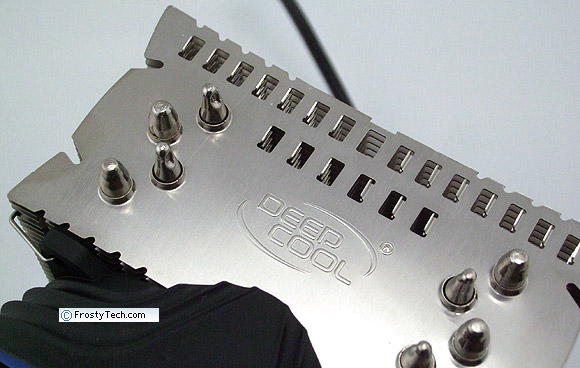 Notice the conical shape to the fan frame? This reduces almost 20mm, from a diameter of 116mm to 98mm where air exists the fan into the Gammaxx's 95x110mm aluminum fin stack.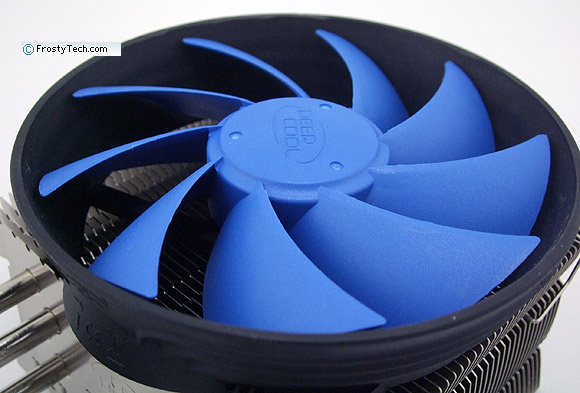 Heatsink Installation and Hardware
The DeepCool Gammaxx S40 heatsink ships with three sets of metal brackets that screw onto the base of the heatsink and accommodate the full gamut of Intel and AMD processor sockets.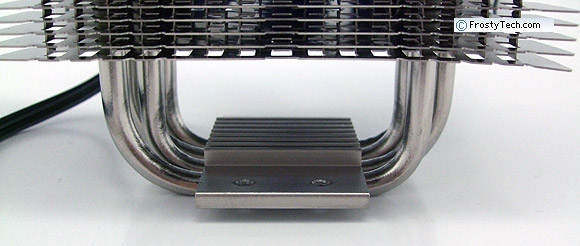 With AMD socket FM2/FM1/AM3/AM2 motherboards the Deepcool Gammaxx S40 simply clips onto the existing AMD heatsink retention cage. Intel LGA1155/1156/775 platforms utilize the standard push-to-click retention mechanism while Intel LGA2011 systems have a dedicated mounting bracket. Aside from the brackets, DeepCool also provide a small pack of thermal grease.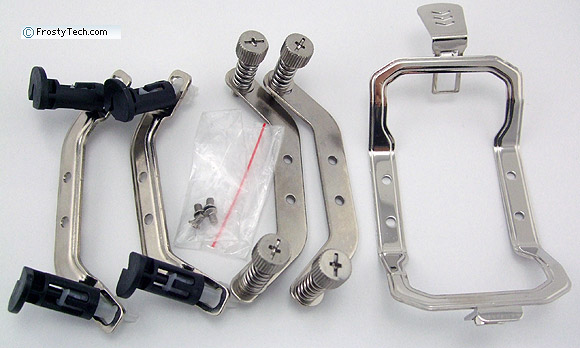 FrostyTech's Test Methodologies are outlined in detail here if you care to know what equipment is used, and the parameters under which the tests are conducted. Now let's move forward and take a closer look at this heatsink, its acoustic characteristics, and of course its performance in the thermal tests!