Gelid's 'the Black Edition' heatsink stands 161mm tall and weighs a modest 990grams. The heatsink has a rather boxy footprint of 126x110mm which encompasses twin 32mm-thick aluminum fin stacks and a pair of mismatched vaneaxial fans. Nestled between the aluminum towers is a 'Silent 12 PWM' 25x120mm fan and strapped to the outside of the heatsink is a thin, 'Slim 12 PWM' 15x120mm fan. Despite the size differences, both fans rotate at around ~1600RPM to 750RPM.
Gelid continue the asymmetrical design approach on the heatpipe front as well; 'the Black Edition' heatsink makes use of three 8mm diameter and four 6mm diameter heatpipes to conduct heat energy from the heatsinks' chunky copper base plate. Furthermore, two of the 6mm diameter heatpipes are stacked above the rest. The seven heatpipes intersect the aluminum fins in a long line, which explains why two fans are required to drive cool air through 'the Black Edition's' cooling fins.
For adventurous computer enthusiasts seeking new and innovative heatsinks, Gelid's 'the Black Edition' heatsink offers pretty good cooling performance with a modest noise output at stock fan speeds. Gelid's 'the Black Edition' heatsink is compatible with Intel socket LGA2011/1366/1155/1156/775 processors and AMD socket AM2/AM3/FM1/FM2 CPUs/APUs. Retail price is pegged at around $75 bucks.
Gelid Black Edition Heatsink

---

heatsink specsheet
manufacturer: gelid
model no.: the black edition
materials: aluminum fins, nickel plated copper heatpipes, copper base plate
fan mfg: (1) gelid slim 12 pwm fn-fw12slimbpl-16, (1) gelid silent 12 pwm
fan spec:
750-1600rpm, 12v, 0.20a
750-1500rpm, 12v, 0.18a
fan dim: 25x120x120mm, 15x120x120mm
heatsink & fan dim: 161x126x110mm
weight: 990 grams
includes: multi-socket mounting hardware, thermal compound, instructions

---

Compatible with Sockets:
AMD: AM2/AM3/FM1/FM2
Intel: LGA2011/1366/1155/1156/775
Est. Pricing: $75USD ($65CDN)
Heatpipe Stacking
Heatpipe stacking is one of those evolutionary offshoots in heatsink thermal design which may prove successful or rapidly go the way of the Dodo - it's still too soon to tell.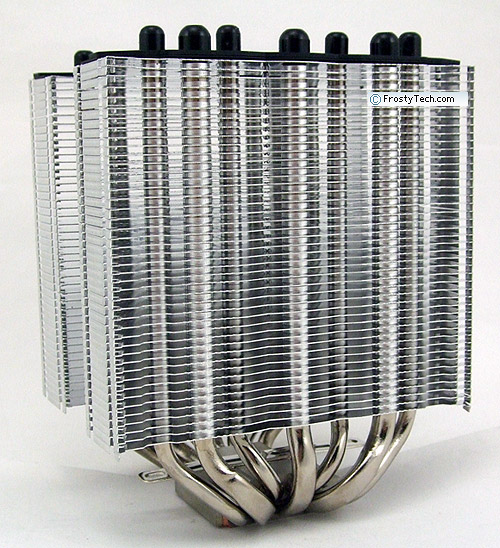 The term describes a manufacturing approach where two or more rows of ancillary heatpipes are stacked on top of the primary heatpipes.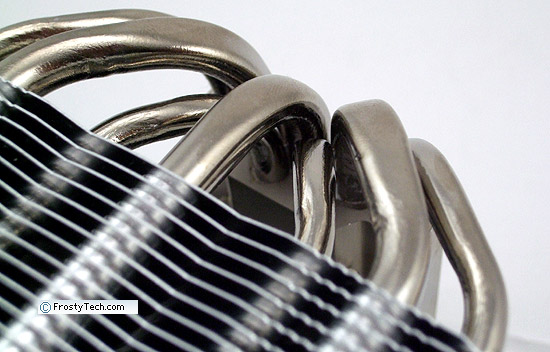 At first glance the concept seems reasonable if you need to conduct a lot of heat energy away from a very concentrated area using more heatpipes than can possibly be squeezed into one linear row. That being said, one has to wonder why two additional heatpipes are required above the five heatpipes in 'the Black Edition' heatsink if the bottom five heatpipes are doing their job correctly? If the heatsink is properly designed and built, the area just above the heatpipes should never get much more than warm...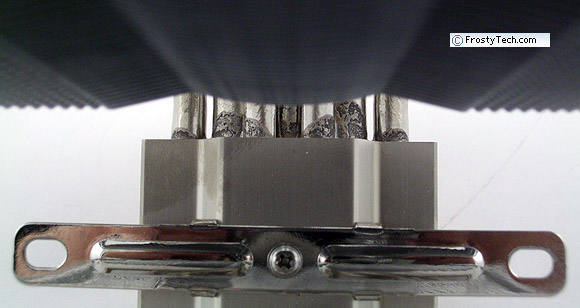 In the case of Gelid's 'the Black Edition' heatsink, the nickel plated heatpipes are soldered to the base plate for good thermal joint resistance while the aluminum fins are press fit over the heatpipes.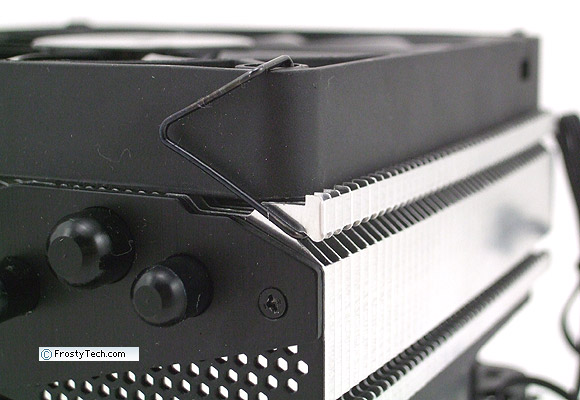 Both fans are held in place with springy wire clips. The center fan will need to be removed to install the heatsink and is a bit tricky to get back in place given the tight clearance. The raw aluminum fins feature notches to help break up laminar air flow and induce a bit of turbulence, but curiously nothing in the way of a plenum for the middle fan.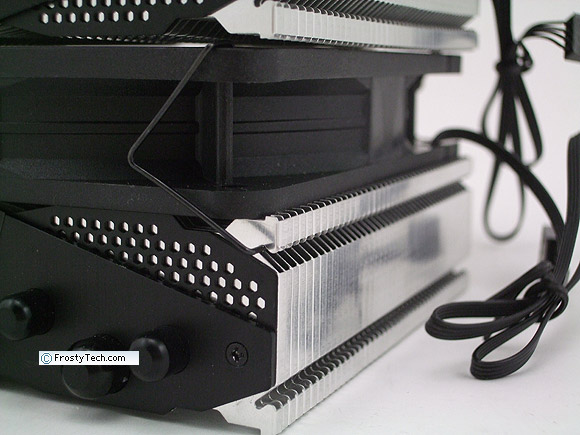 Heatsink Installation and Hardware
Gelid's 'the Black Edition' heatsink ships with a special back plate and a couple sets of metal brackets that screw onto AMD or Intel motherboards to provide a firm base to anchor the heatsink. A common bracket is used to them screw the heatsink into the heatsink bracket.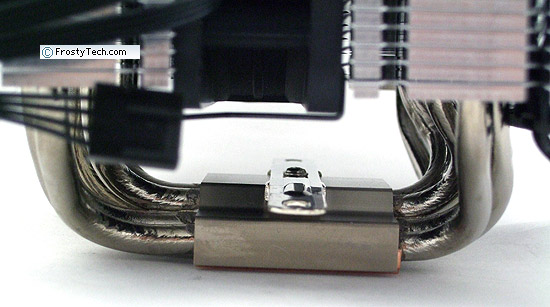 Along with the assorted mounting brackets, the heatsink ships with a Y-splitter for the twin PWM fans, a small syringe of thermal compound and printed instructions.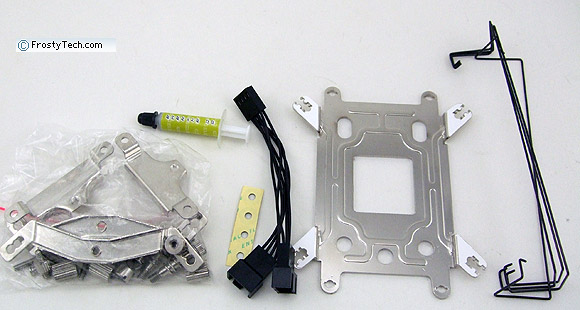 FrostyTech's Test Methodologies are outlined in detail here if you care to know what equipment is used, and the parameters under which the tests are conducted. Now let's move forward and take a closer look at this heatsink, its acoustic characteristics, and of course its performance in the thermal tests!