Evercool's Venti (HPQ-12025) heatsink is a dead simple AMD & Intel CPU cooler that follows the popular, if overdone, exposed-heatpipe-tower-heatsink format. We've seen this a hundred times before, you've seen this a gazillion times before, everyone is familiar with tower heatsink by now... If there was a suburbia of processor heatsinks, the exposed-heatpipe-tower-heatsink would epitomize that.
Anyway, tower coolers have overtaken every other air cooled heatsink style because they work well and are extremely economical to produce. In fact, the Evercool Venti runs only around $29USD, so it should be popular with anyone building a budget computer system.
What you get for the cost of nearly five Starbucks soy chai venti latte's, is a heatsink that stands 160mm tall and is built around four 6mm diameter cooper heatpipes. The heatpipes thread up through a bog-standard aluminum fin stack which measures roughly 125x111x43mm. Airflow is driven by a single 120mm PWM fan whose snow white 7-bladed impeller rotates at your basic 2200RPM to 800RPM. Noise output is moderate. Because computer enthusiasts tend to be picky bunch, Evercool have tossed in one extra set of wire fan clips so a second rear fan can be installed and both fans ran at super low RPM for ultra quiet operation.
Evercool Venti Heatsink

---

heatsink specsheet
manufacturer: evercool
model no.: venti (hpq-12025)
materials: aluminum fins, copper heatpipes, aluminum base with exposed heatpipes.
fan mfg: evercool ec12025h12ep
fan spec: 2200-800rpm, 12v, 0.32a
fan dim: 25x120x120mm
heatsink & fan dim: 160x125x69mm
weight: 588 grams
includes: multi-socket mounting hardware, thermal compound, instructions

---

Compatible with Sockets:
AMD - AM2+/AM3+/FM1/FM2
Intel - 775/1156/1155/1366/2011
Est. Pricing: $29USD ($29CDN)
Weighing in at 588 grams, Evercool's Venti heatsink is compatible with Intel socket 775/1155/1156/1366/2011 processors and AMD socket AM2/AM3/FM1/FM2 chips. As with so many other heatsinks, the Evercool Venti features four exposed 6mm diameter heatpipes at the base.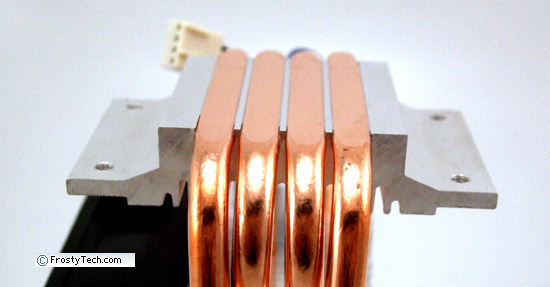 Heatsink Installation Hardware:
Evercool's Venti heatsink ships with a set of metal brackets for Intel and AMD motherboards that work off a common rear motherboard metal support bracket. For both AMD and Intel platforms you will need access to the back of the motherboard to install some screws and the metal plate. In addition, a set of brackets are mounted to the base of the heatsink itself.
FrostyTech's Test Methodologies are outlined in detail here if you care to know what equipment is used, and the parameters under which the tests are conducted. Now let's move forward and take a closer look at this heatsink, its acoustic characteristics, and of course its performance in the thermal tests!