Like a tower heatsink on steroids, the Deepcool Neptwin heatsink incorporates two full-size aluminum cooling fin stacks, twin 120mm fans, six 6mm diameter copper heatpipes and a chunky 5mm thick copper heatspreader base plate - it's almost literally two heatsinks in one!
Given the boxy 120x131mm footprint of this cooler, you ought to know it stands 159mm tall and weighs upwards of 1109 grams, too. I suspect a few readers may scoff at the relatively unknown DeepCool brandname, but if you jump ahead to the heatsink reference charts you'll see that this cooler does indeed perform well, with moderate noise output.
The twin full-size cooling towers and doubled up fans are only part of the story however, the real coup d'etat is how DeepCool configured its fan speeds. The front 120mm PWM fan operates at 1500-900RPM to drive air through the first 40mm thick aluminum fin stack based on moment to moment CPU thermal requirements while the center 120mm fan operates at a fixed speed of 1300RPM; essentially ensuring a steady volume of airflow is always pulled through the two fin stacks. Consequently, DeepCool's Neptwin sees very little thermal performance fluctuation between its high and low fan speed settings. In short, it's a heatsink ideally sized for Intel LGA2011 platforms and AMD FX-series chips.
For the adventurous out there, the DeepCool Neptwin heatsink even ships with an extra set of springy wire fan clips so a third fan (not supplied) can be tacked onto the rear of the cooler.DeepCool's Neptwin heatsink installs onto Intel socket LGA2011/1366/1155/1156/775 processors and the complete line up of AMD socket AM2/AM3/FM1/FM2 processors.
DeepCool Neptwin

---

heatsink specsheet
manufacturer: deepcool
model no.: neptwin
materials: aluminum fins, copper heatpipes, copper base plate
fan mfg: deepcool (n/a)
fan spec: 1500-900pm, 12v, 0.13a
1300rpm, 12v, 0.19a
fan dim: (2x) 25x120x120mm
heatsink & fan dim: 159x120x131mm
weight: 1109 grams
includes: multi-socket mounting hardware, thermal compound, instructions

---

Compatible with Sockets:
AMD: AM2/AM3/FM1/FM2
Intel: LGA775/1155/1156/1366/2011
Est. Pricing: $65USD ($65CDN)
The raw aluminum fins are press-fit over six copper heatpipes and feature notches and darts to help break up laminar air flow and induce turbulence. Beyond this the leading edges and 40mm wide fin surface is plain.
Heatsink Installation and Hardware
The DeepCool Neptwin heatsink ships with two sets of metal brackets that screw onto the motherboard (Intel or AMD) to provide a firm base to anchor the +1kg heatsink. A serial number is also stuck on the bottom of the heatsink for warranty purposes.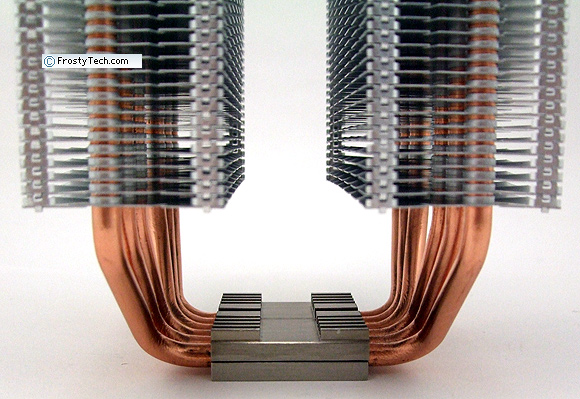 Along with the assorted mounting brackets, the heatsink ships with a small fan speed controller, a syringe of thermal compound, a zip tie to manage the fan cables and a set of printed instructions.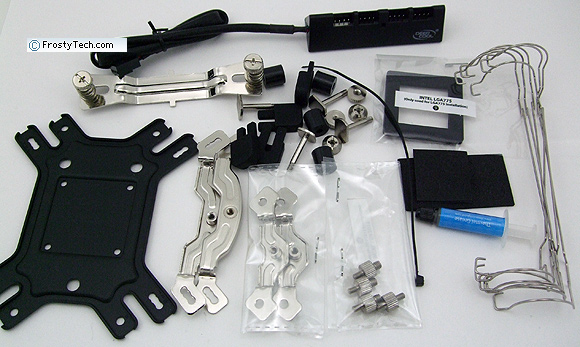 FrostyTech's Test Methodologies are outlined in detail here if you care to know what equipment is used, and the parameters under which the tests are conducted. Now let's move forward and take a closer look at this heatsink, its acoustic characteristics, and of course its performance in the thermal tests!