If I can proffer a tiny sliver of heatsink wisdom, it's this; choose a heatsink for your overheating CPU based on how it performs, not by looks or the brand on the side of the box. At Frostytech we receive far too many emails from readers fixated on ThermalBrand A or ThermalbBrand B, at the expense of newer model heatsinks with demonstrated performance advantages.
On that note, today's focus is the DeepCool Frostwin heatsink which stands a modest 150mm tall. At the heart of this 712 gram tower heatsink are four 6mm diameter copper heatpipes which are exposed at the base and twin 120mm fans. The remainder of the Frostwin heatsink is built around a pretty standard mix of aluminum fins with turbulent flow inducing edge darts and notches.
The DeepCool Frostwin heatsink ships with two 120mm PWM fans that rotate at 1500-900RPM and move upwards of 55CFM each. According to Frostytech's real world sound measurements, the heatsink produces between 37-50dBA noise. DeepCool's Frostwin heatsink installs onto Intel socket LGA2011/1366/1155/1156/775 processors and the complete line up of AMD chips (socket AM2/AM3/FM1/FM2).
DeepCool Frostwin

---

heatsink specsheet
manufacturer: deepcool
model no.: frostwin
materials: aluminum fins, copper heatpipes
fan mfg: deepcool (n/a)
fan spec: (x2) 1600-900pm, 12v, 0.13a
fan dim: 25x120x120mm
heatsink & fan dim: 150x121x119mm
weight: 712 grams
includes: multi-socket mounting hardware, thermal compound, instructions

---

Compatible with Sockets:
AMD: AM2/AM3/FM1/FM2/FM3
Intel: LGA775/1155/1156/1366/2011
Est. Pricing: $50USD ($50CDN)
The raw aluminum fins are press-fit over the four U-shaped copper heatpipes. Each aluminum fin features a series of notches and darts along the leading and trailing edges which we assume are meant to induce turbulent flow.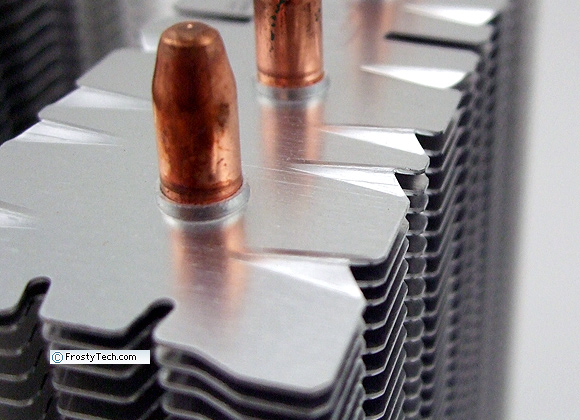 Both 120mm PWM fans run off the same power cord so it's not possible to operate this heatsink with only one fan, or for that matter replace either fan should one eventually fail.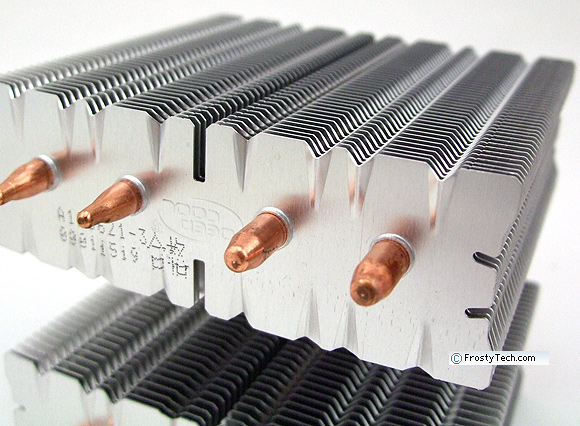 The wire fan brackets will work with just about any 120mm fan, so all's not lost if you want to swap out DeepCool's no-name fans for a pair of SanyoDenki's.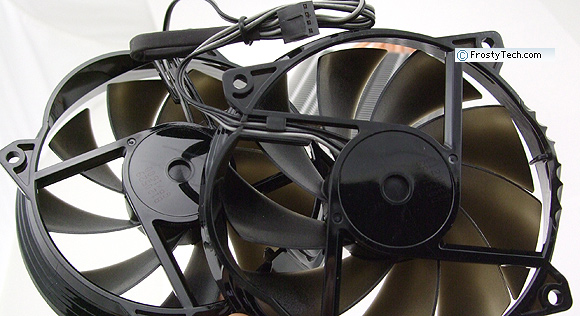 Heatsink Installation and Hardware
The DeepCool Frostwin heatsink ships with two sets of metal brackets that screw onto the motherboard and support the full gamut of Intel and AMD platforms currently in use. Clamping forces are applied by a cap plate and spring tensioned screws (a good sign of a well designed mounting bracket system).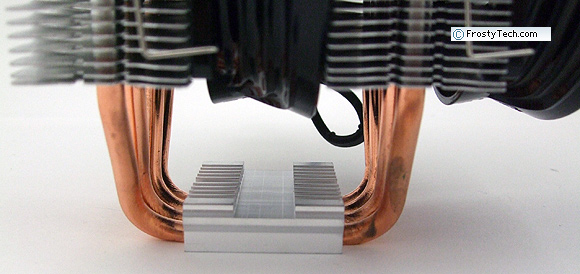 DeepCool supply four 120mm wire fan clips, a small pack of thermal grease and some rubber pads in addition to the collection of steel mounting hardware.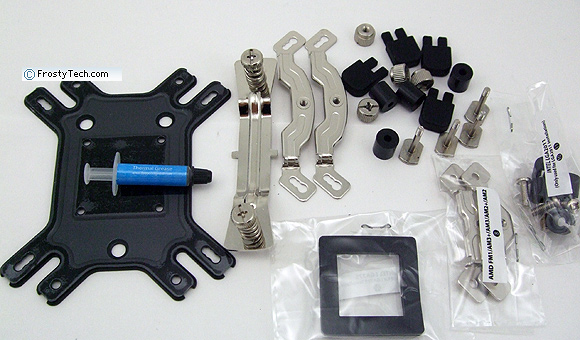 FrostyTech's Test Methodologies are outlined in detail here if you care to know what equipment is used, and the parameters under which the tests are conducted. Now let's move forward and take a closer look at this heatsink, its acoustic characteristics, and of course its performance in the thermal tests!