Deepcool's IceBlade Pro V2.0 heatsink stands 161mm tall and weighs a solid 981 grams. At the heart of this boxy heatsink are four 8mm diameter copper heatpipes, nickel plated along with everything else, including the aluminum fins. The heatpipes are exposed at the base to make direct contact with the processor and ideally, reduce thermal joint resistance.
We've seen this same general heatsink construction countless times on Frostytech, but as they say, 'the devil is in the details'. To its credit, DeepCool have executed a well made heatsink in the IceBlade Pro V2.0 - the fit and finish show a continual improvement in the companies CPU coolers that is not necessarily the overwhelming industry trend. You might not care such fine points, but we think it's something worth mentioning in an era where established brands far too often take their products down the opposite path.
Although we've lamented on the fact that DeepCool persist in using their own fans instead of say, Sanyo Denki SanAce, EBM-Papst or even YStech fans, all is not lost. The IceBlade Pro V2.0 heatsink ships with smokey gray translucent 120mm PWM fan that rotates at 1500-900RPM and moves upwards of 60CFM according to manufacturer specs. On the noise front, DeepCool have managed to produce a tower heatsink which isn't too loud - 46dBA according to Frostytech's real world sound measurements - or so quiet that airflow runs at an anaemic level in the face of high heat loads. As with most tower heatsinks these days, you get a second set of wire fan clips for attaching a rear exhaust fan, if you wish to operate two fans at low speeds.
DeepCool's IceBlade Pro V2.0 heatsink installs onto Intel socket LGA2011/1366/1155/1156/775 processors and the complete line up of current AMD socket AM2/AM3/FM1/FM2 processors. Retail price for this full size heatsink is pegged at around $50.
DeepCool IceBlade Pro V2.0

---

heatsink specsheet
manufacturer: deepcool
model no.: iceblade pro v2.0
materials: nickel plated aluminum fins, nickel plated copper heatpipes
fan mfg: deepcool (n/a)
fan spec: 1500-900pm, 12v, 0.13a
fan dim: 25x120x120mm
heatsink & fan dim: 161x124x95mm
weight: 981 grams
includes: multi-socket mounting hardware, thermal compound, instructions

---

Compatible with Sockets:
AMD: AM2/AM3/FM1/FM2
Intel: LGA775/1155/1156/1366/2011
Est. Pricing: $50USD ($50CDN)
The nickel plated aluminum fins are press-fit over four nickel plated copper heatpipes. Each fin features a series of slight bends along the outside edge to help break up laminar air flow. Beyond that, the ~48 aluminum fins are pretty wide, measuring 125mm x 70mm.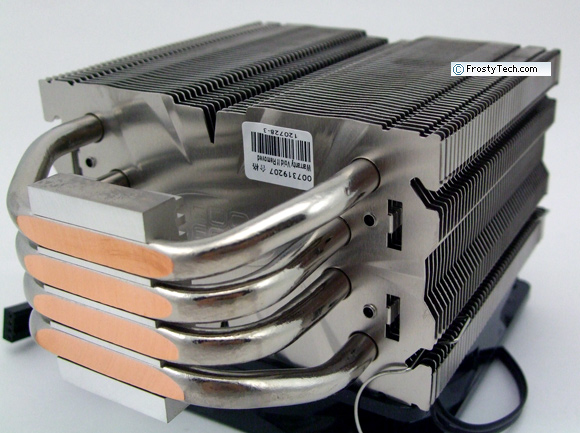 Heat pipes are exposed at the base so as to make direct contact with the processor's integrated heat spreader. Long ago, CPUs used to have their silicon dies exposed which necessitating a thick copper heatspreader. The nickel plating serves a cosmetic purpose and helps to prevent the copper surfaces from oxidizing over time.
Curiously, the heatpipes are not soldered to the aluminum fins as far as we can discern. That extra step would have ensured good metal-to-metal contact after numerous heating and cooling cycles. It would have raised the cost of the DeepCool Ice Blade Pro V2.0 too, but there's no better way to keep thermal expansion in check, particularly where heatpipe-to-aluminum fin thermal joint resistance is concerned.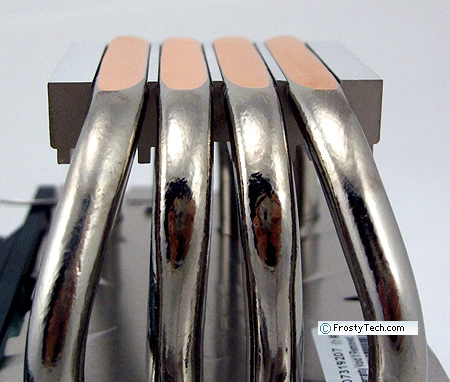 Heatsink Installation and Hardware
The DeepCool IceBlade Pro V2.0 heatsink ships with two sets of metal brackets that use a common pressure plate to accommodate the full gamut of Intel and AMD processor sockets. A serial number is also stuck on the bottom of the heatsink for warranty purposes.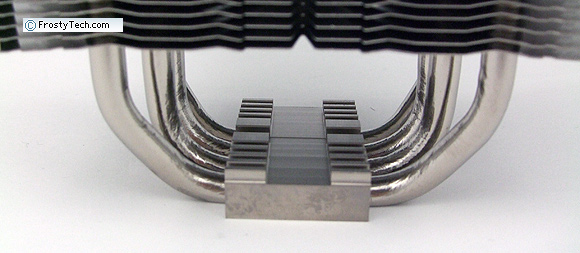 Given that the IceBlade Pro V2.0 weighs 981 grams, DeepCool chose a screw-based mounting system which is rigid and more reliable than plastic tabs. An assortment of mounting brackets, screws, stand off's and thumbscrews are supplied to facilitate each socket; peculiarities. In addition, you'll find a four 120mm wire fan clips and a small bit of thermal grease.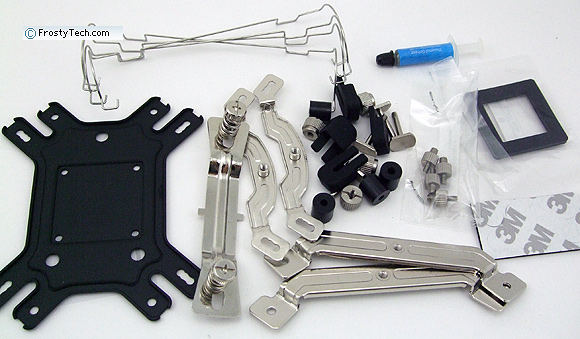 FrostyTech's Test Methodologies are outlined in detail here if you care to know what equipment is used, and the parameters under which the tests are conducted. Now let's move forward and take a closer look at this heatsink, its acoustic characteristics, and of course its performance in the thermal tests!