The Coolermaster Gemin II M4 heatsink measures just 61mm tall, from the base of its exposed copper heatpipes to the tippy tip of its translucent vaneaxial fan. How does manage to squeeze in a fan and enough cooling surface area in a package so thin? Easy, instead of a 25mm thick stock 120mm fan, Coolermaster uses a 13-bladed fan that's just 15mm thick.
When it comes to finding a good low profile heatsink for a compact computer system, HTPC or MediaPC, height is only half the equation. Noise output is usually high on the list, closely followed by thermal performance. Coolermaster make good on most of these points with the Gemin II M4, though the heatsink is really best suited to sub-95W TDP chips as you'll shortly see. The Gemin II M4 heatsink will handle heat loads up to 150W TDP, but only at full fan speed where noise levels are quiet-to-audible. Then again, it's not like you have much choice in sub 75mm tall heatsinks - if you find yourself stuck on super low thermals, super quiet noise levels and a very compact height restrictions, you may find the Gemin II M4 heatsink the ideal compromise.
Of the +340 Intel LGA1155/1156/775 compatible heatsinks Frostytech has tested thus far, there are just 46 under heights of 75mm. Of this subset, the Coolermaster Gemin II M4 ranks 7.8°C behind the lead in Frostytech's 150W test and 5.9°C behind the lead heatsink in the 85W test. Of those two subsets, the Gemin II M4 is the second quietest at full fan speed. Factor in cost and it's $35 cheaper.
Now that you know how it all ends, on with the review.
Coolermaster Gemin II M4 Heatsink

---

heatsink specsheet
manufacturer: coolermaster
model no.: gemin ii m4
materials: aluminum fins, copper heatpipes, extruded aluminum base with exposed heatpipes.
fan mfg: fa12015m12lpa
fan spec: 500-1600rpm, 12v, 0.30a
fan dim: 15x120x120mm
heatsink & fan dim: 61x132x121mm
weight: 290 grams
includes: multi-socket mounting hardware, thermal compound, instructions.

---

Compatible with Sockets:
AMD - AM2/AM3/FM1/FM2
Intel - LGA2011/1366/1155/1156/775
Est. Pricing: $35USD ($35CDN)
Based around the top-down heatsink style, the Coolermaster Gemin II M4 low profile heatsink stands 61mm tall and has an overall footprint of 132x121. The svelte 210gram heatsink uses four 6mm diameter copper heatpipes which are exposed at the base and is equipped with a 15x120mm PWM fan that spins at 1600-500RPM. The Gemin II M4 heatsink ranges from mildly audible to whisper quiet and installs onto Intel socket LGA775/1155/1156/1366/2011 and AMD socket AM2/AM3/FM1/FM2 processors.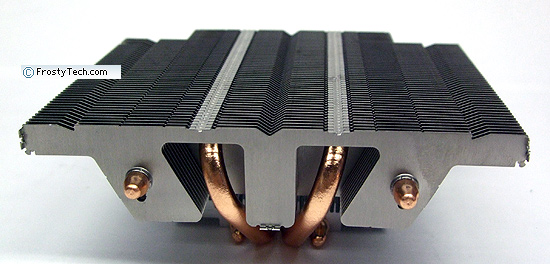 Striped of its fan, the 46mm tall heatsink body squeezes cooling fins into every possible nook and cranny. Though to be frank, I can't see these outside cooling fins conducting much heat from the outer two 6mm diameter heatpipes at this end of the cooler. Heat tends not to conduct very well over thin webs of metal to much wider portions on the other side.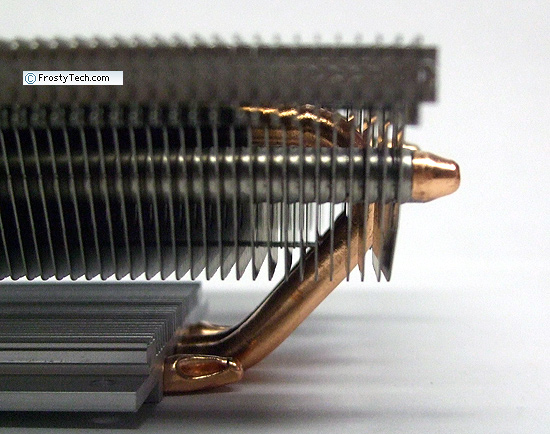 What you're looking at here is an important point in manufacturing compact, yet thermally efficient heatsinks. The heatpipes are fully soldered along their lengths to the nickel plated aluminum fins of the Gemin II M4 heatsink.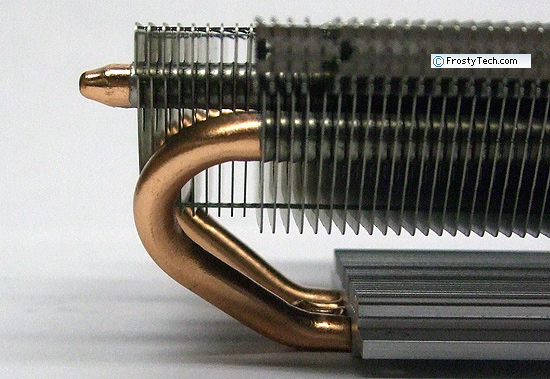 Heatsink Installation Hardware
Coolermaster's Gemin II M4 heatsink ships with brackets to accommodate Intel LGA775/1155/1156/1366/2011 CPUs and AMD socket AM2/AM3/FM1/FM2 processors.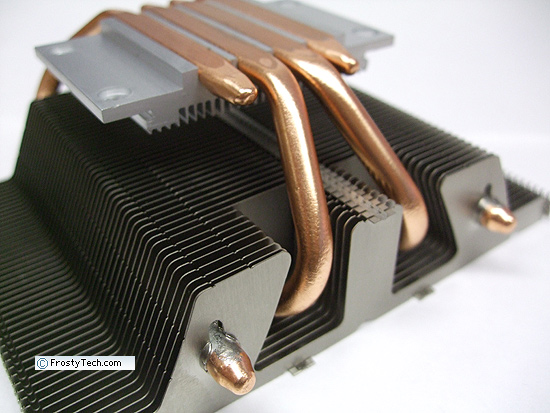 The metal Intel brackets largely install from the rear of the motherboard, so users will need access to the back of their boards or will need to pull the computer apart momentarily to install the Gemin II M4. If you've installed Coolermaster heatsinks in the past, the installation brackets are based on the same type this company has been using for years.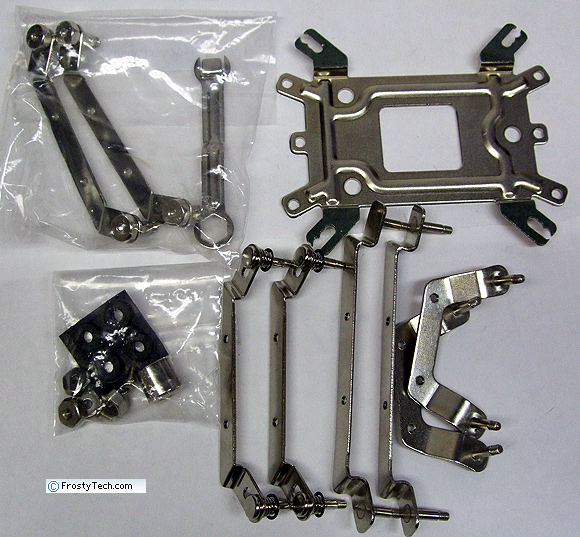 FrostyTech's Test Methodologies are outlined in detail here if you care to know what equipment is used, and the parameters under which the tests are conducted. Now let's move forward and take a closer look at this heatsink, its acoustic characteristics, and of course its performance in the thermal tests!