Before we get to the NZXT Respire T40 heatsink on Frostytech's test bench today, let's first turn our attention to the topic of dust for a moment. I'd like to know if anyone has ever tired coating a heatsink with a material like 3M's Anti-Soiling Liquid to cut down on the amount of airborn particles filtred out by a heatsinks fins? Before you ask "What the heck is that?", there'svideo of 3M's dust test here and PDF specs here . Dusty environments can play havoc with the efficiency of computer heatsinks and airflow, and frankly, I'd rather not scrape dust bunnies out between the fan and fins quite so often. Let me know.
Okay, on with our review of the NZXT Respire T40 heatsink! At the heart of this 158mm tall heatsink are four 8mm diameter copper heatpipes and a 120mm, 68CFM fan. The heatpipes are all exposed at the base while the aluminum fin stack is pretty standard; there aren't any fancy leading edges, punched out cooling fin patterns or unnecessary plastic fan shrouds.
The 120mm fan rotates at 1800-1300RPM and moves upwards of 68CFM through the heatsinks' 112x130mm fin stack. According to Frostytech's real world sound measurements, the Respire T40 produces upwards of 46dBA noise at full tilt, making it pretty moderate on the sound front. For those wishing to run twin 120mm fans very slowly, a set of extra plastic fan clips are supplied.
NZXT's Respire T40 heatsink installs onto Intel socket LGA2011/1366/1155/1156/775 processors and the complete line up of AMD chips (socket AM2/AM3/FM1/FM2). The NZXT Respire T40 heatsink retails for about $40USD.
NZXT Respire T40

---

heatsink specsheet
manufacturer: nzxt
model no.: respire t40
materials: aluminum fins, copper heatpipes
fan mfg: nzxt df1202512seln
fan spec: 1800-1300rpm, 12v, 0.20a
fan dim: 25x120x120mm
heatsink & fan dim: 158x133x85mm
weight: 750 grams
includes: multi-socket mounting hardware, thermal compound, instructions

---

Compatible with Sockets:
AMD: AM2/AM3/FM1/FM2
Intel: LGA775/1155/1156/1366/2011
Est. Pricing: $40USD ($40CDN)
The aluminum fins press-fit over the four copper heatpipes each have a slight bend it the middle for visual effect. The leading and trailing edges of the fins are notched every 18mm or so. Fins are ~130x60mm in size.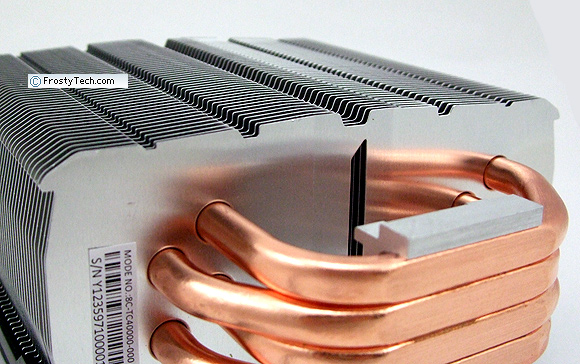 The four 8mm diameter exposed copper heatpipes are bonded to the aluminum base plate with adhesive, as can be easily seen by the excess glue squeezed out during assembly.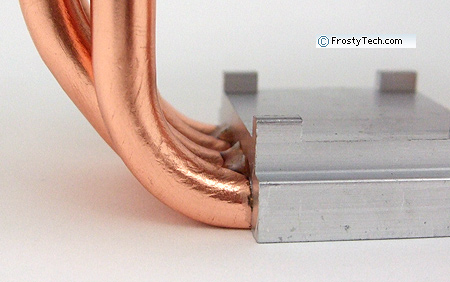 Heatsink Installation and Hardware
The NZXT Respire T40 heatsink ships with two sets of metal brackets that accommodate the full gamut of Intel and AMD processor sockets. Since the brackets mount to the motherboard directly, you'll need access to the rear of the motherboard for heatsink installation. A top bar sits across the aluminum base plate and screws into the board-mounted brackets to hold the Respire T40 in place.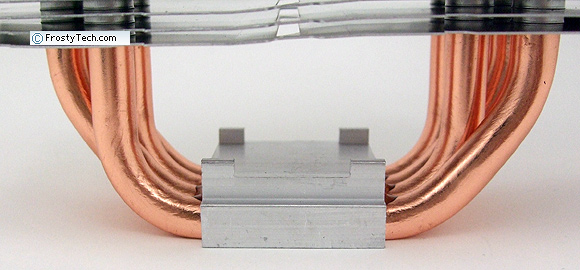 Along with the mounting brackets, NZXT supply an extra set of fan clips, a fan power cable speed adaptor and a small pack of thermal grease.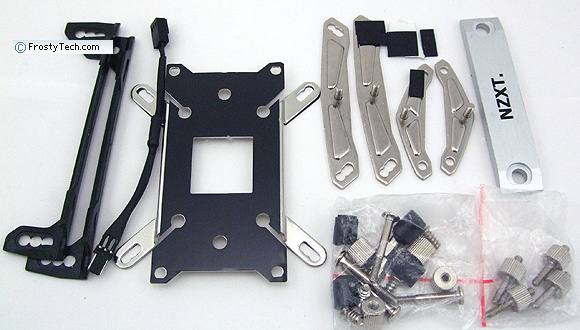 FrostyTech's Test Methodologies are outlined in detail here if you care to know what equipment is used, and the parameters under which the tests are conducted. Now let's move forward and take a closer look at this heatsink, its acoustic characteristics, and of course its performance in the thermal tests!