Quite a few 'tower heatsinks' have passed by Frostytech's test bench this year, each a little different than the next and some much quieter, or cooler than others. Yet despite the outward similarities of the popular tower heatsink format, you can never tell how a heatsink will perform just by looking at it. Testing is the only way to know for sure.
On the dock today is NZXT's Respire T20 heatsink. The Respire T20 stands 160mm tall, putting it in the class of full tower CPU coolers. At the heart of this 510 gram heatsink are three heatpipes; two 6mm diameter and one 8mm diameter, all exposed at the base for efficient heat conduction. The rest of the heatsink is a pretty standard mix of rectangular aluminum fins, except for one little bend at the middle of each 120mm wide cooling fin.
The Respire T20 heatsink ships with a single 120mm fan that operates at 1500-1300RPM and moves upwards of 68CFM at full clock. According to Frostytech's real world sound measurements, the Respire T20 heatsink produces between 46-40 dBA noise, making it pretty moderate on the sound front. Curiously, NZXT don't include a second set of fan clips with this cooler - one fan is all it will support.
NZXT's Respire T20 heatsink installs onto Intel socket LGA2011/1366/1155/1156/775 processors and the complete line up of AMD socket AM2/AM3/FM1/FM2 CPUs. The Respire T20 heatsink runs about $30 USD online.
NZXT Respire T20

---

heatsink specsheet
manufacturer: nzxt
model no.: respire t20
materials: aluminum fins, exposed copper heatpipes
fan mfg: nzxt df1202512seln
fan spec: 1500-130pm, 12v, 0.20a
fan dim: 25x120x120mm
heatsink & fan dim: 160x123x65mm
weight: 510 grams
includes: multi-socket mounting hardware, thermal compound, instructions

---

Compatible with Sockets:
AMD: AM2/AM3/FM1/FM2
Intel: LGA775/1155/1156/1366/2011
Est. Pricing: $30USD ($30CDN)
Each of the 48 aluminum fins are press-fit over three copper heatpipes, creating a fin stack 112x120mm in area. A slight jog at the center of each fin is of debatable impact to airflow. Beyond this detail, the aluminum fins have a slightly tapered leading edge and really little else in the way of flourish.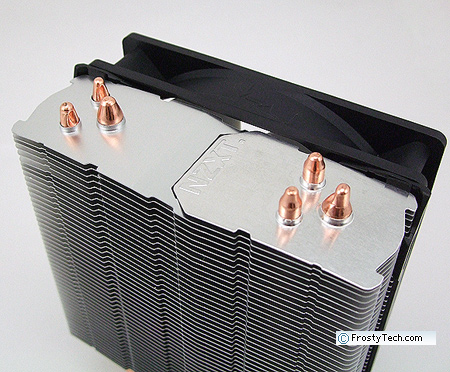 The three exposed copper heatpipes are bonded to the aluminum base plate with adhesive, as can be easily seen by the excess glue squeezed out during assembly. The adhesive is necessary because NZXT use a semi-cirular/horseshoe profile in the extruded aluminum; a shape which doesn't lend itself to mechanically locking the heatpipes in place.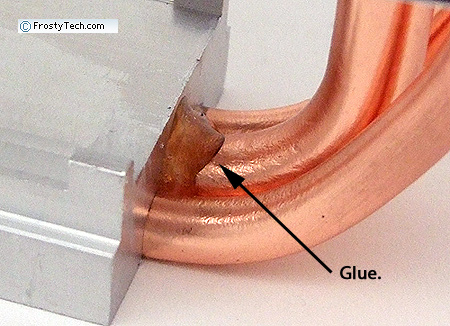 On That Note...
At the 2010 Computex Taipei trade show I had a rather interesting conversation with a jovial Korean thermal engineer about heatpipes and exposed heatpipe base heatsinks. Now what you first need to understand is that the heatsink trade is chock full of manufacturing secrets... we talked about two of them in detail, I'll tell you about one.
First thing, heatpipes have wicks. The good wick type is based around sintered metal power which is easily damaged if the heatpipe is bent incorrectly.
Secondly, if you look closely at bases of several exposed heatpipe heatsinks you'll notice slightly different channel profiles in the extruded aluminum support blocks common to this style of CPU cooler. The aluminum base cap transmits clamping forces from the mounting brackets and holds the heatpipes in close contact with the processor below. Important stuff, that.
Anyway, some aluminum channel profiles allow the heatpipe to be mechanically swaged in place (crimped or pressed, for lack of a better term), others maximize the flattened part of the heatpipe which is contact with the CPU below. The challenge heatsink manufacturers have is preventing heatpipes from shifting after months of repeated heating/cooling cycles in a PC while simultaneously maximizing heatpipe-to-CPU contact surface area and minimizing damaging heatpipe distortion. As profiles go ovals are popular, "D" shapes, horseshoe shapes, half circles, eggs, flat ovals, diamond ovals and many other profiles are cut into the aluminum caps to try and meet these aforementioned constraints.
The shape of the profile a heatpipe is swagged into affects its performance on some level - if a heatpipe is 'crushed' the wick can dislodge from the inner pipe surface and that impacts efficiency negatively. Ditto if the heatpipe is bent too sharply... it's as much an art as it is a science. My point with all this is that heatpipes held in an aluminum base cap with adhesive isn't necessarily a bad sign. It may just mean the heatpipes have undergone little distortion in the swaging process. As it stands, the NZXT Respire T20 heatsink has all three of its heatpipes positioned side-by-side.
Heatsink Installation and Hardware
The NZXT Respire T20 heatsink ships with two sets of metal brackets that accommodate the full gamut of Intel and AMD processor sockets. Since the brackets mount to the motherboard directly, you'll need access to the rear of the motherboard for heatsink installation. A top bar sits across the aluminum base plate and screws into the board-mounted brackets to hold the Respire T20 in place. NZXT left this top bar out of the package we received for testing... good thing we had the Respire T40 model on hand for review too.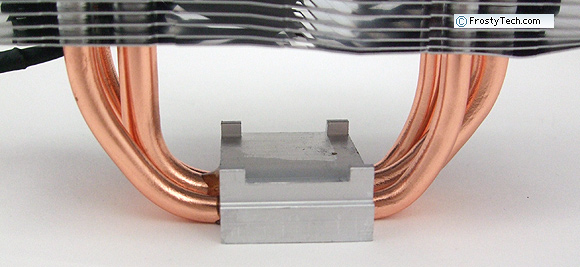 Apart from mounting brackets, NZXT supply a fan power cable speed changer and a small pack of thermal grease.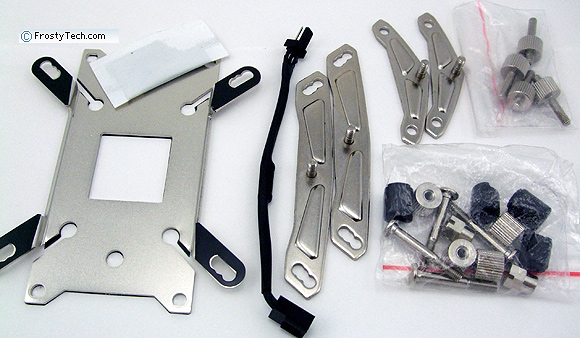 FrostyTech's Test Methodologies are outlined in detail here if you care to know what equipment is used, and the parameters under which the tests are conducted. Now let's move forward and take a closer look at this heatsink, its acoustic characteristics, and of course its performance in the thermal tests!