The Silverstone Heligon HE02 is being sold as a passive heatsink for sub-95W TDP processors, so today on Frostytech we'll put this big, boxy, silent heatsink through its passive paces. No fans will be used in the testing, just good old noise-less convection cooling. We should note that wire fan clips are supplied for users who wish to add two 120mm fans. Given the Heligon HE02 heatsink stands 151mm tall and has a footprint of 170mm x 130mm, adding 50mm of width onto that 130mm wide frame is inevitably going to be a challenge for most motherboards... Never the less, the option exists.
Silverstone's Heligon HE02 heatsink weighs in at 990grams and installs onto Intel socket LGA2011/1366/1156/1155/775 processors and AMD socket AM2/AM3/FM1/FM2 CPUs. It retails for in the neighborhood of $70 at NCIX.com.
Like the Heligon HE01 heatsink Frostytech previously tested, the Heligon HE02 is asymmetric - meaning the CPU base plate is not centered on the body of the heatsink but positioned off to one corner. This novel approach aims to make the heatsink more compatible with motherboards having excessively large VRM heatsinks or memory slots positioned too close to the CPU socket. Looking at the center-point of the CPU base plate from below, the body of the Heligon HE02 heatsink extends ~54mm down, ~94mm left, ~74mm up and ~74mm to the right. The lowest fin is elevated 41mm above the CPU so there's a decent amount of clearance for motherboard components.
Silverstone Heligon HE02 Passive Heatsink

---

heatsink specsheet
manufacturer: silverstone

model no.: heligon he02 (sst-he02)

materials: nickel plated aluminum fins, copper heatpipes, copper base plate
fan mfg: none
fan spec: none
fan dim: supports 120mm fans
heatsink & fan dim: 151x170x130mm
weight: 990 grams
includes: multi-socket mounting hardware, thermal compound, instructions

---

Compatible with Sockets:
AMD - AM2+/AM3+/FM1/FM2
Intel - 775/1156/1155/1366/2011
Est. Pricing: $72USD ($72CDN)
Silverstone's Heligon HE02 heatsink is made from a pretty common mix of nickel plated aluminum fins soldered to six 6mm diameter copper heatpipes. The heatpipes are capped off by a chunky nickel plated copper base plate. Noise wise, this is a completely silent passively cooled heatsink, which means you'd better have a case with lots of air vents.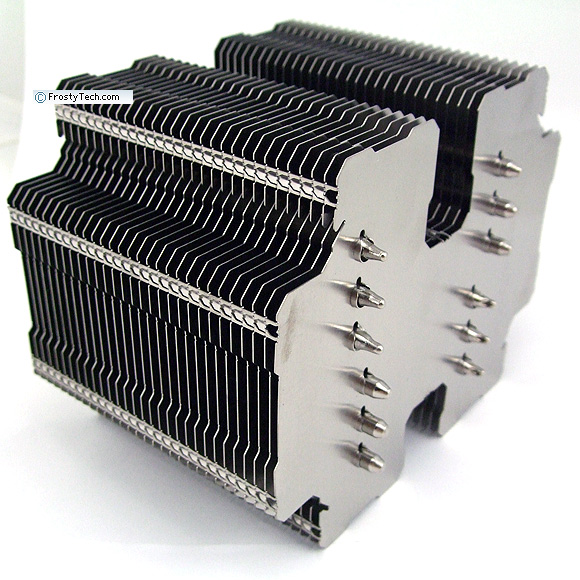 Any passive computer system not destined to burn on reentry needs three critical things. 1) Adequate ventilation at the top of the PC chassis so hot air can easily escape. 2) Side panel vents so cool air can easily be drawn into the chassis at a point lower than the heatsink (and ideally no hot videocard to pre-heat that cool air). 3) The right heatsink orientation to promote convective air flow.
If you mount the Silverstone HE02 in the PC like it's shown above, hot air will easily rise through the fins to the top and convection cooling forces will take hold. If your computer case is sitting on its side, so the Silverstone HE02 heatsink is effectively standing upright like the photo below, the heatsink will not function efficiently and you'll see unnecessarily warmer temperatures as a result.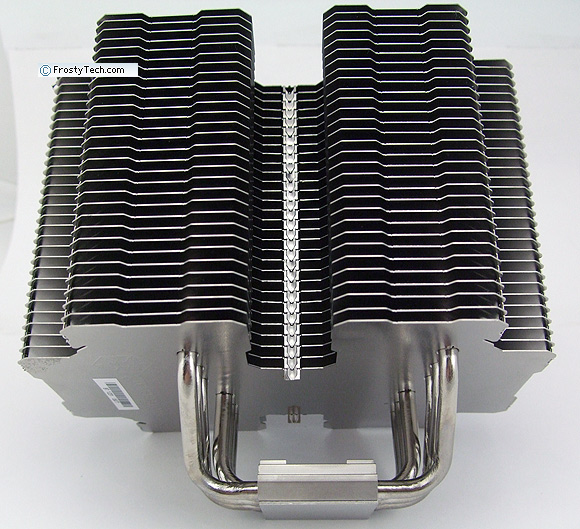 The Silverstone HE02 can be installed in either direction, which ever orientation works for your particular PC chassis is fine. To illustrate the difference orientation makes, Frostytech tested the Heligon HE02 in both positions.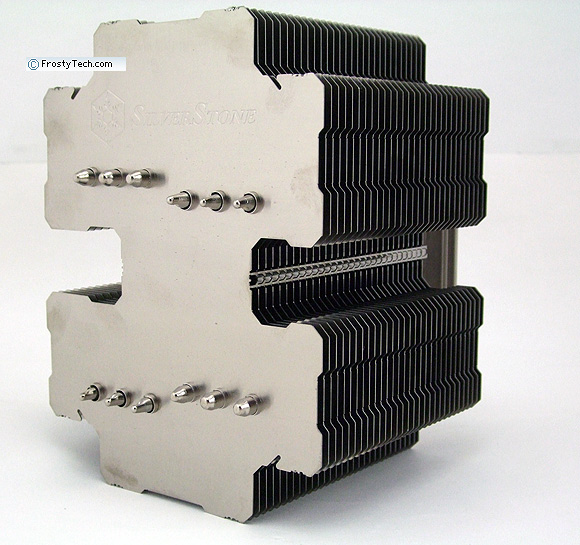 Fans are Optional
Since Silverstone are pushing the Helgion HE02 as a silent passive heatsink, it's a little curious that the company includes wire fan brackets and gives users a spot to mount not one, but two 120mm fans.
That strikes us at Frostytech as shaky confidence in the passive cooling capabilities of this CPU cooler. True enough, printed on the side of the box are the following guidelines - for fanless operation CPU TDP must be less than 95W. For 130W TDP CPUs at least one 120mm fan is required. If the processor is overclocked to higher than 130W TDP levels, Silverstone prescribe two 120mm fans and call them in the morning.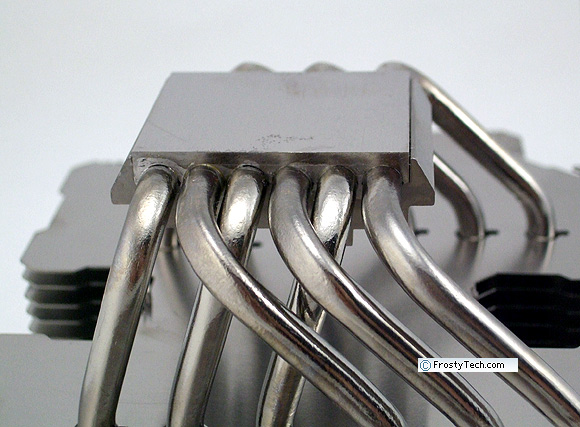 The heatpipes are soldered to the nickel plated copper base plate to ensure low thermal joint resistance. The heatpipe wicks are made from sintered metal powder.
Heatsink Installation Hardware:
Silverstone's Heligon HE02 heatsink can be installed onto Intel socket LGA775/1155/1156/1366/2011 and AMD socket AM2/AM3/FM1/FM2 CPUs. Every current and (known) upcoming CPU socket variation is covered by this one heatsink.

Installation is pretty straightforward as many of the metal mounting brackets are shared between the AMD and Intel platforms. Keep in mind that the Heligon HE02 requires a case with at least 155mm clearance above the CPU.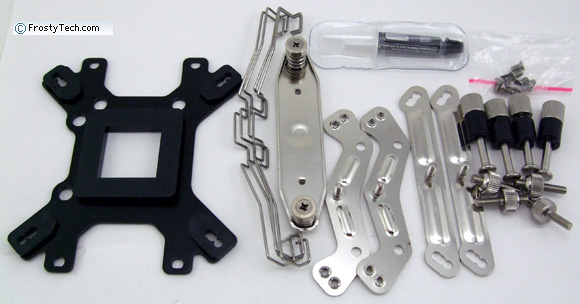 Silverstone supply two pairs of wire fan clips so two fans (not included) can be mounted on the outside of the heatsink if desired. A small syringe of thermal compound is also included.
FrostyTech's Test Methodologies are outlined in detail here if you care to know what equipment is used, and the parameters under which the tests are conducted. Now let's move forward and take a closer look at this heatsink, its acoustic characteristics, and of course its performance in the thermal tests!