Thermaltake's Water 2.0 Performer is a self contained liquid cooling system for Intel and AMD CPUs that's ready to go out of the box - no mess, no fuss. The only requirement you need to worry about is whether your PC case has a 120mm fan opening at the back of the chassis for the heat exchanger to attach to. Thermaltake actually make two watercooling units that look identical, the 'Performer' we're testing out in this review which uses a 27mm thick heat exchanger, and the 'Pro' model Frostytech tested here which uses a 50mm thick, 120mm-sized heat exchanger. Both Water 2.0 Performer and Water 2.0 Pro use the same waterblock/pump and 120mm fans. The thicker heat exchanger on the Water 2.0 Pro model means it does cool a bit better than the Performer.
The Thermaltake Water 2.0 Performer ships pre-filled with a distilled water/anti-freeze based coolant which circulates through 11mm diameter 'low evaporation' rubber tubing. The small fluid pump operates at 2800RPM and is housed along with a reservoir and thin copper water block in the package which mounts atop the processor. For the sake of efficiency, the copper waterblock uses skived copper fins and a thin elastomer gasket to directs water flow through the resulting channels.
The aluminum heat exchanger is sandwiched between two 120mm PWM fans that operate at 1000-2000RPM, moving roughly 80CFM of air apiece. The heat exchanger alone measures 150x120x27mm and attaches to the inside back panel of the computer chassis.
Thermaltake Water 2.0 Performer liquid cooling system installs onto AMD socket AM2/AM3/FM1/FM2 processors and Intel socket LGA2011/1155/1156 processors. The Water 2.0 Performer heatsink retails for $60 USD/CDN while the Water 2.0 Pro goes for $86 USD/CDN.
Please note that while Thermaltake list "Intel LGA775" compatibility, the unit Frostytech received for testing did NOT include an Intel bracket compatible with LGA775 motherboards.
Thermaltake Water 2.0 Performer Liquid Cooling System

---




heatsink specsheet
manufacturer: thermaltake
model no.: water 2.0 performer (clw0215)
materials: aluminum radiator, skived copper water block.
fan mfg: (x2) thermaltake pla12025s12hh-lv

fan spec: (x2) 2000-1200rpm, 12v, 0.50a

fan dim: 25x120x120mm
waterblock dim: 30x72x82mm
heat exchanger dim:151x120x27mm
pump spec: 2800rpm, 12v dc, 0.22a
flow rate: unknown
head: unknown
coolant: distilled water/propylene glycol
weight: 815 grams
includes: multi-socket mounting hardware, thermal compound, instructions.

---

Compatible with Sockets:
AMD - AM2/AM2+/AM3/FM1/FM2
Intel - LGA2011/1366/1155/1156
(does not support LGA775)
Est. Pricing: $60USD ($60CDN)
Thermaltake's Water 2.0 Performer self-contained liquid cooling system consists of three components; a 12v DC pump, integrated reservoir and skived copper waterblock, a 12" length of rubber tubing and the aluminum heat exchanger. The 'Pro's heat exchanger is shown below with the fans removed.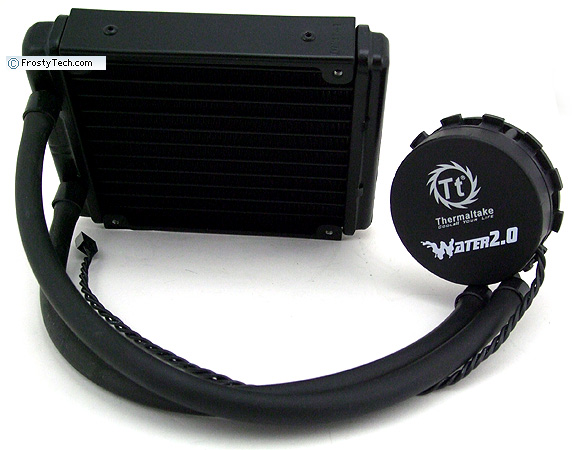 A standard 3-pin motherboard fan header supplies power to the water pump and the two 120mm PWM fans each have separate 4-pin power cables. A Y-splitter is included to run both 120mm fans off a single PWM motherboard fan header.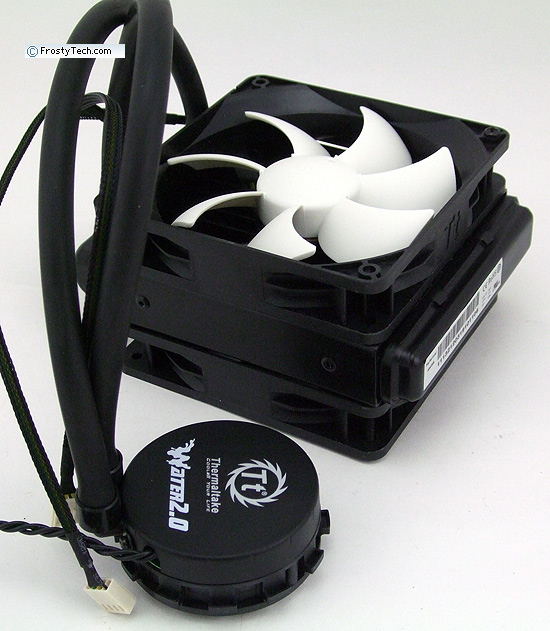 The Water 2.0 Performer is ready to go out of the box, the user need only install the waterblock onto the CPU and mount the radiator and 120mm fans to the back of the PC chassis. The fans should be directed so air is exhausted out of the PC case. Because of the heat exchanger, your computer case MUST have a cut out and mounting holes for a rear 120mm fan or this heatsink cannot be installed.


(engaging the CPU socket retention collar)
Brackets for Intel socket LGA1155/1156/2011/1366 and all AMD sockets are supplied.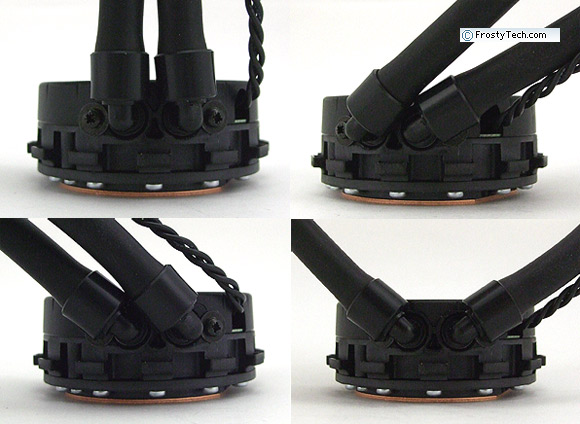 (rubber tubes swivel independently to facilitate easy installation)
Set within the base of the water pump assembly that mounts on top of the CPU is a skived copper fluid heat exchanger with flow gasket and washer .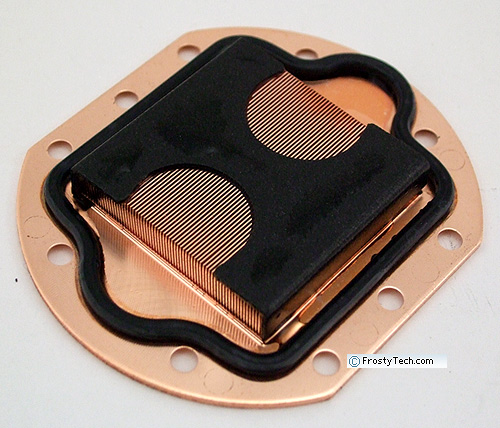 The fin area of the CPU fluid heat exchanger measures ~30x30x5mm in size. This is basically a thin-fin skived copper plate about 1mm thick. Coolant enters the fluid heat exchanger from one side and is directed through the skived fins to the other.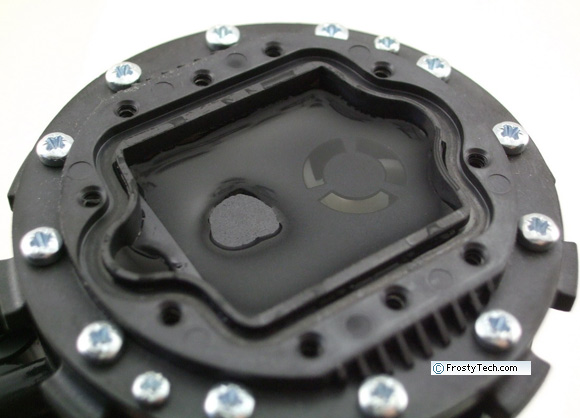 The copper fins are flush at the top so coolant must pass through them, thus ensuring a high degree of copper surface area is in contact with coolant. Above you can see the very small pump impeller used to move coolant through the circuit. Fluid flow rates are not disclosed.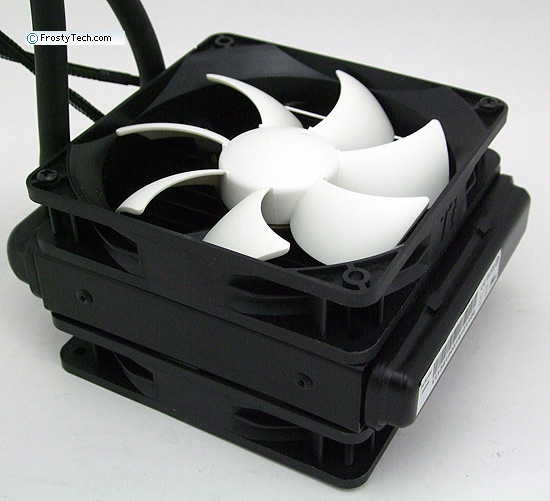 At the other end of about a foot of rubber tubing is the aluminum heat exchanger. The tubing is 11mm in diameter and relatively kink resistant. While the barbs on the radiator are metal, those on the pump head are plastic - take care when installing the unit so there is no chance of a barb being snapped off. Twin 120mm PWM fans on either side of the heat exchanger spin at 1000-2000RPM to move air through the aluminum heat exchanger.
Mounting Hardware
The Thermaltake Water 2.0 Performer is compatible with both Intel socket LGA2011/1366/1155/1556 and AMD socket FM2/FM1/AM2/AM3 processors and ships with two motherboard brackets that engage with supplied metal support plate to accommodate each platform.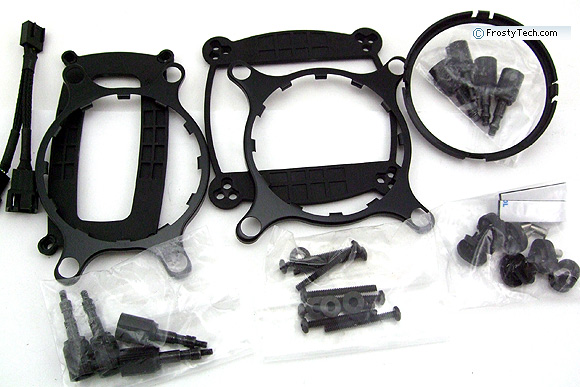 This heatsink will be tested on FrostyTech's Intel and AMD version of the Mk.II synthetic thermal temperature test platform, and compared against hundreds of reference Intel and AMD heatsinks. The whole test methodology is outlined in detail here if you'd like to know what equipment is used, and the parameters under which the tests are conducted.