As a single fan heatsink the Zalman CNPS14X performs very well, but the higher the heat load the better the advantage there is to be gained from adding two more fans... so... Zalman include extra fan brackets for users who want to add their own 140mm fans. ;) Since this is a novel approach, Frostytech is going to test Zalman's CNPS14X heatsink in its single fan configuration (stock) and also in a three fan configuration. This way you can see how much difference there is between one and three fans. Just remember, 3x fans does not equal 3x cooling performance.
On a side note, given that the CNPS14X is 125mm long, adding an extra 25mm worth of fan on either end of the heatsink won't be practical with every motherboard either. Tall sticks of RAM and motherboard VRM heatsinks are going to get in the way in some cases. Measure twice, upgrade once.
Alright, on with this heatsink review.
The stock Zalman CNPS14X heatsink comes with a single 120mm PWM fan nestled away in the center of two 115mm tall aluminum fin towers. The 120mm fan runs at 1350-900RPM and the two towers are connected to a copper base plate by no less than six, 6mm diameter copper heatpipes. Zalman's CNPS14X heatsink stands a not unreasonable 157mm tall, it weighs 875 grams.
The Zalman CNPS14X heatsink retails for an affordable $41 CDN/USD at places like Newegg.com and installs onto Intel socket LGA2011/1366/1155/1156/775 and AMD socket AM2/AM3/FM1/FM2 processors.
Zalman CNPS14X Heatsink

---

heatsink specsheet
manufacturer: zalman

model no.: cnps14x

materials: aluminum fins, copper heatpipes, copper base plate
fan mfg: n/a
fan spec: 1350-950rpm, 12v, 0.20a
fan dim: 25x120x120mm
heatsink & fan dim: 157x140x125mm
weight: 875 grams
includes: multi-socket mounting hardware, thermal compound, instructions

---

Compatible with Sockets:
AMD - AM2+/AM3+/FM1
Intel - 775/1156/1155/1366/2011
Est. Pricing: $42USD ($42CDN)
The CNPS14X heatsink ships with a built in 120mm PWM fan located between its two aluminum fin towers. However, due to overclocker and PC enthusiast demands, Zalman took an extra step and included two extra sets of fan brackets so users can install their own 140mm fans on the outside of the fin towers. The added fans really aren't necessary, unless you choose to drop the speed of all three fans to the lowest RPM. In this scenario, three slow turning fans allow you to run this heatsink with very little noise output and not sacrifice temperatures.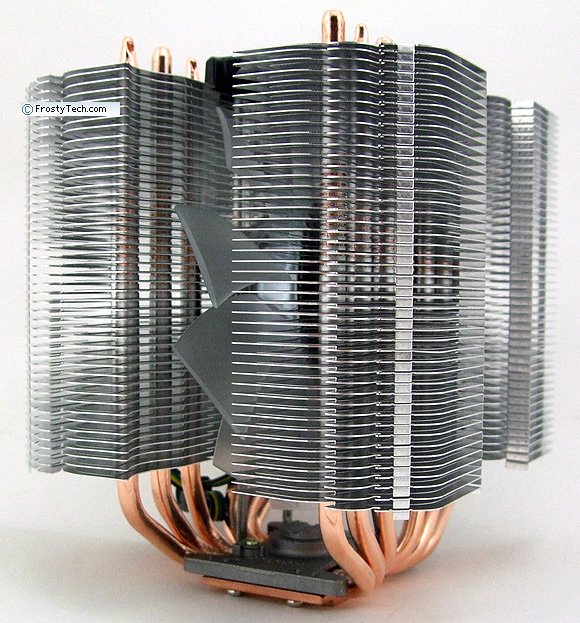 Optional Extra - Add two 140mm fans to the CNPS14X
The manufacturer sent along a pair 135x135x25mm ZM-F4 fans with the CNPS14X heatsink we're testing in this review. These Zalman ZP1425ASL fans rotate at between 1300-900RPM and are designed for case cooling, i.e.they come with silicone rubber pins to attach to the chassis. Each fan weighs 151 grams, so this bumps the total cooler weight to 1177 grams.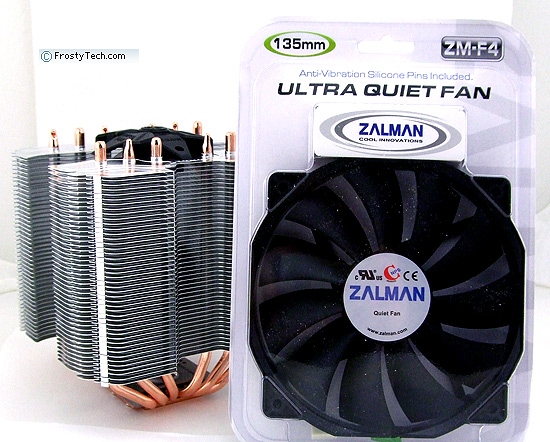 If you choose to add two of your own fans onto the CNPS14X, keep in mind this will expand heatsink length from 125mm to 175mm.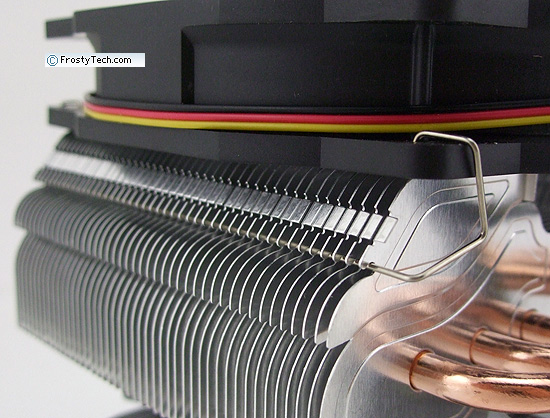 With about 25mm clearance below the fan frames for motherboard components, adding side fans won't work on some motherboards. Measure first.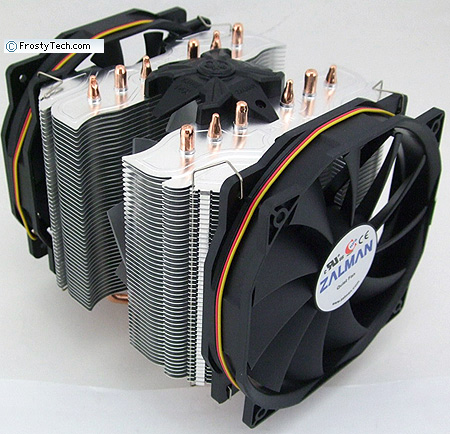 Note: the two outside mounted fans are not included.
Memory slot clearance is not very good with the extra fans hanging off the sides of the Zalman CNPS14X.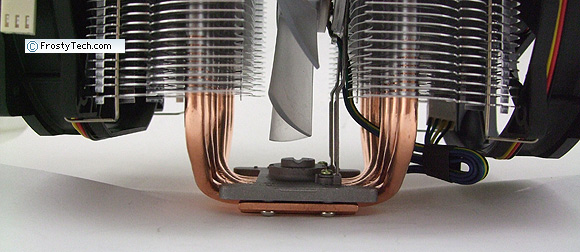 Note: the two outside mounted fans are not included.
Note in the photo above, the height of the fan frames above the surface the heatsink is resting on. There's a bit of flexibility with how high up the fans can be mounted. The aluminum fins are 40mm above the CPU, the outside fans range from 30mm above the CPU, to a little more than 20mm if the fan is centered on the aluminum fin stack.
Heatsink Installation Hardware:
Zalman's CNPS14X heatsink can be installed onto Intel socket LGA2011/1366/1155/1156/775 processors and the full range of AMD socket AM2/AM2+/AM3/AM3+/FM1/FM2 CPUs. Every current CPU variation is covered by this one heatsink.
Installation is straightforward, although there are those pesky clearance issues to be aware of. Generally speaking, the CNPS14X heatsink will fit any modern computer case of 180mm outside width. The heatsink itself stands 157mm tall.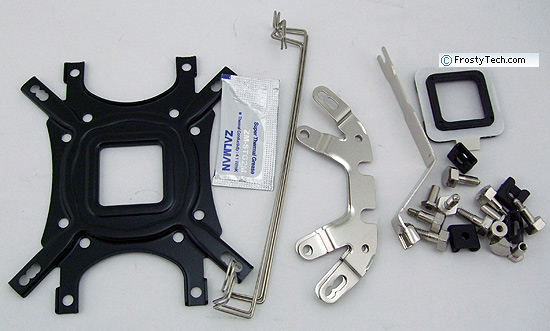 A pair of chromed metal brackets attach to the base of the heatsink and along with four small metal stand-offs are used to create a metal heatsink retention cage with the aid of a black metal rear motherboard support plate. The CNPS14X weighs 875grams so Zalman have taken care to ensure it's not going anywhere once installed.
For Intel socket LGA2011 motherboards you'll need to use a small wrench and screws to mount the heatsink (supplied). As usual, Zalman include clear step by step instructions to walk you through the process.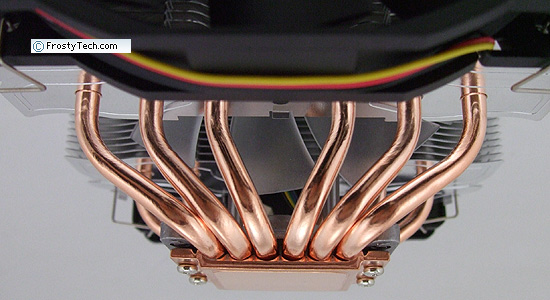 Zalman supply a small pack of ZM-STG2M thermal grease as well.
FrostyTech's Test Methodologies are outlined in detail here if you care to know what equipment is used, and the parameters under which the tests are conducted. Now let's move forward and take a closer look at this heatsink, its acoustic characteristics, and of course its performance in the thermal tests!