Remember that F-117 'Nighthawk' aircraft shot down over Serbia in 1999? Remember the TV pictures of the crashed aircraft in a farmers field with all that fancy stealth technology just laying about, ready to be picked up and reverse engineered by anyone? Well, trickle-down engineering has finally brought once classified aerospace technology to your desktop PC, where essential elements of the mysterious 'black stealth coating' are now applied to heatsinks to improve heat transmission from metal surfaces to air!
Or not... that previous paragraph is pure fiction. Still, this is the connotation Xigmatek seem to be implying with a novel heatsink called the Dark Knight SD1283 Night Hawk Edition and its "stealth technology - low heat signature ceramic coating."
Frustratingly, there's not much Frostytech can conclusively tell you about the 'heat transmission coating' on the outside of what is otherwise a Xigmatek SD1283 tower heatsink. The matt black coating has a texture on par with 400 grit sandpaper, it's fine enough to have been sprayed on, it coats every nook and cranny of the CPU cooler evenly and the material doesn't come off easily when scraped. What exactly the coating is made of, how thermally conductive that material is and what difference this surface treatment makes to heatsink performance are more difficult questions to answer.
Does the matt black heatsink look pretty damn cool? Why, yes. Yes it does. :)
Xigmatek Dark Knight SD1283 Night Hawk Ed. Heatsink

---

heatsink specsheet
manufacturer: xigmatek
model no.: dark knight sd1283 night hawk ed. (cac-sxhh3)
materials: ceramic sprayed aluminum fins, copper heatpipes, aluminum base with exposed heatpipes.
fan mfg: xigmatek a1225h12s
fan spec: 1000-2200rpm, 12v, 0.45a
fan dim: 25x120x120mm
heatsink & fan dim: 159x120x77mm
weight: 406 grams
includes: multi-socket mounting hardware, thermal compound, instructions

---

Compatible with Sockets:
AMD - AM2/AM3/FM1/FM2
Intel - 2011/1155/1156/1366/775
Est. Pricing: $50USD ($50CDN)
Here's what Frostytech has been able to find out. The black 'ceramic coating' on the Xigmatek Dark Knight SD1283 Night Hawk Ed. heatsink is described as "high thermal conductivity metal surface treatment" by its manufacturer; SAU Applied Materials . SAU Applied Materials is a Taiwan-based company which primarily focuses on LED related thermal products, for example the coating on thisLED MR16 light. About all we can say with certainty is that a rough black surface coating increases surface area somewhat and radiates heat more efficiently than a shiny aluminum surface.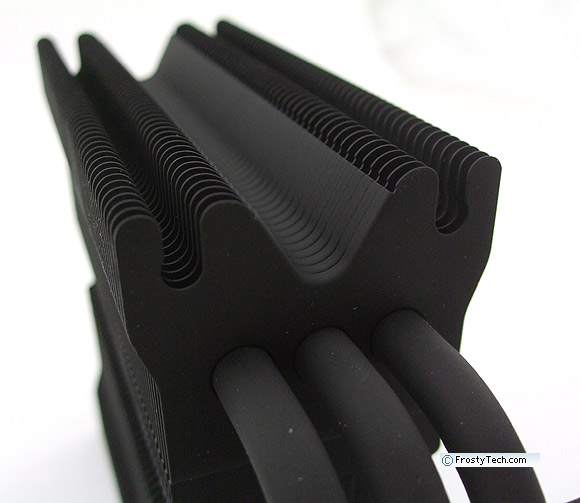 The 'ceramic' material sprayed onto the Xigmatek Dark Knight SD1283 Night Hawk Ed. heatsink might be composed of crystalline h-Boron Nitride or Aluminum Nitride, or it might not. Requests for additional information to SAU Applied Materials were not answered.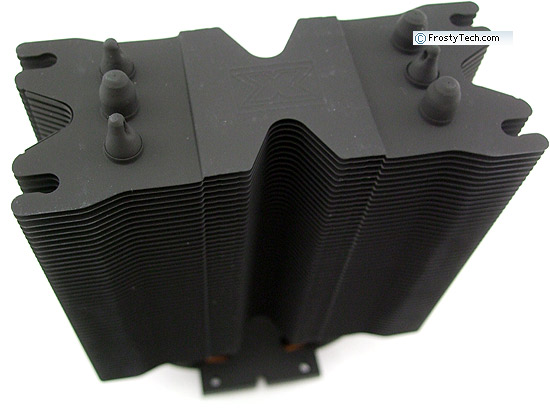 In all other respects, Xigmatek's Dark Knight SD1283 Night Hawk Ed. heatsink is a pretty standard CPU cooler. Built around three 8mm diameter copper heatpipes, this tower heatsink features a 'direct touch heatpipe' base, rubber vibration absorbing fan mounts and a reasonably quiet 120mm PWM fan. The fan is illuminated with four white LEDs and operates at 1000-2200RPM, moving upwards of 89CFM at approximately 53 dBA according to our real world sound measurements. The heatsink stands 159mm tall and weighs a light 405 grams. Xigmatek's CAC-SXHH3 model heatsink is compatible with Intel socket LGA 2011/1366/1155/1156/775 processors and AMD socket AM2/AM3/FM1/FM2 chips. Retail price is under $50USD at Newegg.com, which is pretty good for a tower heatsink these days.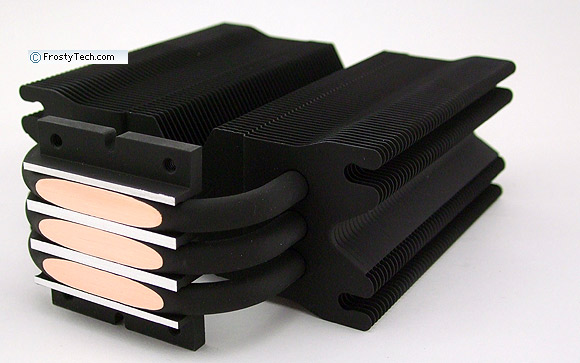 This Xigmatek heatsink comes with one 120mm PWM fan which mounts directly to the aluminum cooling fins on four vibration absorbing rubber posts. A second fan (not included) can also mount to the rear of the heatsink since additional fan posts are included. The heatsink has a footprint of 120mm x 77mm with one fan attached.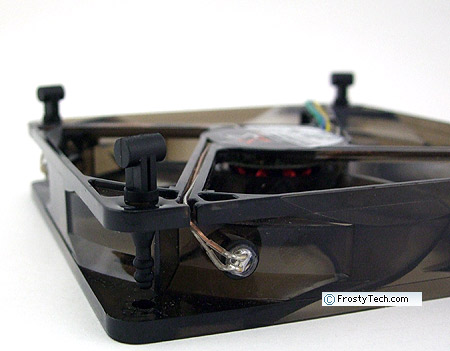 Microscopic Photos of SAU Applied Material's "high thermally conductive coating"
Frostytech broke out the microscope for a closer look (literally) at SAU's "high thermally conductive coating" on the outside of the Xigmatek Dark Knight SD1283 heatsink. The surface feels like 400 grit wet sandpaper, if you were wondering.
Incidently, once you get a little white silicone thermal compound on the black areas of this heatsink, it fills the microporous surface layer of the coating and doesn't wipe off. Dust build up may become and issue with a surface of this type, as well.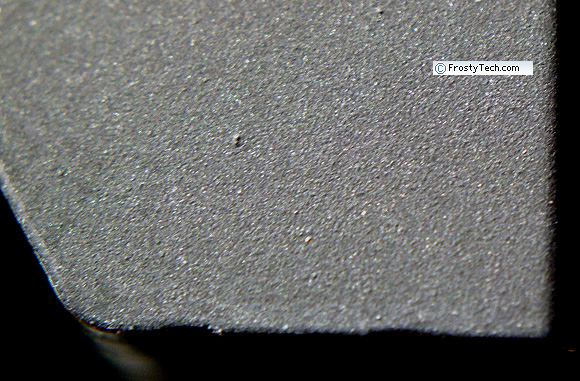 Microscopic photo of the flat fin surface. This photo covers an area of about 10mm square.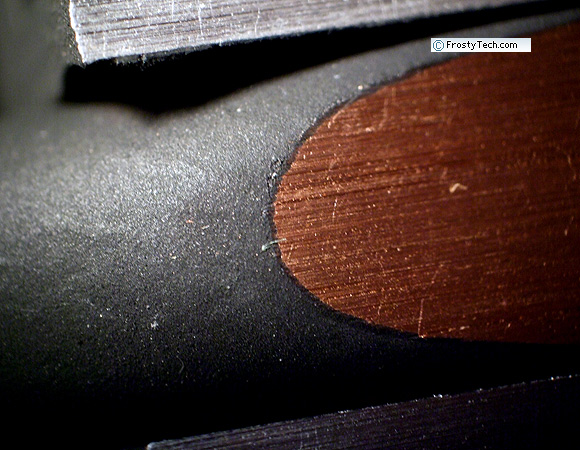 Detail of the coating boundary line showing thickness of the material. This photo covers an area of about 8mm square.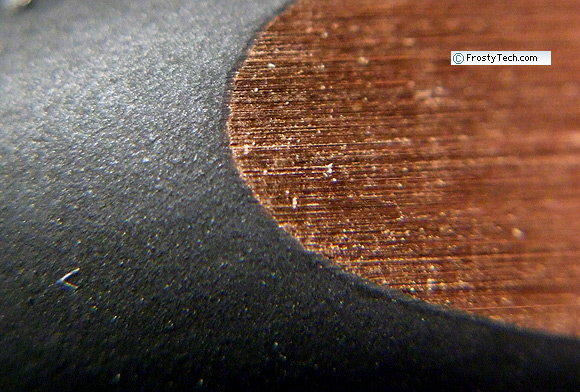 This photo covers an area of about 6mm square.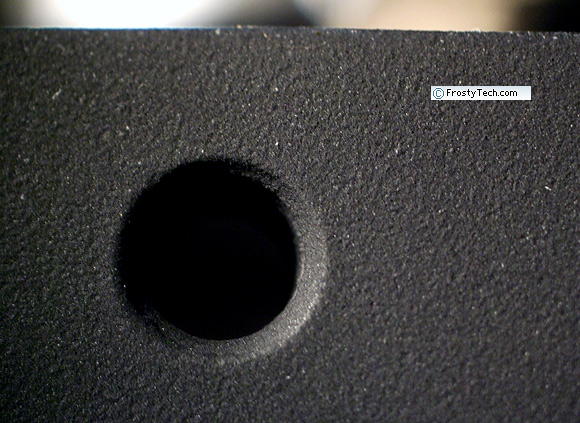 Detail of the porous nature of the surface coating. This is one of the mounting bracket screw holes, which for the purposes of scale are 5mm in diameter.
Heatsink Installation Hardware:
Xigmatek's Dark Knight SD1283 Night Hawk Ed. heatsink is compatible with Intel socket 775/1155/1156/1366/2011 and AMD socket AM2/AM3/FM1/FM2 processors. The heatsink comes with one rear metal support bracket. Depending on your computer case you may need to remove the motherboard to install this heatsink. After the board mounted metal stand offs are installed, subsequent CPU swaps are more straightforward.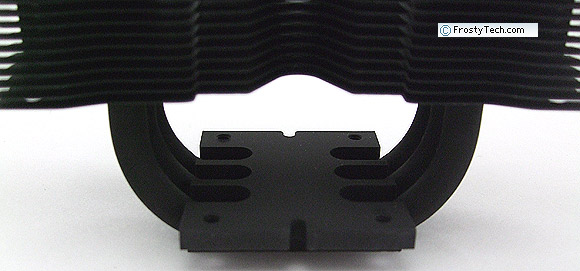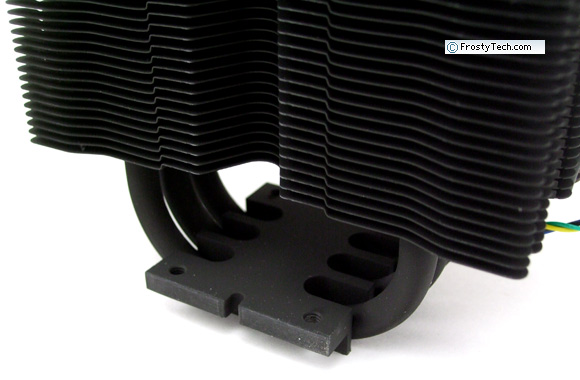 AMD platforms make use of the same basic heatsink brackets, which is a shame since AMD supplies a heatsink retention cage on every single board.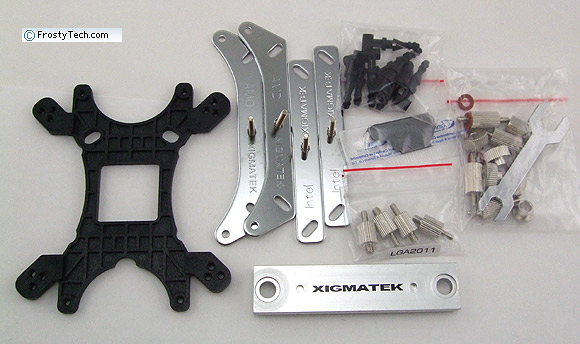 The brackets take a little bit of time to install but will firmly hold the heatsink in place.
FrostyTech's Test Methodologies are outlined in detail here if you care to know what equipment is used, and the parameters under which the tests are conducted. Now let's move forward and take a closer look at this heatsink, its acoustic characteristics, and of course its performance in the thermal tests!