Zalman's CNPS9900DF heatsink is a twin tower cooler that stands 154mm tall and is built around three 6mm diameter composite wick copper heatpipes. For a look inside a composite wick heatpipe, check this out. The CNPS9900DF comes with two fans, a 120mm intake fan that runs at a fixed speed of 1000RPM and a center, 135mm PWM fan than operates at 1400-900RPM.
The six heatpipe ends are laid out side by side at the base and soldered to a thick copper heatspreader which conducts heat from multi-core processors more evenly than exposed heatpipe thermal solutions can. The heatpipes support two 135mm diameter torus shape nickel plated copper fin stacks. Zalman's design is efficient, in that the shape of the small cooling fins harnesses both intake and exhaust airflow from the fan impeller blades. The CPU cooler weighs 900 grams, stands 154mm tall and has a footprint of 136x111mm. Zalman rate this heatsink for a maximum thermal load of 300Watts... but until Frostytech's LGA2011 test set is up and running we have no way of validating this assertion.
Zalman's CNPS9900DF heatsink retails for around $80USD and is compatible with Intel socket LGA2011/1366/155/1156/775 processors and AMD socket AM2/AM3/FM1/FM2 CPUs.
Zalman CNPS9900DF Heatsink

---

heatsink specsheet
manufacturer: zalman

model no.: cnps9900df

materials: dark nickel plated copper fins, copper heatpipes, copper base plate
fan mfg: zalman ze1225b9 & zp13525bll
fan spec: 1000rpm, 12v, 0.20a (front)
900-1400rpm, 12v, 0.28a (center)
fan dim: 25x120x120mm (front)
25x135x135mm (center)
heatsink & fan dim: 154x136x111mm
weight: 900 grams
includes: multi-socket mounting hardware, thermal compound, instructions

---

Compatible with Sockets:
AMD - AM2+/AM3+/FM1/FM2
Intel - LGA2011/1366/1155/1156/775
Est. Pricing: $80USD ($80CDN)
The two fans of the Zalman CNPS9900DF heatsink can be connected separately to individual motherboard fan headers, or via a Y-splitter to one motherboard header to centralize fan control. The translucent impellers are softly illuminated by a blue LED for visual effect against the dark nickel plated surfaces of the CNPS9900DF heatsink body. At full speed the heatsink is reasonably quiet.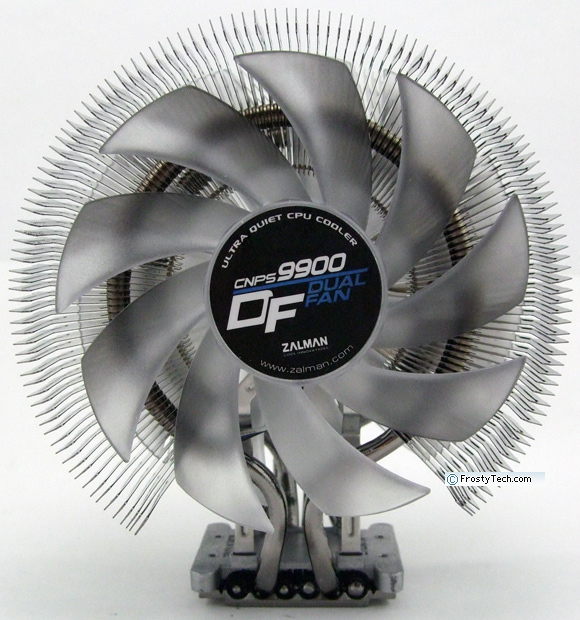 The front 120mm fan runs at a fixed speed of 1000RPM.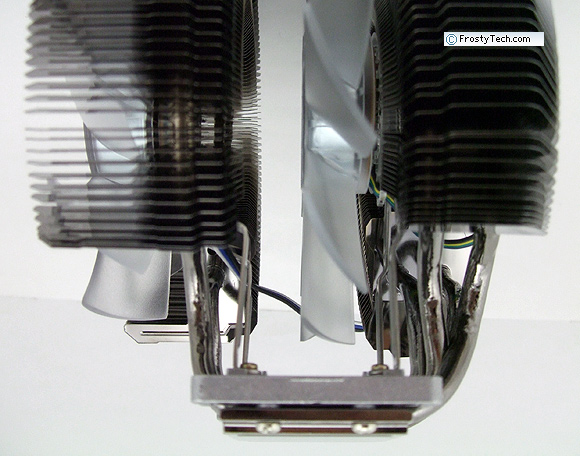 The center 135mm PWM fan operates at 1400RPM to 900RPM, thus even at its slowest speed airflow is pretty well balanced between the intake (front) fan and exhaust (center) fan. The open frames allow additional air mass to be drawn in from the sides as necessary.
This approach makes use of ganged fans to propel air through relatively narrow sections of nickel plated copper cooling fins (20mm and 33mm deep, respectively). The approach is clever in that it allows pretty quiet operation with low RPM fans without sacrificing a reduction in air volume.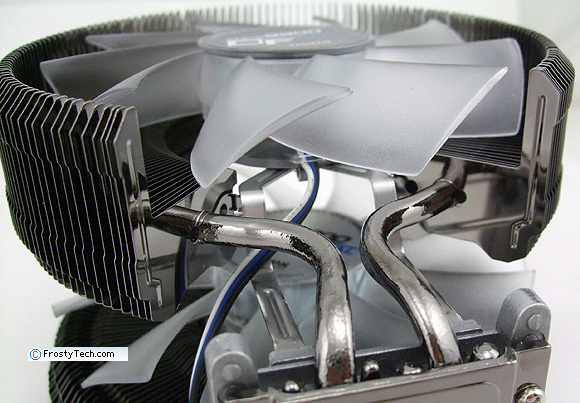 Our only criticism with this design is that the heatpipes carry all the weight of the copper cooling fins. Heatpipes are made from annealed copper which is dead soft. Be careful when handling the Zalman CNPS9900DF, if you squeeze the two fin towers together you're liable to bend the heatpipes which is not a good thing to do.
Heatsink Installation Hardware:
Zalman's CNPS9900DF heatsink can be installed onto Intel socket LGA775/1155/1156/1366 and LGA2011 processors. It also works with the full range of AMD socket AM2/AM2+/AM3/AM3+/FM1/FM2 chips. Every current and upcoming CPU variation is covered by this one heatsink.
Installation is pretty straightforward and Zalman include an excellent set of printed instructions if you get lost along the way. Clearance issues with this particular heatsink are minor, just the obvious 154mm height. The heatsink is slightly asymmetric, extending ~8mm more to the front than the rear.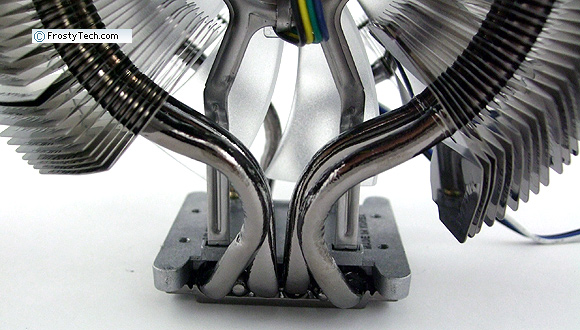 Mounting hardware consists of two sets of metal brackets which attach to the base of the heatsink itself. Metal stand offs are used in conjunction with a rear motherboard support plate to create a screw-based mounting fixture, regardless of socket. Given that the Zalman CNPS9900DF weighs 900 grams, the engineers are taking care it doesn't go anywhere once installed. An allen key which can be used at a slight angle is included, along with fan y-splitter and a small syringe of Zalman's ZM-STG2 'super thermal grease'.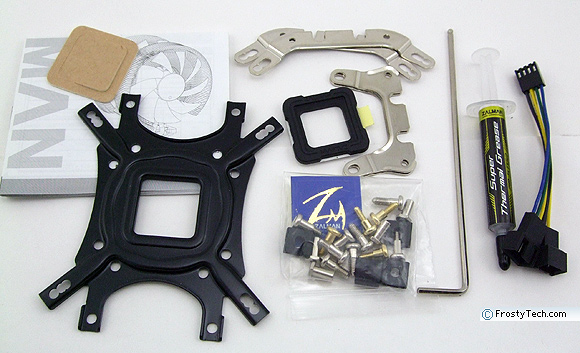 FrostyTech's Test Methodologies are outlined in detail here if you care to know what equipment is used, and the parameters under which the tests are conducted. Now let's move forward and take a closer look at this heatsink, its acoustic characteristics, and of course its performance in the thermal tests!