Laptop cooling pads are simple things, usually no more than an elevated surface on which to rest your notebook, with one or two quiet fans that direct a constant stream of cool air towards its base. The cooling pad promotes better circulation across the notebook vents and thus reduces internal temperatures and allows the processor and videocard (if present) cooling fans to run a little slower and quieter. The key aspect to watch out for is the size of notebook the cooling pad supports. We've also found that USB powered laptop cooling pads are much more practical than those requiring a small DC power adaptors.
The focus of this review is a laptop cooling pad from Glacialtech called the Igloo Pad Series R15. Like most notebook cooling stands, the device consists of an elevated, slightly angled platform with a large vented top surface and embedded fan that gently directs a constant steam of cool air at the base of the notebook. The fan draws its power from a USB 2.0 port and doesn't produce any objectionable noise that we were able to detect while working at a desk with it.
The Glacialtech Igloo R15 is sized for up to 15.6" notebooks - the maximum laptop base size accommodated is 38.5 x 28cm. Glacialtech's Igloo Pad Series R15 retails for around $20.
| | |
| --- | --- |
| Glacialtech Igloo Pad Series R15 Laptop Cooling Pad | |

HEATSINK SPECSHEET
Manufacturer: Glacialtech
Model No.: Igloo Pad Series R15
Materials: Plastic, steel mesh
Fans: (1) 160mm at 1000RPM
Max. Surface Area: 385mm x 280mm
USB 2.0 ports: (1) passthrough
Includes: n/a

---

Est. Pricing: $20USD ($20CDN)
The Igloo Pad R15 draws power with a USB-passthrough cable so the USB port can be used for data devices. There is no on/off button for the fan, no speed controls, nada. This notebook cooling pad is dead simple - plug it in if you want the fan operational, unplug the USB jack if you don't. The 160mm fan operates at a fixed speed of 1000RPM and is pretty much inaudible. The volume of airflow directed up at the base of the notebook is not overwhelming, 65CFM @ 20dBA according to the manufacturer, it's just enough to ensure a good supply of fresh, cool air.
While several other notebook cooling pads that we've tested have incorporated a simple USB hub, the Igloo R15 opts not to provide such a device - this means no DC power adaptor is required. If you suffer from a notebook whose overheated processor fan is constantly spinning up and making a racket, this is exactly the bit of kit you need to consider. The pad also supports the notebook a more comfortable typing angle.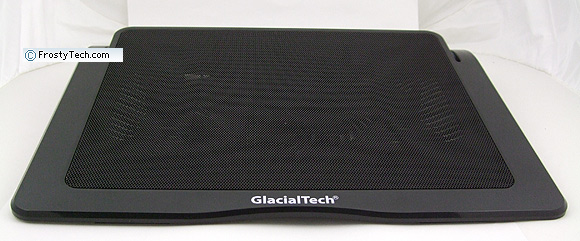 The Glacialtech Igloo R15 laptop cooling pad is constructed from ABS plastic, the laptop surface screen is made from powder coated steel for good durability. The plastic frame is light weight (total mass: 760grams) and very stiff - not cheap flexible plastic that will sag under the weight of a 7lb notebook. We tried twisting the Igloo R15 cooling pad by gripping it from opposite corners but were not able to really cause any deflection without a lot of effort. On the flexure front, the Igloo R15 gets top marks for resilience.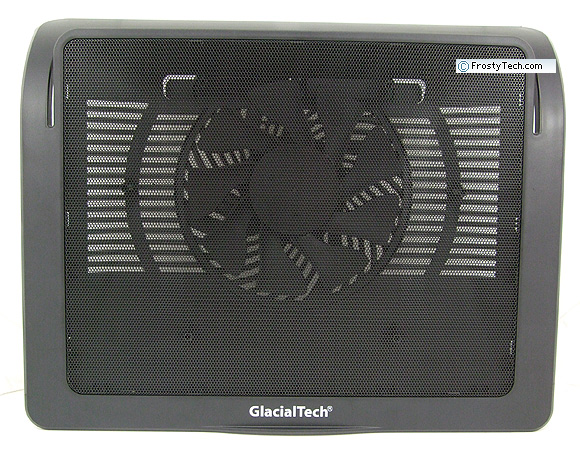 The black painted steel mesh provides an airy 32.5 x 25cm surface for notebooks. As you can see, air is easily drawn from the back of the unit by the integral 160mm vanaxial fan (5 VDC, USB powered) and exhausted at the base of the notebook.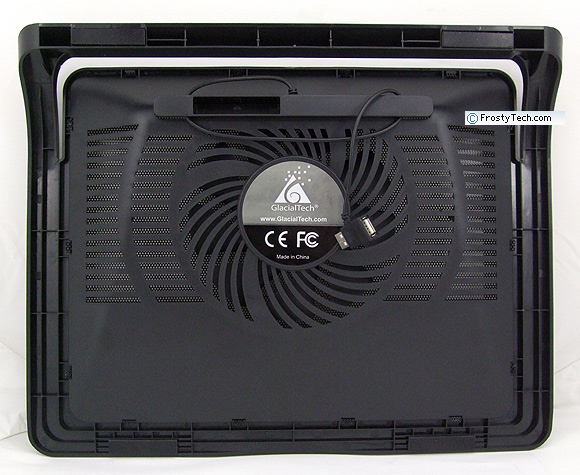 The fan is big, but you don't really feel a lot of airflow coming into or going out of the unit. It's not like you have your hands constantly over a fan, which would quickly become just as uncomfortable. There is just enough airflow to circulate around the base of the notebook. Power comes from the laptops' USB port via a single USB passthrough connector (male-to-female) which tucks away in the rear of the pad when not required.

The Glacialtech Igloo R15 laptop cooling pad stands about 60mm high at the back, 12mm high at the front. The pad has a table-top footprint of 31 x 39cm. Rubber feet on the bottom stop it from sliding around on hard melamine office desk surfaces. A small tab on the front prevent notebooks from slipping off the Igloo R15's top surface. The pad surface is large enough to accommodate a notebook body with a footprint of up to 38.5 x 28cm.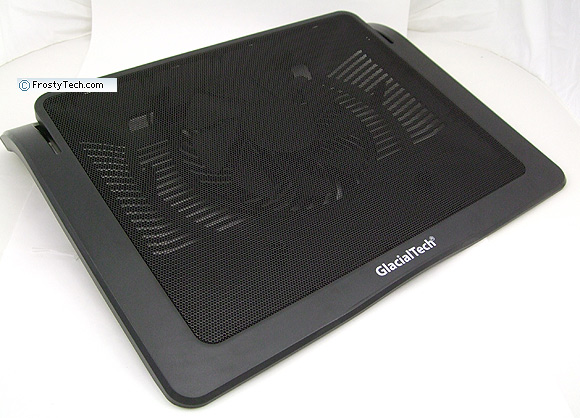 And that's about all there is to the Igloo R15 - a notebook cooling pad is a very simple device that works just as you'd expect it to. Given the different variables at play with each type of notebook model it's challenging to provide any realistic cooling figures here, but a quick experiment our everyday notebook proved the device did indeed cool it down rapidly. The area above the HDD, usually warm enough to cause uncomfortable laptop-to-hand perspiration, was cool to the touch after a few minutes.
To sum up, we tried a notebook on the Glacialtech Igloo R15 and found it performed as expected, without objectionable noise output from the 160mm fan. The bottom of the unit curves up at the sides, so it also sits comfortably on your lap, if that's your preferred way of supporting a notebook while working.
The Glacialtech Igloo R15 laptop cooling pad does exactly what its name describes. If you use a desktop replacement notebook all day long at the office, this device is a dead simple way to reduce notebook temperatures and angle the notebook keyboard at a more comfortable angle for typing. On a side note, we've tested solid aluminum and plastic units, between the two I have to say that the plastic units are more comfortable. Depending on the air conditioning in your office, the all aluminum units (aside from being rather heavy), can get cold on the wrists.
If you suffer the problem of excessive laptop heat, an economical notebook cooling pad such as these may be just the solution.
Related Articles:
The Top 5 best heatsinks for low noise and low temperature are ranked here. For more reviews on the latest heatsinks and cooling solutions, rely on FrostyTech's inventory of 400+ heatsink reviews. Here are a few other articles that you might enjoy as well.
- Hanjung Grip100-S and Grip110-U2 Notebook Cooling Pads Review
- Xigmatek Talisman NPC-D721 Laptop Cooling Pad
- Glacialtech X-Wing R1 Notebook Cooling Pad Review
- Evercool NP-301-WH Zodiac Aluminum Cooling Pad Overview
- Thermaltake Frio Extreme Heatsink Review
- Zalman CNPS11X Performa Heatsink Review
- Corsair Hydro H100 Self Contained Watercooling Heatsink Review