On Frostytech's test bench today is the Silverstone Heligon HE01 (SST-HE01) heatsink, an interesting asymmetric dual tower CPU cooler built for Intel LGA2011/1366/1156/1155/775 and AMD socket AM2/AM3/FM1/FM2 processors. At the heart of the heatsink is a massive 140mm vaneaxial fan, flanked by differently sized fin stacks which correspond to intake and exhaust air flows. On the cool air-intake side of the fan is a 30mm thick fin tower with a straight row of heatpipes intersecting the fins. On the hot exhaust side we find a slightly wider, 50mm thick fin tower constructed from slightly thicker aluminum fins.
The PWM fan itself is non-standard, in that it's 38mm thick rather than 25mm and rotates at 800-2000RPM or 800-1200RPM depending on a small physical switch set into the frame. The Silverstone SST-FHP141-H fan is rated to move upwards of 48-171CFM air, which according to Frostytech's real world sound measurements equates to 40-60 dBA noise.
Occupying every square millimeter of space above the CPU that a cooler possibly could, the Silverstone Heligon HE01 heatsink is a novel approach that seems designed to accommodate motherboards with excessively large VRM heatsinks. From the center-point of the CPU, the Heligon HE01 extends ~48mm to the fore, ~71mm towards the aft. A 40mm overhang on the back side ensures enough room for low profile memory modules to slip under the shadow of this otherwise big and boxy heatsink.
The heatsink itself is made from a pretty common mix of nickel plated aluminum fins soldered to six 6mm diameter heatpipes. The six heatpipes converge at a chunky nickel plated copper base plate, eschewing the whole exposed-heatpipe-trend-thing. Noise wise, Heligon HE01 heatsink ranges for loud to whisper quiet. Standing 160mm tall and weighing at 1056grams, the Heligon HE01 is squarely aimed at performance cooling in a full tower case - so keep that in mind.
Silverstone's Heligon HE01 heatsink retails for about $72USD at Newegg.ca.
Silverstone Heligon HE01 Heatsink

---

heatsink specsheet
manufacturer: silverstone

model no.: heligon he01 (sst-he01)

materials: nickel plated aluminum fins, copper heatpipes, copper base plate
fan mfg: silverstone
fan spec: 2000-800rpm, 12v, 0.35a
fan dim: 38x140x140mm
heatsink & fan dim: 160x141x119mm
weight: 1059 grams
includes: multi-socket mounting hardware, thermal compound, instructions

---

Compatible with Sockets:
AMD - AM2+/AM3+/FM1/FM2
Intel - 775/1156/1155/1366/2011
Est. Pricing: $72USD ($72CDN)
With the 140mm fan mounted so air is drawn into the heatsink through the thin fin stack first, some cooling is achieved before the air even passes through the fan blades. This of course means the air is pre-heated before it's exhausted out the thicker fin stack. It's an interesting approach, balancing intake and exhaust air flow pressures with fin array depth.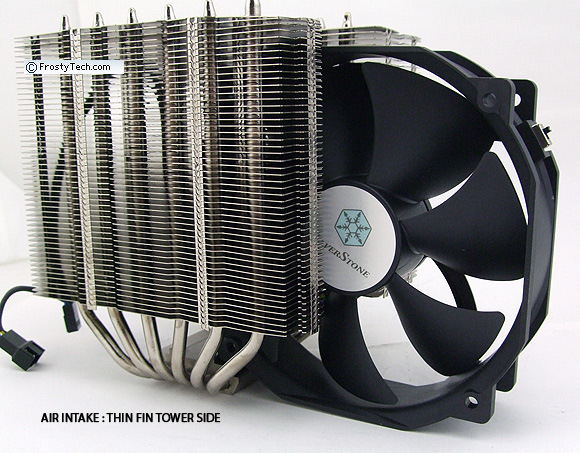 Silverstone neglect to mention which direction the fan is supposed to be mounted in the printed instructions that ship with the heatsink, so now ya know. :)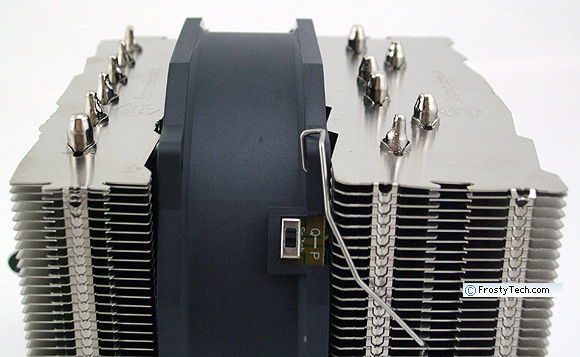 The 140mm fan operates at 2000-800RPM or 1200-800RPM depending on the position of a small switch in one corner of the fan frame. 'Q' is for quiet and 'P' is for Performance. Wire fan clips hold the fan in position against the bare metal of the fin stacks.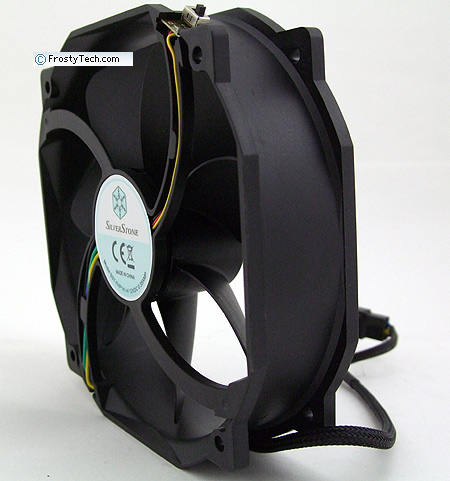 At full tilt the fan is quite audible, pushing 60dBA according to our real world sound measurements. Two extra sets of wire fan clips are supplied if users wish to hang extra fans off either side of the Heligon HE01 heatsink.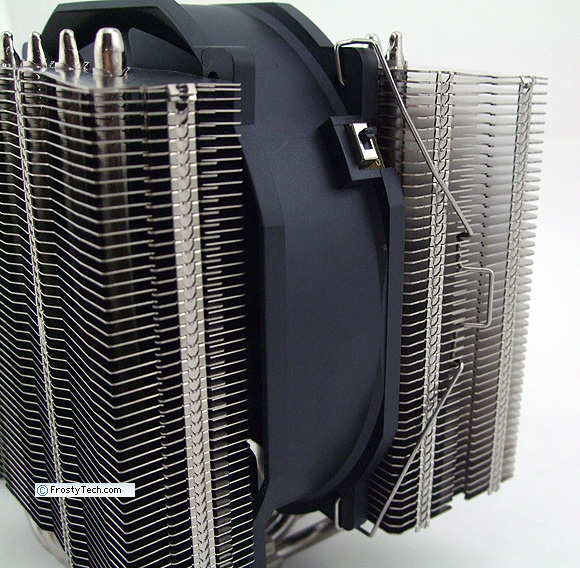 Given the size of this heatsink (foot print: 141x119mm) it's unlikely there will be enough space in most computer systems for extra fans.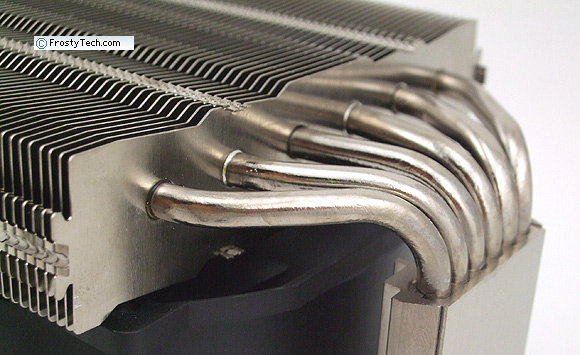 The heatpipes intersect each fin array with a different configuration; a straight row for the thin leading fin stack and staggered for the exhaust, trailing fin stack. Heatpipe wick structure is not disclosed, the heatpipes are soldered to both fin and base plate however.
Heatsink Installation Hardware:
Silverstone's Heligon HE01 heatsink can be installed onto Intel socket LGA775/1155/1156/1366/2011 and AMD socket AM2/AM3/FM1/FM2 CPUs. Every current and (known) upcoming CPU socket variation is covered by this one heatsink.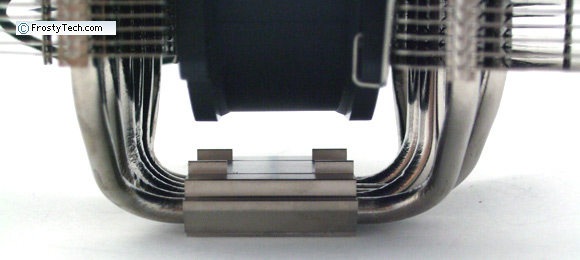 Installation is pretty straightforward as many of the metal mounting brackets are shared between the AMD and Intel platforms. Keep in mind that the Heligon HE01 requires a case with at least 160mm clearance above the CPU.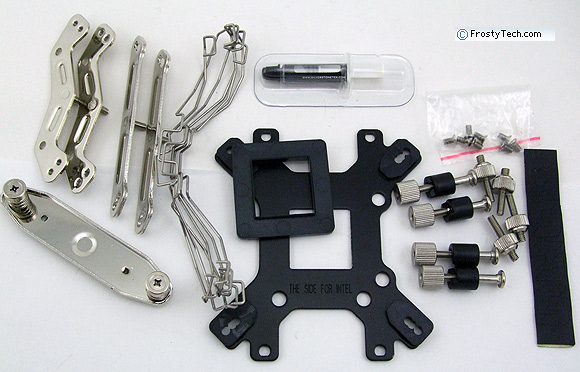 Silverstone supply three pairs of wire fan clips so two additional fans (not included) can be mounted on the outside of the heatsink if desired. A small syringe of thermal compound is also included.
FrostyTech's Test Methodologies are outlined in detail here if you care to know what equipment is used, and the parameters under which the tests are conducted. Now let's move forward and take a closer look at this heatsink, its acoustic characteristics, and of course its performance in the thermal tests!