Thermaltake's Frio Advanced heatsink is basically a reboot of the Jing heatsink, but this time around the copper heatpipes are exposed at the base, none of the aluminum surfaces are nickel plated and the heatpipes not soldered to the cooling fins. We mention this seemingly minor point of construction, since the Frio Advanced's heatpipes are pressed into each aluminum fin with a new type of swage joint we haven't encountered before.
On close inspection, a very narrow gap on either side of the swage is visible when the heatsink is held up in front of a bright light for a handful of the ten fin-to-heatpipe joints. Given that these small gaps are carried across the entire stack of 40 fins, it's something that will impact the efficiency of heat conduction. More on this in a moment, first the specs for Thermaltake's Frio Advanced heatsink.
Thermaltake's Frio Advanced heatsink stands 161mm tall and weighs upwards of 954 grams, it is rated to heat loads of 230 Watts by the manufacturer. The heatsink ships with two 130mm PWM fans arranged in a push-pull configuration that rotate at 2000-800RPM. Behind each fan shroud is a 110mm tall aluminum fin tower connected by five U-shaped, 6mm diameter copper heatpipes which are exposed at the base.
Thermaltake's Frio Advanced heatsink is compatible with Intel socket LGA2011/1366/1155/1156/775 and AMD socket AM2/AM3/FM1 CPUs. Retail price is estimated at $40 USD through the usual heatsink retailers.
Thermaltake Frio Advanced Heatsink

---

heatsink specsheet
manufacturer: thermaltake
model no.: frio advanced (clp0596)
materials: aluminum fins, copper heatpipes, aluminum base cap
fan mfg: power logic pla12025s12hh-lv
fan spec: (x2) 800-2000rpm, 12v, 0.50a
fan airflow: 88 cfm, each.
fan dim: (x2) 25x130x130mm
heatsink & fan dim: 161x131x121mm
weight: 954 grams
includes: multi-socket socket mounting hardware, thermal compound, instructions

---

Compatible with Sockets:
AMD - AM2/AM3+/FM1
Intel - LGA775/1155/1156/1366/2011
Pricing: $40USD ($40CDN)
Direct Contact Heatpipe Base
Heatpipes that make direct contact with the integrated heatspreader of the processor minimize thermal resistance as heat energy is conducted directly to the heatpipes, rather than via an intermediary heatspreader. The five 6mm diameter heatpipes then thread up through 40 or so aluminum cooling fins where heat is dissipated into the surrounding air mass. In principle, it's an efficient way to build a heatsink.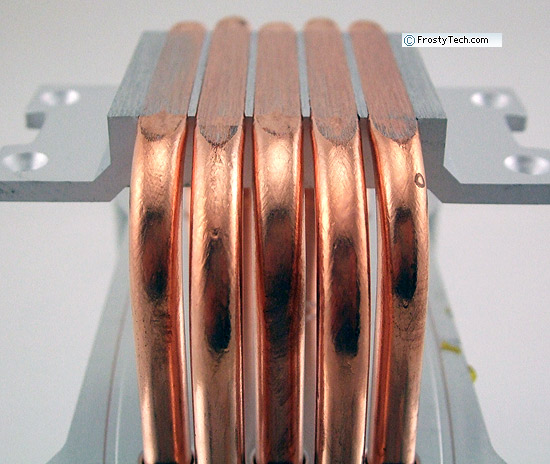 As computer enthusiasts, we all know that every heatsink works best when it's base makes solid contact with the processor. To that end, a flat base which is smooth and in direct contact with the CPU is preferred over one that's rough and wavy. Any small gaps that do exist need to be filled by thermal interface compound... but what about the other end? What if the heatpipes make less than perfect contact with the aluminum fins of the heatsink?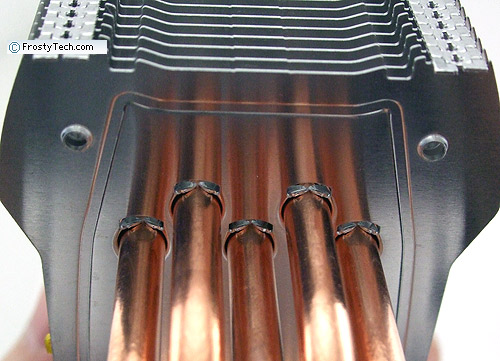 The new type of swage joint used to connect the five heatpipes to the aluminum fins of the Frio Advanced heatsink plainly exhibits small gaps between copper and aluminum, for a short section of the heatpipe circumference on either side of the swaged aluminum tabs. Amazingly, after holding the heatsink up in front of bright light, slivers of light are visible in these regions for roughly four of the ten joints. Given the thermal performance of the Frio Advanced heatsink, it would appear that thermal joint resistance is rearing its ugly head, unfortunately.
Heatsink Mounting Hardware
The Thermaltake Frio Advanced heatsink ships with an small assortment of mounting brackets, screws and nuts. The heatsink installs onto Intel socket LGA775/1155/1156/1366/2011 and AMD socket AM2/AM3+/FM1 processors. All Intel sockets will require a machine screw threading in from behind the motherboard with a metal backplate for added support. Access to the back of the motherboard goes without saying.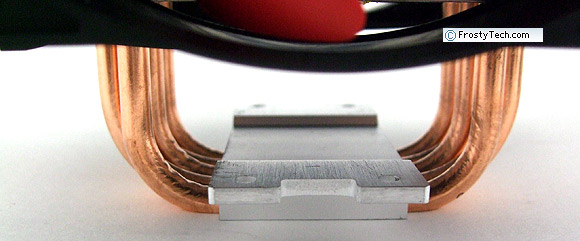 For AMD platforms, including older socket 939/940 and newer socket AM2/AM3+ motherboards, the situation is not very different from the Intel mounting procedure.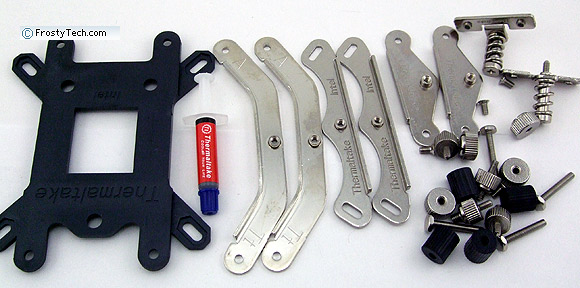 Apart from the mounting brackets, the Frio Advanced heatsink is bundled with a set of instructions and a small tube of thermal compound.
FrostyTech's Test Methodologies are outlined in detail here if you care to know what equipment is used, and the parameters under which the tests are conducted. Now let's move forward and take a closer look at this heatsink, its acoustic characteristics, and of course its performance in the thermal tests!