It's hard to believe that heatsinks for Intel and AMD microprocessors could get any bigger, but that's exactly what's happening. 2012 marks the year of "the really big heatsink" and Thermaltake's Frio Extreme is the latest example of this trend. The Frio Extreme is a large twin tower heatsink with two massive 140mm fans and a commanding foot print of 150mm square! Standing 161mm tall and weighing 1.23 kilograms, the Frio Extreme is destined for full tower gaming cases with plenty of room to spare.
As you might expect, the Frio Extreme's dual 140mm PWM fans are arranged in a push-pull configuration and scale in speed from 1800-to-1200RPM. Behind each fan is a 110mm tall aluminum fin tower connected by a row of six standard heatpipes to a nickel-plated copper base plate. The twin fans drive up to 106CFM of air each, so the heatsink is a bit loud when running at full clip. The fans are PWM, but the manufacturer also supplies a voltage regulating/PWM fan speed controller with which users can dial back both fans speeds simultaneously. The heatsink is built around 6mm diameter heatpipes and is rated for heat loads of up to 250W. Retail price for the Thermaltake Frio Extreme heatsink is pegged at $95USD/CDN. It installs onto Intel socket LGA2011/1366/1155/1156/775 and AMD socket AM3/AM2/FM1 processors.
The cooler is backed by a 10-year warranty, which for a heatsink is kind of redundant given the pace CPU sockets change. To put '10 years' in perspective, what are the odds you're still using a Thermaltake Orb heatsink from 10 years ago on a socket 478 Intel Pentium 4 / socket A AthlonXP based computer?
Beyond it's big size, it will be interesting to see how the Frio Extreme heatsink stacks up against the twin tower Noctua NH-D14, Zalman CNPS12X, Titan Fenrir Siberia, Thermalright Silver Arrow and Phanteks PH-TC14PE heatsinks which are of similar size.
Thermaltake Frio Extreme Heatsink

---

heatsink specsheet
manufacturer: thermaltake
model no.: frio extreme (clp0587)
materials: aluminum fins, nickel-plated copper heatpipes and copper base plate
fan mfg: (x2) pla14025s12h
fan spec: (x2) 1800-1200rpm, 12v, 0.50a
fan dim: 26x140x140mm
heatsink & fan dim: 161x150x152mm
weight: 1230 grams
includes: multi-socket mounting hardware, thermal compound, fan speed controller, instructions.

---

Compatible with Sockets:
AMD - AM2/AM3/AM3+/FM1
Intel - LGA775/1155/1156/1366/2011
Est. Pricing: $95USD ($95CDN)
The twin 140mm PWM fans supplied with the Thermaltake Frio Extreme heatsink are rated for 106CFM airflow, 2.34mmH20 air pressure and 1200-1800RPM. The fans can be connected directly to the motherboard or the supplied manual fan speed controller.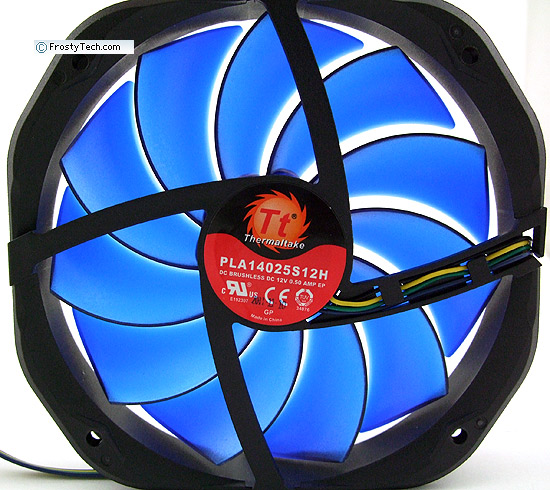 The fan speed controller has a dial for adjusting speeds and a switch to flip between VR (voltage regulating) or PWM (pulse width modulation) depending on which type of fan is connected. If you choose not to use this, Thermaltake include one fan power cable jumper so the second fan can be hooked up to any available 4-pin fan header on the motherboard.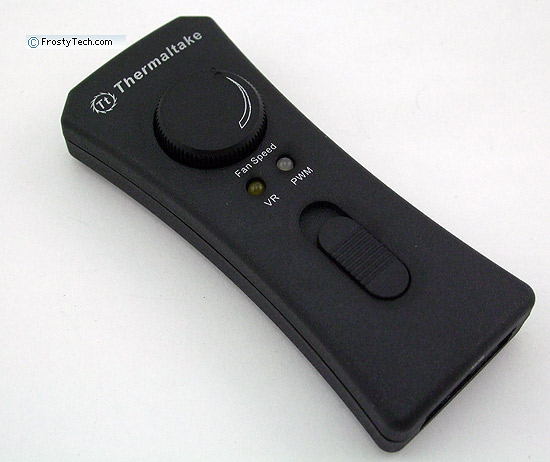 The leading edges of the Thermaltake Frio Extreme's fins are alternated slightly to break up the profile, presumably making it easier for airflow to enter the fin stack.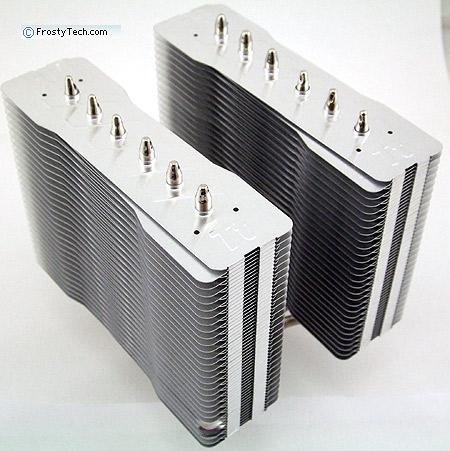 Heatsink Installation Hardware
Thermaltake's Frio Extreme heatsink ships with separate brackets for Intel socket LGA775/1155/1156/1366/2011 and AMD socket AM2/AM3/FM1 processors. Each set of brackets mates with a corresponding rear motherboard support plate to firmly hold the 1230 gram heatsink in position. The AMD brackets include an extra set for mounting the heatsink at 90-degrees to the orientation of the AMD heatsink retention cage. A single, cantilever metal top plate applies clamping force and ensures even distribution of that force across the CPU IHS.

Given that this heatsink weighs 1.2kg grams, it's reassuring to see heavy metal mounting brackets supplied with this heatsink which are easy to install and ensure it won't move around. A small tube of thermal compound, fan jumper cable and manual fan speed controller are also included.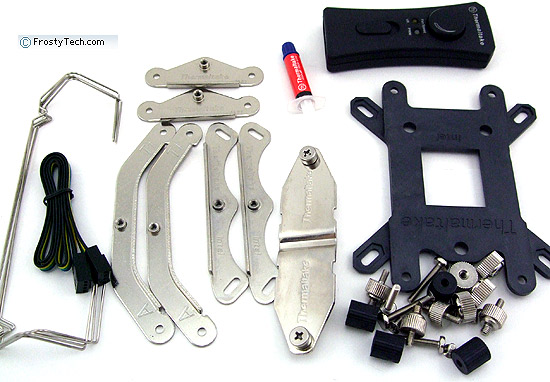 FrostyTech's Test Methodologies are outlined in detail here if you care to know what equipment is used, and the parameters under which the tests are conducted. Now let's move forward and take a closer look at this heatsink, its acoustic characteristics, and of course its performance in the thermal tests!